Classical Music/Opera direct to home 6 - Parsifals for Easter |

reviews, news & interviews
Classical Music/Opera direct to home 6 - Parsifals for Easter
Classical Music/Opera direct to home 6 - Parsifals for Easter
Enlightenment through compassion takes a strange route in three Wagner productions
Graham Vick's Palermo 'Parsifal' - bound to be the most controversial
Wagner's final drama, of learning, suffering and redemption through compassion, is second only to Bach's Passions at this time of year, and seems likely to strike a special note in the present crisis.
Opera companies around the world, making much in their archives free to view right now, have served up the natural seasonal choice, and they have: there are at least nine choices right now, and they come from the expected centres of excellence including Berlin, Vienna, Munich, New York. Since it's unlikely that most of you would have the time or the patience for more than a few, and since the deadline to view several expires soon, I've settled on three. Remember to donate where and if you can; neither artists nor institutions, front-line workers right now, can exist on air.
The search for a plausible redeemer, both good-looking and secure of voice, is over, and Jonas Kaufmann haas to be the obvious choice. He's to be seen in two productions, one of which is unlikely to be surpassed in terms of visionary staging - Francois Girard's strange adventure at the Metropolitan Opera. (pictured below - the grail ritual at the end of Act 1). The company is making available one opera from its archive every night, and you have until the end of today to catch this remarkable achievement.
One drawback there is the rather deliberate conducting of Daniele Gatti, and it's certain that Kirill Petrenko, not hyperbolically described as the Carlos Kleiber of our time, will deliver a more organic account in the Bavarian State Opera's offering. This also has the same, superb Parsifal and Gurnemanz in Kaufmann (pictured below with Nina Stemme's Kundry by Ruth Walz) nd true bass Rene Pape, though director Pierre Audi isn't in the same league as Girard. I say all this without having seen more than excerpts - this evening will be the time to watch before Munich's great house takes it offline tomorrow morning.
You (and I) have longer to see a putatively more austere and harrowing vision, from the ever-astonishing Graham Vick for Palermo's Teatro Massimo, currently free to view on the excellent Arte channel. Vick staged a Ring in the round there which I'm still hoping he will resuscitate elsewhere, though he's not one for repetition. Here, too, we have a plausibly youthful-looking Parsifal in Julian Hubbard, though how he performs and sings remains to be seen. With any luck the days of old and excessively large Parsifals are over - those have to be relegated to sound recordings and concert performances only, though there are several to be seen elsewhere (I won't sully the reputation of a great Wagner Heldentenor by naming him).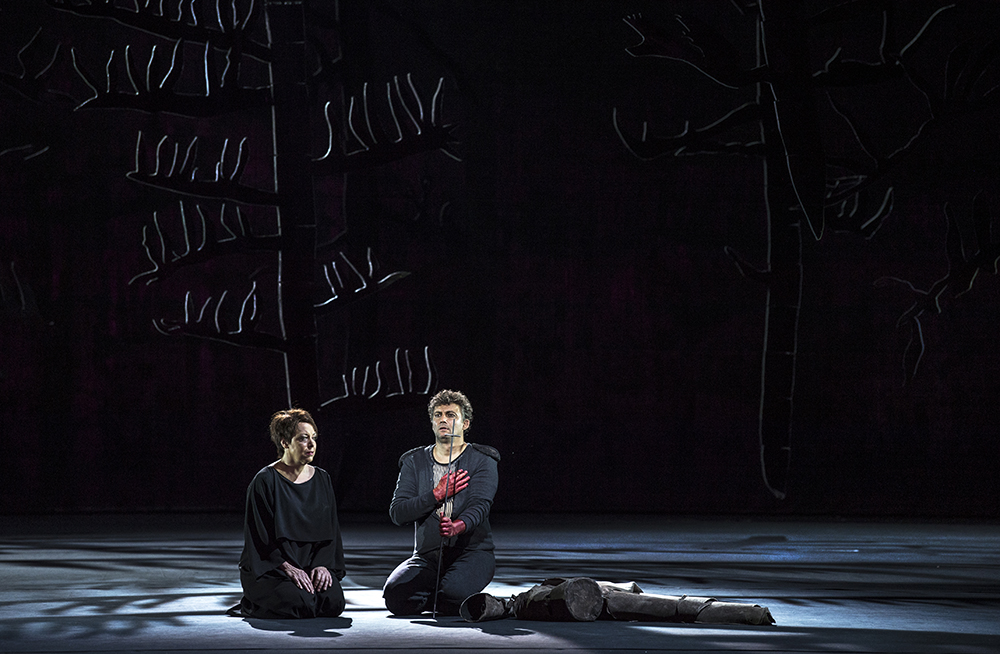 As a footnote, and a shameless piece of self-promotion, you might like to listen to my BBC Radio 3 Building a Library on the opera. It was the hardest task I'd ever undertaken for that venerable programme, but I promise you that I listened to every note of every CD and DVD available at that time, and I came out of the experience feeling fresh and ready for more. As the great Wagner conductor Mark Wigglesworth puts it, Parsifal gives you more life, while Tristan und Isolde drains you. The top choice came as a surprise to me - it wasn't a recording I knew before - and having listened again, I don't regret it. Here, finally, as a bonus, is the most luminous performance of the Act 1 Prelude I know, from Bruno Walter conducting the Columbia Symphony Orchestra. You might also like to go on and hear Walter's concert performance of the Good Friday Music from Act 3, sans voices.
Happy Good Friday and Easter Sunday to people of all faiths or none; here, music is the supreme god where time becomes space.