Caligula, English National Opera |

reviews, news & interviews
Caligula, English National Opera
Caligula, English National Opera
Detlev Glanert's new opera is clichéd and pointless
The theatricality of power: Glanert's 'Caligula'
Mass murder. Incest. Rape. Madness. This is quite a lot to be getting on with for a three-hour opera. Too much perhaps. Indeed, German composer Detlev Glanert seems so busy trying to pack in all the Grand Guignol elements that one expects from a portrait of Caligula that he never quite gets around to saying anything interesting about any of it.
All we learn about tyranny - the work's main theme - is that it is cruel, it knows no limits and that it consumes and begets itself. I'm sure Albert Camus's original 1944 play talks much more about existential cause. About the only moment that approaches the level of an original idea is the work's riff on the theatricality of power. But this topic was explored more interestingly by director Benedict Andrews.
Andrews has lots of ideas. This will not surprise any of those who caught his exceptional The Return of Ulysses last year. His visuals are striking. In a nod to the Coliseum's namesake, he plants us for the duration of the evening at the English National Opera in the terraces of a modern stadium (main picture). It's clever compositionally, in that the raking allows for a more engaging spread of activity than a flatter stage would, as well as, to a certain extent, conceptually. Stadia are beloved of autocrats. The bloody spectacle of authoritarianism relies on them - for rallies as much as for mass executions. This modern despot and his court seem at home here.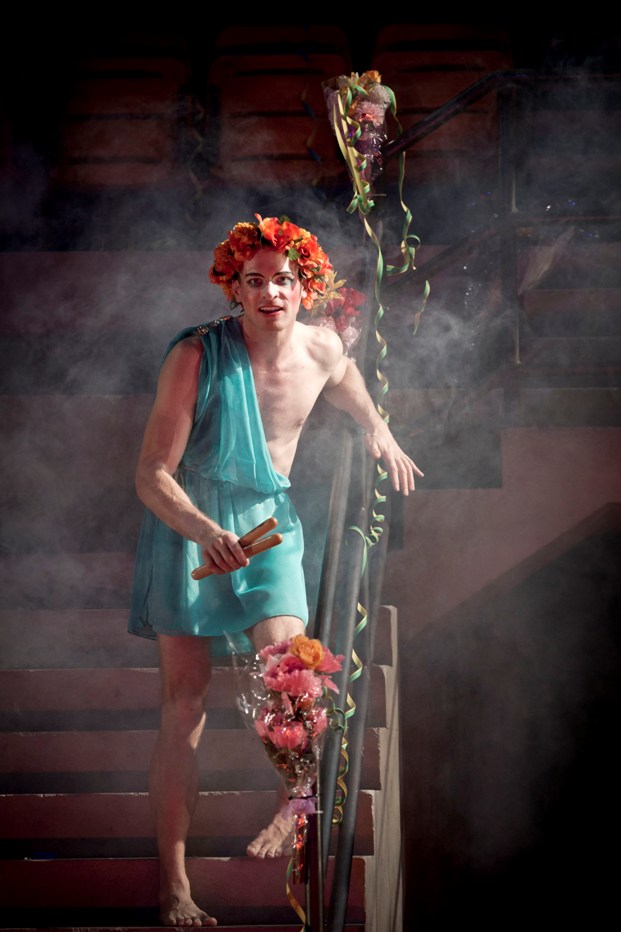 They are joined in the stands by plenty of familiar faces. Ronald MacDonald. Kermit the Frog. Mickey Mouse. A team of generic cheerleaders. Symbols of Western capitalism. I understand the basic point he is trying to make. That tyranny is a form of show that tries to hide the truth through diversion. And that (for some) consumerist capitalism behaves in a similar fashion. But ancient tyrannies have even more in common with other tyrannies. And we're not short of them at the moment. For a director to focus largely on the similarities that consumerist capitalism may have with Caligula's evils and for him only in passing to reference today's real-life Caligulas strikes me as pretty morally bankrupt. Worse than that, the Žižekian idea of a zonked-out capitalist life being as bad as one that is lived under authoritarianism is not only wrong, it's a cliché. And it made a rather fresh bit of direction suddenly look very tired.
Normally at this point in a review one homes in on the white knights. Opera always has its white knights. Singers who snatch the evening from the jaw's of eternal boredom. Arias whose sweetness eradicates all memories of what has gone before. The nearest we got to this was conductor Ryan Wigglesworth, who, whenever he was given the chance, delivered much of subtlety and delicacy.
Beyond this, mediocrity reigned. Glanert's neo-Romantic score, though intermittently intriguing when hushed of voice, engaged too often in hackneyed musical tropes - organ dissonances for moments of tension, harps and flutes for repose, choral minimalism for night-time reflection. Little of the singing was memorable. Then again very few of the singers received much memorable material. Yvonne Howard's Caesonia, Caligula's wife, clung to her man convincingly enough. Caligula's lackey, Helicon (Christopher Ainslie, pictured above right), turned out as a Caravaggio boy, has a pretty aria at the start of the second half. Amanda Holden's translation sounded far too much like a translation.
All of this, however, might not have mattered but for one thing: Caligula. Ultimately, a portrait piece like this lives or dies by the lead performance. And sadly Peter Coleman-Wright (pictured above left) had none of the stage presence or vocal flexibility needed to make Caligula's petulant ways anything but of passing interest.
Peter Coleman-Wright had none of the presence or flexibility needed to make Caligula's petulant ways anything but of passing interest
Share this article