BBC Proms: Der Freischütz, Orchestre Révolutionnaire et Romantique, Gardiner |

reviews, news & interviews
BBC Proms: Der Freischütz, Orchestre Révolutionnaire et Romantique, Gardiner
BBC Proms: Der Freischütz, Orchestre Révolutionnaire et Romantique, Gardiner
Seminal operatic rarity given bracing and brilliant outing
Saturday, 10 September 2011
From left: Andrew Kennedy's warm-toned Max, Gidon Saks's complex Gaspard and Christian Pelissier's hammy Samiel
What kind of work could possibly elbow aside the time-honoured ritual of performing Beethoven's Ninth on the penultimate (ie, the last serious) night of the Proms? The kind that even Beethoven was gobsmacked by. That's the sort of reputation that stalks Carl Maria von Weber's Der Freischütz, the prototype German Romantic opera, to whose crepuscular, horn-encrusted, tremolo-saturated, harmonic daredevilling and dramatic Gothicism the whole 19th century (and even Mahler and Strauss) paid homage. An epic reputation undermined slightly by a suspiciously thin performance history.
Classical music's great archaeologist, Sir John Eliot Gardiner, with his bracingly unvarnished period band, the Orchestre Révolutionnaire et Romantique, were bringing a semi-staged version of the piece that had opened at the Opéra Comique earlier this year. Despite the difficulties of converting the colourful but bald, railing-heavy Proms set into a viable theatrical space, some theatrics were retained, understandably. The story is not inconsequential. Alongside various Romantic preter and supernatural obsessions (satanic possession and magical intercession) and dramatic devices that Wagner would later steal is a gripping symbolic duel.
Max, a fallible, questioning, earthbound mortal, is set against the possessed, proto-Romantic antihero Gaspard. Max must call upon Gaspard's diabolical tricks (or are they his own? The Gothic double is never far from this duality) to win his girl, Agathe. What dates the work above all is the fact that the Byronic drinker, dancer and dabbler in the dark arts, Gaspard, and his new unfettered morality (which will be soon known as Romanticism) is still so little approved of that he must be wedded and ultimately sunk by satanic associations.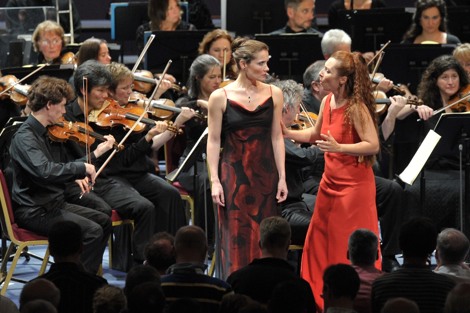 So it is reasonable to want to unpack some of this in dramatic terms on stage. But such is the kinetic suggestiveness of the music already, one was left wondering whether there was any need to delineate this epic struggle beyond the score? After all, no story has ever been less likely to succeed half-dressed. The plot's melodramatic focus requires careful theatrical realisation, not the sort of piddling spurts of dry ice puffing out into the Royal Albert Hall like from a behind-the-bike-shed smoker that instead we were subject to.
No matter. Nothing could distract our ears or eyes from the attention-seeking antics of the score, which was being performed in a Berlioz rearrangement of the Weber original. Cleverly interpolating a colourfully scored recitative and a French libretto, Berlioz's low-key arrangement does nothing to hide Weber's orchestration masterclass: whiplashing piccolo, inky black bassoon-writing, fiery string tremolos, horn calls not of the promising, rallying kind but of the sort that seemed to summon up the dead of night.
All this cold-hearted barracking perfectly suited Gardiner. He relished every windchill, his orchestra becoming the paragon of inhospitableness. The only moment that this approach let down was Weber's shift to lightness and female company at the start of the second act, in which the musical language reverts to the sort of Rossinian idiom that the composer had been composing in (without a single inspired break) for much of his life.
The cast of singers was notable not just for its quality but for the suitability of each voice to each part. Andrew Kennedy's warm-toned tenor as Max was the perfect rug in which to shield yourself from all the windswept frostiness swirling round. Gidon Saks as Gaspard had the most terrifically complex colouring to his high-lying bass voice that in itself had the ability to evoke a Heathcliff-like richness of character, a meanness that was simultaneously irresistible.
Virgine Pochon's Annette (pictured above left with Agathe) was the perfect fluttery foil to Sophie Karthäuser's troubled Agathe (whose hand Max finally wins). Luc Bertin-Hugault's last-minute intercession as the wise old Hermit made the case for this role (that directors were once prone to cut) better than ever. Only Christian Pelissier's Samiel (the Devil incarnate) was lost in a cackling mess of over-acting.
The meaty carcass that this opera presented to the composers of its time (a distillation of the now forgotten interests of the French Revolutionary school that led back from Mehul to Rameau) saw it devoured and absorbed into the mainstream within years. Wagner stole its dramatic bones, Berlioz the harmonies and the colour, both extrapolating and exaggerating Weber's fundamentals.
It was another bold piece of programming from Roger Wright. And the uproarious reception from the remarkably full Albert Hall saw it vindicated. Wright's season-long high-wire act of balancing the ridiculously recherché with the outrageously populist seems (amazingly) to have succeeded in satisfying virtually everybody.
Subscribe to theartsdesk.com
Thank you for continuing to read our work on theartsdesk.com. For unlimited access to every article in its entirety, including our archive of more than 10,000 pieces, we're asking for £3.95 per month or £30 per year. We feel it's a very good deal, and hope you do too.
To take an annual subscription now simply click here.
And if you're looking for that extra gift for a friend or family member, why not treat them to a theartsdesk.com gift subscription?