Bakkhai, Almeida Theatre |

reviews, news & interviews
Bakkhai, Almeida Theatre
Bakkhai, Almeida Theatre
Ben Whishaw's ambiguous Dionysos and operatic chorus serve superb Euripides translation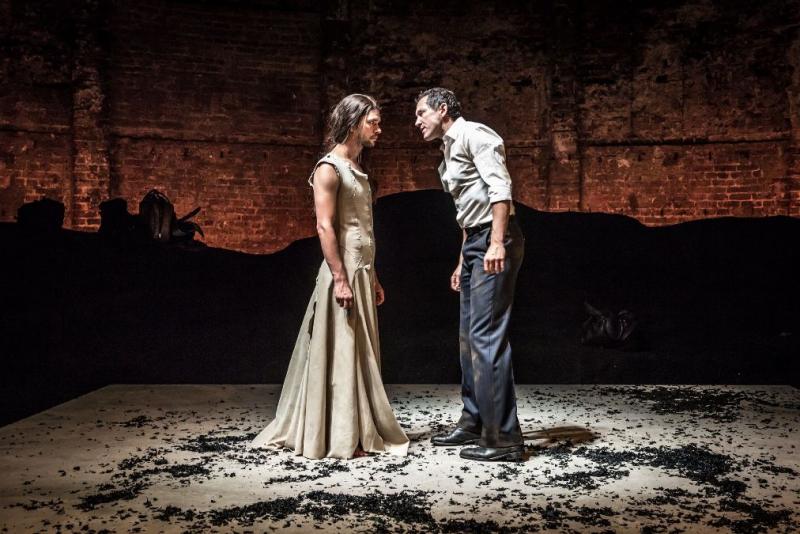 Ben Whishaw's stranger works on Bertie Carvel's Pentheus
This is the real Greek, bloody-fantastical thing. After the fascinating but flawed attempt to bring Aeschylus's Oresteia into the 21st century, the Almeida has turned to a more tradition-conscious kind of experiment with Euripides' last and greatest masterpiece.
James Macdonald's production daringly fuses operatic settings of the essential Bacchic choruses by Orlando Gough, stunningly executed by 10 women, a mostly faithful translation rather than a "new version" by Anne Carson blending irony with pure poetry, and a central performance by Ben Whishaw surpassing expectations as an ideally mesmerizing Dionysos.
Whishaw manages to be both epicene and sexy, softly spoken and menacing, fire and ice – some of the many polarities within a role which uses all manner of theatrical tricks to epitomise the dualities of the wine-god (helpfully listed in the programme).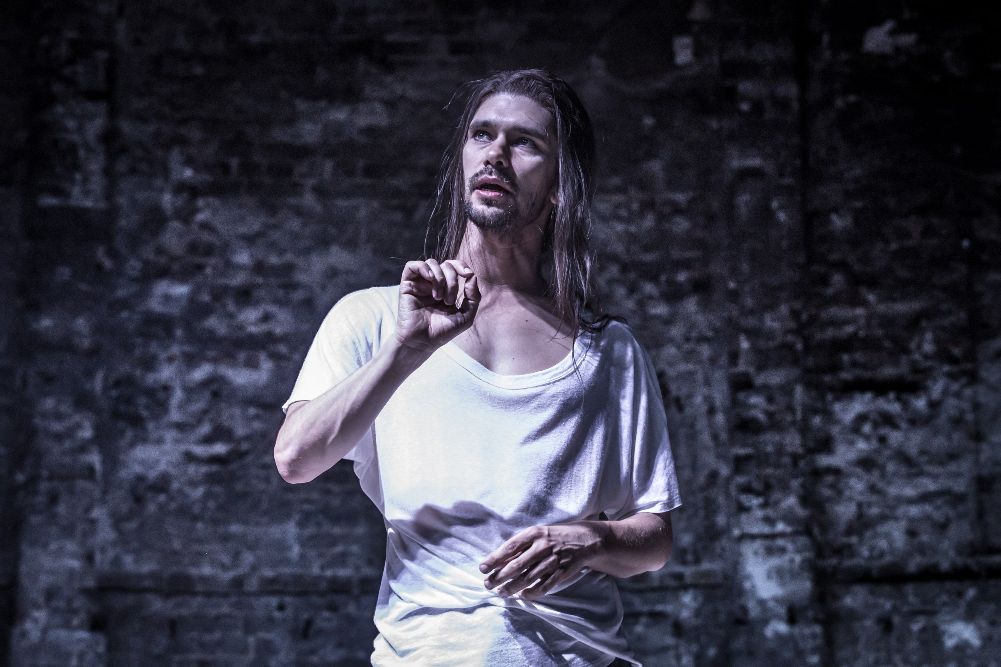 He starts out as a fey hippy, an androgynous guru whose promises seem unlikely to be fulfilled (pictured right). Yet this is only one of many guises for the god, or daimon as he's called here; having slipped in a convincingly doddery Tiresias going off arm in arm to join the Bacchic revels with Kevin Harvey's beautifully spoken Kadmos, Whishaw re-emerges as a still and seemingly wise threat to Bertie Carvel's quietly brutal, repressive and repressed ruler Pentheus. The series of dialogues in which Pentheus rapidly loses control and ends up dressed as a prim lady of the pearls to go off and see what he imagines those women on the hills are up to has a good many laughs finely controlled by Whishaw's delivery of Carson's equally well modulated glidings in and out of bathos. There's also a sly reference to Carvel's now-classic Miss Trunchbull in Matilda The Musical, but in true tragicomic style the laughter quickly freezes.
There is music in Whishaw's intonation, but the true lyric genius belongs to the stasimons of the Bacchae hanging around Thebes. We've had operas on the subject by Henze (The Bassarids) and John Buller, as well as a variation on the theme that steers clear of violent horror in Szymanowski's King Roger, but none fits the Greek ideal and Euripides in translation better than Gough's tour de force so magnificently rendered by women of diverse cultures and vocal training. It's also got more music in a single chorus than there was in the whole of ENO's dismal if well-executed Thebans. There's consonant peace and beauty in the rhapsodies devoted to being at one with nature, but also an explosive violence in more dissonant delivery punctuated by vigorous thyrsos-thudding. Gough could have made it easier for himself and let more of the text simply be spoken in unison and rhythmically, but his singer-actresses (pictured below) are allowed to experiment with all sorts of voice production.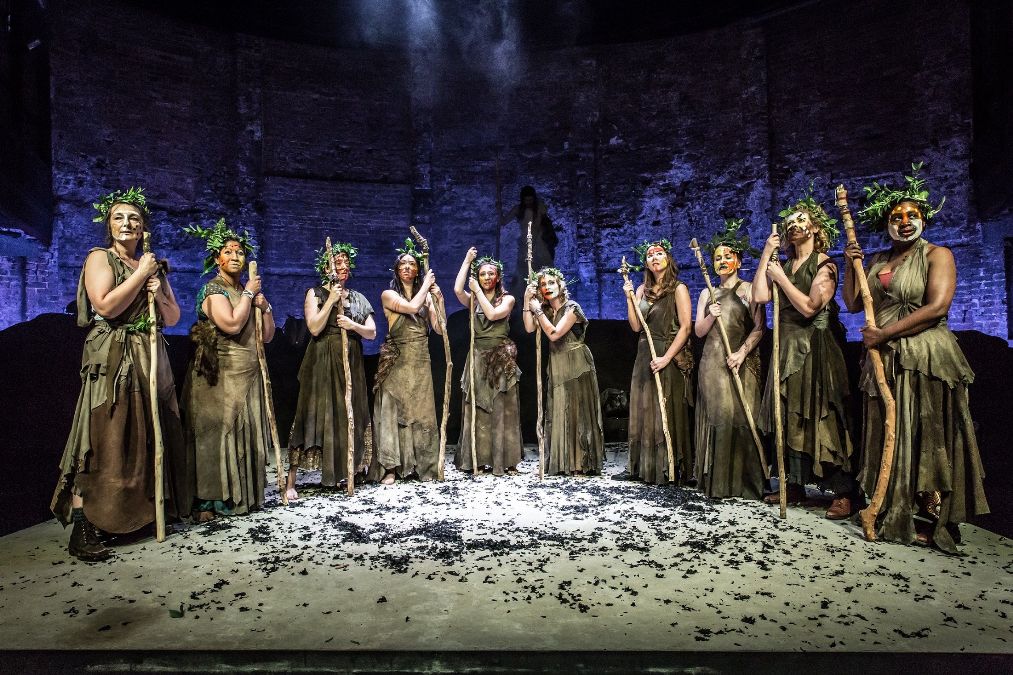 The long, climactic choral scene between Pentheus's arrival in the mountains and his shocking if prefigured end ripped to shreds by the god-crazed women is a symphony in itself, and if the metres aren't the same as Euripides', Carson and Gough find a visceral vein between the strange exultations. The score is easily the most tuned-in to the dramatic atmosphere since Birtwistle's poleaxing work on Peter Hall's National Theatre Oresteia back in the 1980s.
Transitions are also effected by the electrical short-circuiting shocks in Paul Arditti's soundscape, mostly eerie low-level sustained chords under the dialogue, and by the equally abrupt changes of Peter Mumford's lighting. Antony McDonald's design keeps it simple to match director Macdonald's clear vision, with a spare acting space surrounded by undulations of black gravel against the Almeida's bare brick wall. There are more doubling surprises from two of the three male actors in the crucial messenger's speech about what happened to Pentheus among the women and in the role of Pentheus's horrifyingly deluded mother Agave (in Hall's NT Bacchae, a wake-up call in the long sleep of the director's latter years, there was also doubling - see comment below - somewhat obscured by the masks).
So the final scene in which reality strikes is not an anti-climax. In fact this production puts no single foot wrong in dance, delirium or idyll: it's the complete experience, and though it's so potent at such close quarters, its operatic dimension should make it a visitor to the Proms' vast Albert Hall amphitheatre next season. In the meantime, I want a copy of Carson's text - unusually not provided before the performance but now available (August update) in a publication from Oberon Classics - since it's far too rich to absorb on a single hearing.
The long, climactic choral scene between Pentheus's arrival in the mountains and his shocking if prefigured end is a symphony in itself
rating
Explore topics
Share this article