Spiral of Lies, Channel 4 review - bodies, fibs and bad karma in Biarritz |

reviews, news & interviews
Spiral of Lies, Channel 4 review - bodies, fibs and bad karma in Biarritz
Spiral of Lies, Channel 4 review - bodies, fibs and bad karma in Biarritz
The past returns to haunt the not-always-truthful Audrey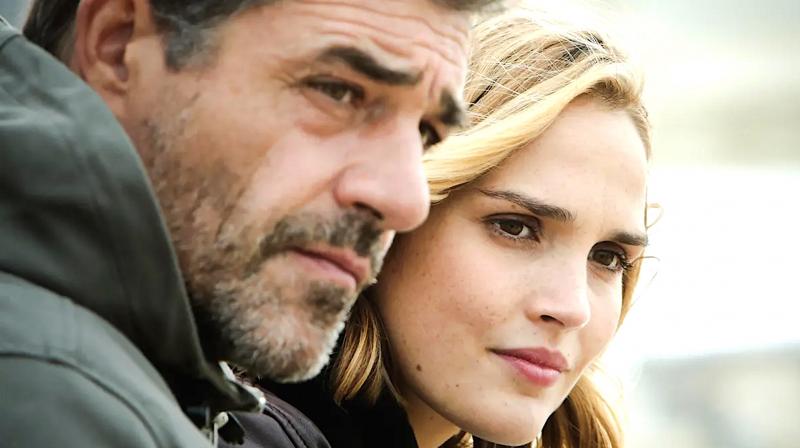 Liar? Moi? Thierry Neuvic as Joseph, Camille Lou as Audrey
Not to be confused with the matchless French policier Spiral, Spiral of Lies (or J'ai Menti in its native tongue) is a twisty tale of murder, guilt and deceit, playing out over a 16-year time period. Camille Lou pulls off the quite impressive feat of playing the main protagonist, Audrey Barreyre, as both a reckless 19-year-old and a lawyer in her mid-thirties, who finds herself forced to confront the fallout from the mistakes made by her younger self.
The series doesn't score too highly on the plausible-ometer, being somewhat reliant on the kindness of strangers who might overlook some of its more outlandish leaps of illogic, but once you're aboard you'll feel like riding it to the end of the line.
The action is set in Biarritz, the resort on France's Basque coast, and gains an instant boost by virtue of its dramatic views of long beaches and surfer-friendly waves sweeping in from the Bay of Biscay. When we first meet Audrey and her friends, they're a group of party-mad teens who surf by day and indulge in hedonistic clubbing by night. However, Audrey's life is sent into a calamitous nosedive when she and her boyfriend Éric pay a clandestine, lust-inspired visit to a luxurious home to which Éric happens to have the keys (the owners being absent).
Audrey's night of horror involves the house catching fire and her being pursued by a would-be murderer as she flees for her life. She just happens to be wearing a priceless necklace which light-fingered Éric had placed round her neck, having found it in the now-blazing house. The attacker tries to slit her throat with a scalpel, but she manages to escape (pictured above), though her assailant pockets the necklace which fell off during the struggle.
Biarritz has been blighted by the so called "Itsas Killer", who has previously murdered three other girls and left their bodies on the beach ("itsas" means "sea" in Basque). Grasping that the truth is unlikely to stand her in good stead with le constabulaire, Audrey concocts a narrative in which she was attacked on the beach, conforming to the attacker's known modus operandi.
By the time a decade and a half has passed, Audrey has put all this behind her. She's now a lawyer living in Paris with her husband and young son, and her married surname is Vigne. But after hearing a news report about another murdered girl, Maialen, in Biarritz, she finds that – lightbulb moment alert – the victim was wearing the fateful necklace. Has Itsas, previously believed dead, come back to embark on a new reign of terror? Feeling compelled to return to the scene, she ends up representing the dead girl's parents as the murder inquiry runs its course.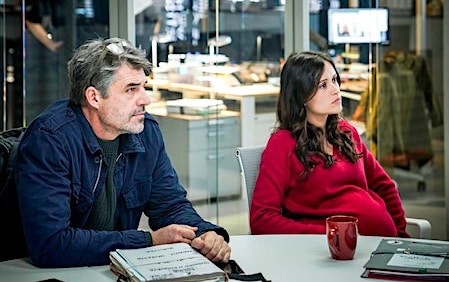 Frankly, this wasn't a great idea. Audrey's previous lies inevitably prove to have thrown major obstacles into the path of the investigators, and when everyone works out that this new Audrey is the former Audrey, all kinds of skeletons come clattering out of the evidence locker. Her own past as a troubled young girl with psychiatric issues is resurrected and paraded through the newspapers, for instance, while her trail of wreckage has spread out to encompass the original investigating officer, Joseph Layrac (played with a kind of weather-beaten empathy by Thierry Neuvic) and his family.
His daughter Pauline (Marilyn Lima, pictured above with Neuvic) is now the officer heading the new investigation. Pauline is pretty snarky with everyone, but the toxic history has made her the venom-spitting, nuclear-option enemy of Audrey. Audrey is desperate to make amends and help to solve the Itsas conundrum. Snag is, nobody feels very inclined to believe her...