Les Rencontres d'Arles 2022 review - the place to be this summer |

reviews, news & interviews
Les Rencontres d'Arles 2022 review - the place to be this summer
Les Rencontres d'Arles 2022 review - the place to be this summer
A sprawling profusion of photography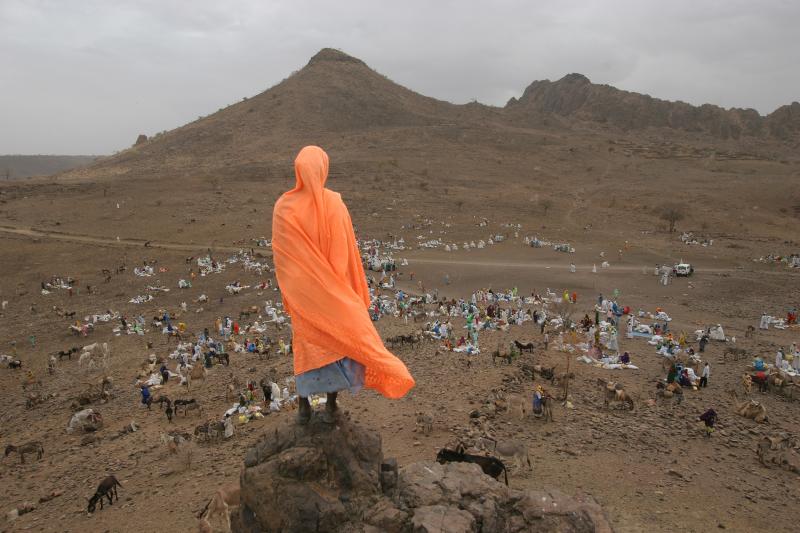 Boris Heger, 'Food distribution site, Abata, Sudan', 2006
Les Rencontres d'Arles 2022 is upon us and the town has given itself over to photography once again. As you walk through the sunbaked streets you can find more than 40 exhibitions showing over 160 artists, covering every type of photography you can think of and some you never imagined.
This sprawling profusion challenges you to think about the nature of the medium and the uses and effects of the images. Arles is an education in itself. It should help to grasp it all if you divide the exhibitions into those which take a historical or documentary approach and those which admit they have a definite aim. There could perhaps be a third category, simply devoted to exploration, but in the end everything has a point of view.
Every year Arles rediscovers some of the work of an established photographer. These exhibitions are always worth seeing because the images have passed through the sieve of time. Under the head of "Revisiting", Lee Miller Professional Photographer 1932-1945 covers an important period in Miller's life. The exhibition shows her portrait photography in New York and her fashion photography for Vogue in London before her most famous assignment as war photographer and correspondent for Vogue covering the dying days of the Second World War. It is to Vogue's eternal credit that they published these ghastly pictures of the camps and the remains of war. We know what the experience did to Miller - it led to depression and post-traumatic stress disorder. In 1969, Miller was asked what it was that drew her to photography. She said that it was "a matter of getting out on a damn limb and sawing it off behind you" (pictured below right: Hats, Pidoux, with original markings Vogue Studio, London, England, 1939. © Lee Miller Archives).
Also under the head of "Revisiting" is an exhibition of the little-known Luxembourg photographer Romain Urhausen whose work from the Fifties and Sixties extended beyond a classic depiction of reality. Subtitled "in his time" the exhibition includes work by his contemporaries and shows us his wit and his surreal images.
And then there is history with an express point of view. A Feminist Avant Garde is an exhibition of photographs and performances of the 1970s from the Verbund Collection, Vienna. These second wave feminism pictures from 71 artists are essentially propaganda and show rage, frustration and wit in women's fight to fulfil themselves. This international collection shows how these ideas spread quickly and powerfully across the (largely western) world.
To Heal a World: 160 Years of Photography from the Collections of the Red Cross and the Red Crescent is also photography with a cause. In the early days pictures were taken by staffers and delegates, but as the power of photography became apparent Red Cross organisations throughout the world commissioned professional photographers to take up the story of human suffering. Capa, Bischof, Cartier Bresson, Nachtwey and Salgado are all here. The publicity for the exhibition says that the photographers had an aim - to inspire compassion. But what about anger, or even contempt? Perhaps these wonderful photographers just took pictures. With their eye for focus, composition and the power of the moment we can be safely left to draw our own conclusions. The curators have included simple family snapshots from the former everyday lives of displaced people. These photographs do not claim intrinsic artistic merit, but taken together they pack a savage punch. They show what the refugees have lost and make us identify with them even more than the work of the professionals. The result is a lesson in the power of photography.
Finding something that you don't much like is instructive as well. Town Boy by Sathish Kumar shows an impression of home from a country boy moved to the big city. The pictures are artistic impressions of country life, but after seeing the refugees' pictures in the Red Cross/Red Crescent exhibition I really wanted to see a picture of his auntie or the village shop. Babette Mangold Capturing Movements in Space documents the performing arts scene in 1970s New York. Many of these images are rather static shots taken from the same point of view, but they are of historic interest and they do show how far theatre photography has come.
There are exhibitions about identity. Dress Code, for example, brings together 40 artists from around the world to consider costume in New York, Mexico, Latin America and Italy, among other places, and to question the relationship between apparel and identity at the individual and collective level. There are women photographers exploring intimacy and the nature of self. Susan Meiselas and Marta Gentilucci capture the force of ageing women's bodies in images and sound. There is just so much. (Pictured left: Delphine Blast, Flowers of the Isthmus, 2021, Courtesy of the artist).
And there are associated events. A splendid retrospective from James Barnor at la Tour, the new Frank Gerhy building in the Parc des Ateliers, Citizens of Kyiv - a compelling series of Ukrainian portraits by Alexander Chekmenov at the Rue Vauban and, if that isn't enough, there is the stunning Salgado Amazonia in the Palace des Papes at Avignon, only a 20 minute train ride away.
If you have any interest or feeling for photography, Arles is the place to be this summer.
Finding something that you don't much like is instructive as well
rating
Share this article