DVD/Blu-ray: West Side Story |

reviews, news & interviews
DVD/Blu-ray: West Side Story
DVD/Blu-ray: West Side Story
Spielberg's biggest flop is one of his greatest films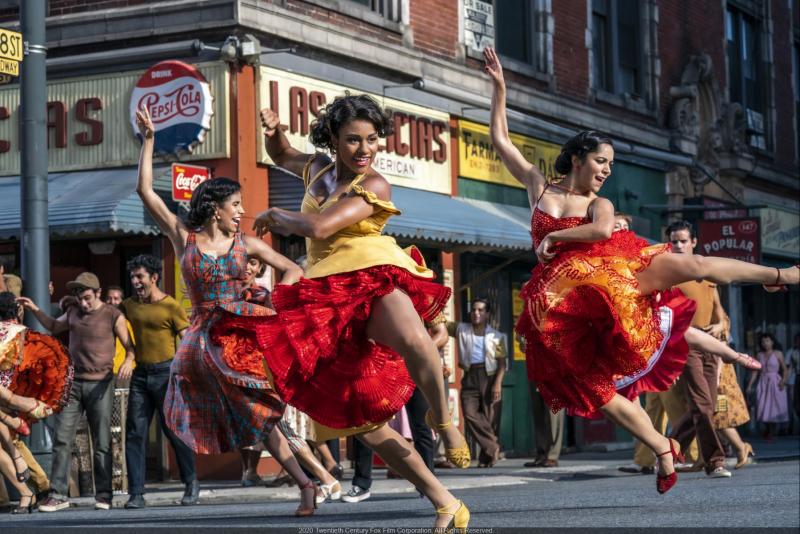 Dancing dreams: Anita (Ariana DeBose) dazzles in 'America'
West Side Story's cinema release crashed into Omicron and never recovered. Maybe Ariana DeBose's Oscar will help the world wake up to this Spielberg masterpiece, which definitively betters 1961's Robert Wise/Jerome Robbins version.
Spielberg loves West Side Story as much as its Romeo and Juliet, Tony and María, love each other. The material is part of his childhood, as personal as upcoming semi-memoir The Fabelmans. A film about romantic transcendence that ultimately falls to earth, this is one of his most exuberant and serious works, propelled by Leonard Bernstein's music, ironised by Stephen Sondheim's lyrics, and made supernal by dancing.
We begin in a gentrification war zone, aerial shots of the West Side like Berlin in 1945. An eerie, alien whistle signals the emergence of the Jets from beneath the rubble, the waste of the coming gang war over this wasteland now bitterly acute. The Jets are "the last of the Caucasian can't-make-its" sneers cop Lieutenant Schrank (Corey Stoll). This makes the gang's appeal more fierce, as they strut and scare together, and the fatalistic humour of leader Riff (Mike Faist) that of a victim. When he buys a pistol from an Irish barman, we glimpse the harsh adult neighborhood that formed him. "Who cares who I am?" Riff asks, choking in the basement dust of demolished buildings. "Nobody, including me. I wake up every day with everything I know either being sold, or wrecked, or being taken over by people I don't like, and who don't like me." Tony Kushner's script deepens Sondheim's irony in "Gee Officer Krupke", when the Jets riotously analyse their own juvenile delinquency.
This West Side Story's only flaw is Ansel Elgort's casting as Tony – a founding gang legend and reformed, broken near-killer, like Mickey Rourke in Rumble Fish. Not this pretty, dreamy, gangly kid; though he's a decent Romeo.
Over on the Sharks' Puerto Rican side of town, pride and self-improvement in the face of racist oppression motivates seamstress Anita (Ariana DeBose), her boyfriend, Sharks prince Bernardo (David Alvarez), and his sister María (Rachel Zegler). This plays out in Anita and Bernardo's sparring through "America". This great scene trumps 1961's set-bound, night-time version under the clear blue heat of New York skies, which melted DeBose's dancing shoes. Dresses flair and whip like canvas sails, as dancers pour into the streets, expanding unstoppably to fill them, halting traffic, just like the Jets. These are dances as conversations and dreams, elevating the powerless, liberating space with every high kick. As Depression musicals did, they lift you out of yourself, with the sense of wonder that was once a Spielberg cliché. America's promise, through its music and movies, briefly sweeps all before it.
"America" is also a late summit of four 20th century Jewish-American geniuses – Spielberg, Sondheim (who finished his working life with this remake), Bernstein, and creator and original choreographer Jerome Robbins. New choreographer Justin Peck and the exhilarating Latino cast bring their work to golden life.
Spielberg is inspired. Other dancers blur past, becoming ghosts, when Tony and María first see each other, turning into the only solid points left in the universe, time stopping as they're magnetised together, the look of love caught on film. This recalls Jaws' famous, lurching dolly zoom, as Roy Scheider sickeningly sees a Great White is at work. Bernstein enhances Spielberg's romantic surges, as Tony and María later flow past the cage-like fire escape separating them, immovable objects liquefied by love and "Tonight"'s duet.
Most changes work. Original Anita Rita Moreno, now 90, turns "Somewhere" into a heart-breaking account of a life, ending with her head bowed, defeated. The reinsertion of Maria's playful "I'm So Pretty" directly after two stabbings start the Shakespearean death-spiral, as in the 1957 stage production, is one of many daring contrasts, counterpoints and dialogues, beyond Jets and Sharks.
For a film with so much uncompromising social and racial bleakness, this West Side Story spins and roars with life.