Album: Johnny Marr - Fever Dreams Pts 1-4 |

reviews, news & interviews
Album: Johnny Marr - Fever Dreams Pts 1-4
Album: Johnny Marr - Fever Dreams Pts 1-4
Faith in rock's alchemising power spread thin but true on a riff-heavy double-album
Saturday, 19 February 2022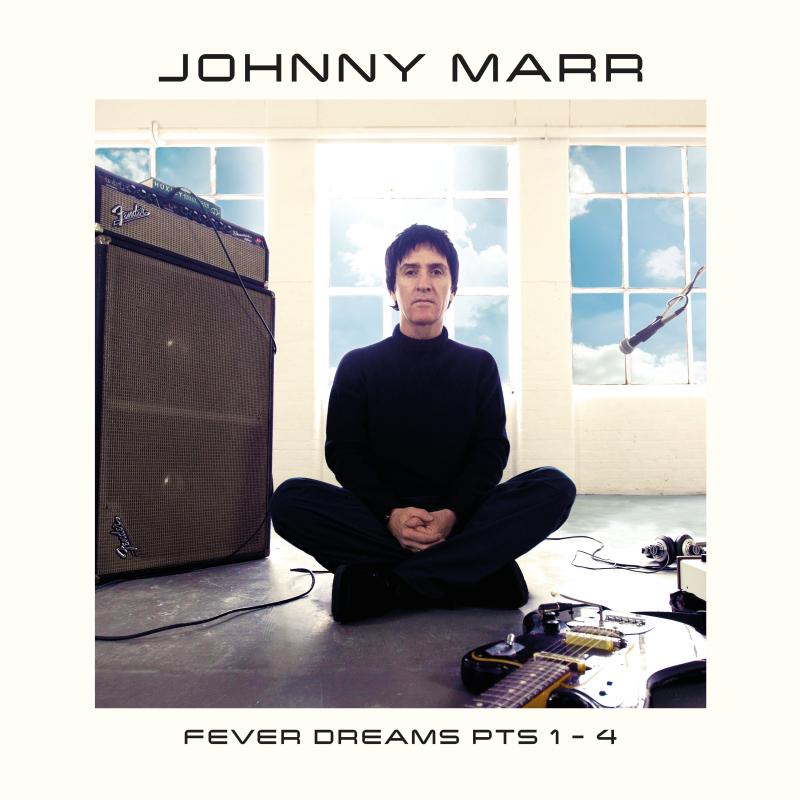 Healing, ecstasy and transformation are the aims, from Johnny Marr's Manchester counter-culture adolescence to this compendium of Covid-era EPs, released as he nears 60.
Rock's
alchemising of dreams into action is
Fever Dreams
' constant refrain, aimed at a perceived audience much like Marr, motivated by faith in music, and essentially kind.
Rearing feedback as Marr plugs into opener "Spirit Power & Soul", then he's singing: "I've seen some shimmering things/Seen a vision of things…" Musically as well, it's an account of coming up, getting high after a low, a transmission of a stiffening elixir - there in Marr's voice, Morrissey-like in its quivering croon, and music whose burrowing rhythm, clattering beats, cloud-busting brightness and muscular, meaningful guitar are his personal idea of dance-rock. This potent statement of intent is followed by "Receiver", whose brooding, fuzzed-up intro leads into a technicolour Stooges riff, as a teenage taste for glam-rock and mature soundtrack experience with Christopher Nolan combine in towering cinematic drama. "I'm a freak for the impossible," Marr sings, by way of explanation.
In truth, forensic attention to Marr's lyrics does him few favours. There's a sense of automatic writing, of glinting phrases inspired by literary and rock'n'roll arcana, the Beats and Es, assembled with heartfelt, magpie enthusiasm. Like his autobiography, Set the Boy Free, which sometimes described intensely dramatic events with numb, maybe Zen distance, they lack the intimate heat of emotional self-exposure, beyond Marr's love of rock culture itself. Morrissey's more tortured, piercing romanticism is the songwriting characteristic lost with The Smiths. Instead, Marr's words work as stimulating signposts within the riffs and pounding, layered arrangements, directing travel towards the album's titular highs.
"Ariel" ascends into airy space as it looks to doomed heroes Sylvia Plath and Syd Barrett, "Hideaway Girl" all but repeats The Beatles' last liturgy ("You've got to give all the love you get"); "The Speed of Love" has the sort of roiling guitar intro and glowering chimes Marr patented in The Smiths, its implacable, mysterious glide rising into the needling, over-driven red. The slurred vocal, clipped rockabilly jangle and sudden, soaring chorus of "God's Gift" (the latter element Liverpudlian, like the La's or early Ian Broudie), the mordant synth atmospheres of "Rubicon" and new generation's call to arms of "Ghoster" add to the variety.
These 16 tracks are too much, strictly speaking; inspiration hasn't struck that relentlessly. But take Fever Dreams as an arsenal of Johnny Marr riffs and modes, music to send you buzzing out into the world, while arranged deeply enough to work as head music, too. "Human", a closing acoustic ballad drawing on '70s Lennon's directness, even aches with intimate feeling, his voice at its most sympathetically rich: the final touch for solo Marr to match his idols.
Take it as an arsenal of Johnny Marr riffs and modes, to send you buzzing out into the world
rating
Explore topics
Share this article