Hamlet, Shakespeare's Globe review - melancholy mash-up lacks chemistry
Hamlet, Shakespeare's Globe review - melancholy mash-up lacks chemistry
Scattergun subversion is undermined by psychological miscalculations
Tuesday, 08 February 2022
The play's not the thing: the full cast of Hamlet
Hamlet isn't often played for laughs. When David Tennant took the comedic approach in the RSC's 2008 production, it was testament to his mercurial genius that his performance brilliantly conveyed the manic grief of a young man whose world was disintegrating around him.
In Sean Holmes's new production, by contrast, the humour is used not just to shed light on Hamlet's psychological state, but as a wrecking ball for every preconception about how the text should be played. The result veers between inspired anarchy and a mire of nihilism.
George Fouracres – one third of the Daphne comedy trio – at first evokes a Black Country Ricky Gervais as he plays the title role with a shoulder-shrugging cynicism. After a ghost scene in the pitch-black we watch Claudius and Gertrude dancing to "It Must Have Been Moonglow" before Fouracres delivers his first soliloquy through a window at the top of the auditorium. This is mash-up melancholy; while some of the costumes are ebulliently 17th century, others are 21st century inner-city. As Fouracres goes into psychotic meltdown over the course of the evening, the polite pastel-grey backdrop with its ornamental pool becomes plastered with graffiti.
It says everything about Holmes's approach that while some of the performances are revelatory others are backed into a corner. One of the production highlights is John Lightbody's Polonius (pictured below), who brings real swagger to his pedantry with his flowing hair and silver breeches. He's compelling because he shows that his control freakery is powered by love; after he questions Ophelia about her relationship with Hamlet, he dots her on the nose with his index finger. There's rich comedy, too, to his compulsion for scene-stealing, which transforms into dark tragedy when Fouracres turns his "accidental" stabbing into a brutal and drawn-out murder.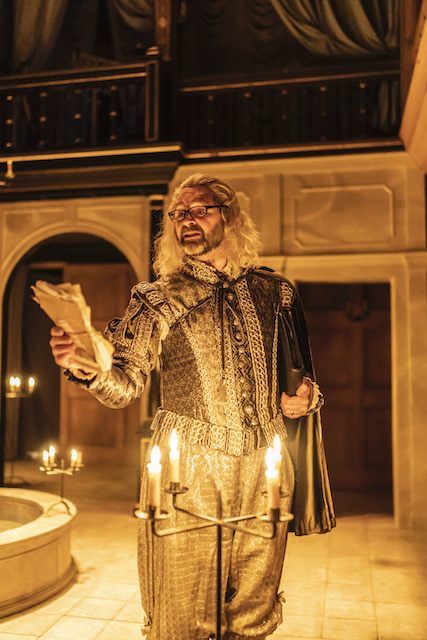 Another standout is Polly Frame's Gertrude, whose girlish self-absorption as she dances with Irfan Shamji's narcissistic foul-mouthed Claudius (he is the first, though not the last character to shout "fuck") transforms to suffocating horror as her misjudgement is brought home. In a particularly brilliant innovation, when the travelling players enact the play that echoes Claudius's murder of his brother, the Player Queen inserts her arms beneath Gertrude's so that the latter becomes her puppet. Frame's face is remarkable at this point and we see that she never recovers. By the time she understands her son's anger she has lost control of him – death in every way is a release for her.
One of the running jokes is that the spirit of Morrissey pervades this Hamlet – the soundtrack includes two Smiths songs, "I Know It's Over" and "Bigmouth Strikes Again". Yet while some of the play's anarchic reinvention works, the dynamic is utterly skewed by making Hamlet himself so perpetually dismissive of Rachel Hannah Clarke's initially ebullient Ophelia. Fouracres has huge presence and is obviously a star in the making, but his performance is considerably weakened by the fact that it's impossible to see that there might have been a connection with Ophelia even before his father died. Clarke obviously has oomph as a performer and in the 21st century it makes no sense to place her so clearly on the emotional sidelines.
It's miscalculations like this that make this a production not so much of two halves as three thirds. The first third is about gleeful vandalism of the text. The second third really capitalises on the energy released by that and is enhanced by strong performances. Yet in the final third there's just not enough psychological coherence to give it emotional heft.
If there's a scene that benefits from this scattergun subversion, it's the gravedigger scene in which musician and composer Ed Gaughan gleefully improvises a large chunk of the monologue by riffing on ITV's The Chase. I also suspect it's fair to say that unless you hang out in very curious circles you'll never have seen a skull and femur used in this way before.
Yet overall this is a patchy affair that takes the torch to the Bard without illuminating all that much. Holmes has an impressive record but for all its interesting experimentation his Hamlet never attains the chemistry that marks a truly great production.