Cabaret, The Kit Kat Club at the Playhouse Theatre review – polymorphous, prodigious |

reviews, news & interviews
Cabaret, The Kit Kat Club at the Playhouse Theatre review – polymorphous, prodigious
Cabaret, The Kit Kat Club at the Playhouse Theatre review – polymorphous, prodigious
Jessie Buckley and Eddie Redmayne constantly surprise in multilayered production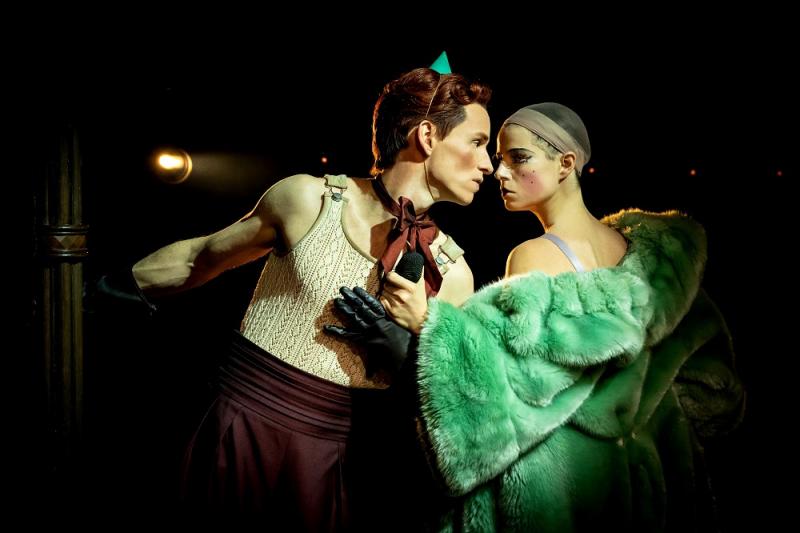 Eddie Redmayne as the Emcee and Jessie Buckley as Sally Bowles
Has there ever been a Cabaret as dangerous as this one? Rebecca Frecknall's disorienting take on the Kander and Ebb classic pulls you in and spits you out in a reinvention that pushes or dissolves boundaries at every twist and turn.
Transforming a theatre into the Kit Kat Club, Berlin, early 1930s, is nothing new: the Edinburgh University Theatre Company did it in their Bedlam home 40 years ago (I was merely a singing waiter; others more centre-stage have gone on to great things). Nostalgia doesn't, however, blind me to the fact that what's been done to the Playhouse Theatre may well have led to the most layered and daring remake of them all. .
Even admission to the "Club" is choreographed. Once we'd shown proof of the day's negative antigen test, we were guided – in this case by one of the many friendly press people in attendance – through the bowels and corridors of the theatre, grabbing a glass of schnapps on the way. The entrance foyer, approached from below, runs a pre-show entertainment above and in front of a golden bar. Take time to savour it before you take your seats, preferably around a table if you can run to it – and the high ticket prices are worth it, I guarantee – before the show proper begins.
And what a show. Eddie Redmayne's Emcee bids us wilkommen, bienvenue, welcome in the most dazzlingly stylized manner possible, giving us no inkling of the many changes to which his elusive character will be subject (who is the real Redmayne? Beyond his being a superb actor and fine singer, I don't know, but it works brilliantly here). In one of Tom Scutt's many dazzling costumes – worthy of the most ingenious queens of RuPaul's Drag Race – the "lacy pants", frilly everything, in which Jessie Buckley's Sally Bowles bursts on to the circular stage in the middle of the stalls (pictured left), are only the half of it as the toast of Mayfair makes her debut. It isn't until two-thirds of the way through Act One that we see her sans make up, as she is, ripe for a fall, like nearly all the ill-fated characters "half asleep" at "the end of the world", as American writer Clifford Bradshaw's last lines put it with devastating, devastated hindsight.
Illusions always fall away, one by one, in Kander and Ebb's Sondheim-worthy masterpiece of musical theatre. That they do so here in a dream-like meta-theatre where the denizens of the cabaret, above all the chameleonic Emcee, invade the seemingly everyday world of Berlin parlours and bedrooms, only makes the experience the queasier. Bob Fosse's film made sure that the only musical numbers are those performed in the cabaret; cinemagoers should be surprised and gripped by the stage musical's parallel plot of the doomed love affair – good to see it portrayed as a physical passion - between hard-up landlady Fräulein Schneider (Liza Sadovy) and Jewish greengrocer Herr Schultz (Elliot Levey). The songs and duets that belong to it heard here – only one has gone - are gems, above all the witty "pineapple" duet in which the prized object eventually sits atop the rising gold erection in the middle of the stage, like a treasured museum object, and a woman's challenging litany of survival, "What Would You Do?"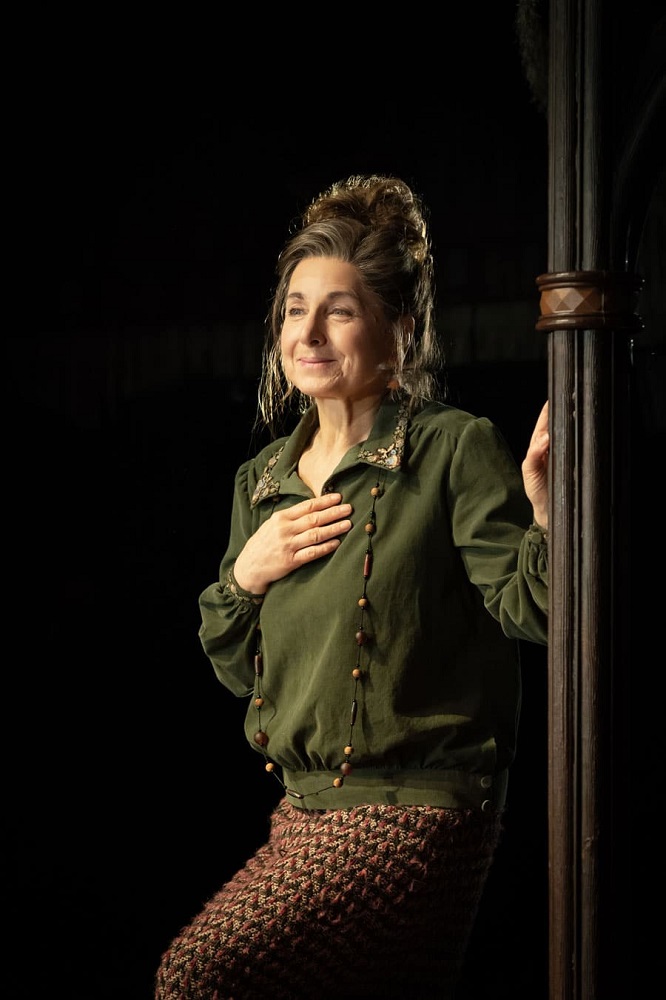 Sadovy (pictured right) has the line and the power to sustain it to the heart-rending cry at the climax. Buckley is asked to do even more remarkable things with her voice. Two of the three insertions from the film are fully justified: "Mein Herr" doesn't kick the delicious "Don't Tell Mama" out of the way – here we get both - but it does allow masterly phrasing in the lead-up to the refrain. Just where aficionados of the stage show might expect the one anodyne number, Cliff's "Why Should I Wake Up?", to strut its cheesy stuff, we get Liza Minnelli's torchsong "Maybe This Time". Buckley does it with remarkable stillness, without a hint of Minnelli impersonation – superlative. Ditto the delivery of "Cabaret", by which time Sally's terrifying rage against her life, or the way she's been used, informs an unforgettable (re)interpretation.
Redmayne's transformations aren't merely a matter of costume changes, however spectacular. "Two Ladies" isn't merely funny but sexy – let's face it, the physique comes as quite a surprise, or it did to me – while the first appearance of "Tomorrow Belongs to Me" stays ghostly, saving the song's overt shock value for its reprise at the end of the first act. His Pierrot in Act Two is supremely menacing, with a threat cleverly unleashed in the window-smashing of the greengrocer's shop. Swastikas are small and sparingly used here: one is an armband, the other a mini-flag at the end of a gun. The future is totalitarian, but not perhaps as we might expect, and the song "I Don't Care Much", dropped before the first night of the original Broadway run but used in the 1987 revival and given what I've found a false context in subsequent reorderings before this one, is implicated in that. Redmayne's full vocal art comes to the fore here, and though he was a tad pitchy in one number earlier on Friday night, he's as much acting singer as singing actor.
All roles in the cast of 16 are characterized to perfection, including Omari Douglas's Cliff (pictured above with Buckley) Inevitably overshadowed by the two real stars, the part is given a more explicitly gay orientation thanks initially to the introduction of Kit Kat Boys Max (Andre Refig) and Bobby (Christoper Tendai). Anna-Jane Casey gets a special part singing "Married" in German, and Stewart Clarke's Ernst Ludwig keeps this seemingly amiable chap's real purpose skilfully under wraps until the point at which the action truly turns.
Miking is so much better than in many West End musicals, and the seven-piece orchestra also yields many consummate solos in what I presume to be the work of musical supervisor and director Jennifer Whyte: an eerie-tender violin counterpoint from Sarah Freestone, blistering trumpet work from Owain Harries. Julia Cheng's choreography has to work within a very small circle, but there are plenty of felicitous touches (a Kit-Kat girl with her hand down her knickers as she thrills to the reading of "Mein Kampf", the stylized beating-up sequence). Meticulously detailed, with a good eye for symmetries dark and light, and holding a fine balance between then and now – a cast with various gender identifications has, she says, brought its own experiences to bear - Frecknall's production will surely repay several visits. Believe me, this is an experience well up to the standards of the very best you'd pay a lot for at Glyndebourne or the Royal Opera. So sell or tell your mama, papa, uncle, aunt, brother or sister to see it.