Milestone review - parable of an aging trucker |

reviews, news & interviews
Milestone review - parable of an aging trucker
Milestone review - parable of an aging trucker
Ivan Ayr's second feature touches on dark themes but doesn't go deep enough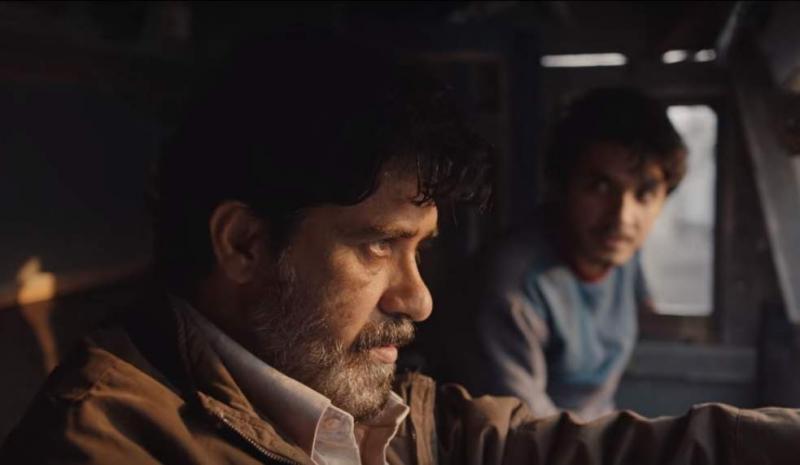 Anti-buddy road movie: Suvinder Vicky and Lakshvir Saran in Milestone
Watching Milestone, a new Netflix original directed by Ivan Ayr, I was reminded of the films of the great Iranian director Abbas Kiarostami. This story about an aging truck driver facing redundancy whilst grieving for his wife attempts the still mood and loneliness that Kiarostami favoured in his quiet epics.
Milestone borrows a lot from existing filmmakers – no problem in itself – but does Ayr offer a unique style? Is
Milestone
just another Netflix original that isn't really all that original?
Suvinder Vicky plays Ghalib, the withdrawn driver (the echoes to Ramin Bahrani's films are undisguised) who begins the film by learning of the death of his wife. Hardship and misery pile on when Ghalib is forced to take on a young intern Pash (Lakshvir Saran) at the trucking company he works for. The kid is innocent but the weary Ghalib, plagued by back problems, senses that the springy upstart is being primed to take his job.
Under all this stress Ghalib seeks refuge in his truck. Ayr employs handed-down visual tactics in attempts to convey "mood" and "depth", including long takes with a handheld camera (echoing Alan Clarke). But this on-the-fly minimalism doesn't suit the grand tragedy of Ghalib's situation. Doco-style filming betrays a script that promises Classical-epic potential. Ghalib's story is one of profound suffering, of sublime tragedy updated for our temp-work age with beautiful prescience, and such a story deserves the same at the formal level. Instead Ayr pares back. Grey tones, minimal dialogue, stretched scenes, no music. These days this aesthetic is called raw, or urgent, or authentic, or even poetic. Bare-minimum naturalism can work if the story suits it. But for Ghalib, facing so much, it feels cheap.
Milestone's look feels meager because Ghalib is such a complex character. He deserves complexity not simplicity. Ghalib gives off the impression that he has found himself in the wrong type of movie aesthetic, gazing blindly and unable to speak. Shreds of his personality do creep in, through the guilts and faults that compound as the film builds. He seems compassionate but also distant, so when we learn that he separated from his wife before she died, our empathy for him is questioned. How much was he responsible? We are forced to ask the same of his career: is Pash the issue, or is Ghalib unmotivated?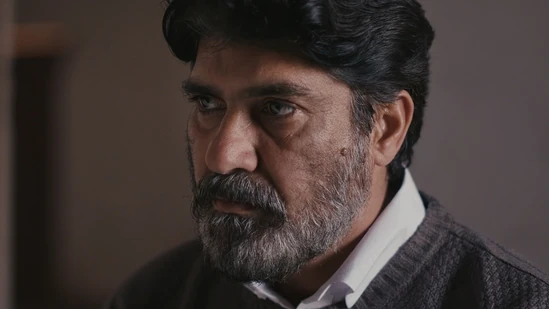 Milestone is filled with these kinds of dark mysteries, and they are the film's strengths. But when it comes to the formal articulation of high drama fitting for such mysteries, real poetry, it's hard not to be disappointed. A wobbly unfocused handheld camera trailing Ghalib in an overlong walking shot is monotonous, feels shoddy and lacks rigour. The bold effort has not been seen through. So Milestone becomes art-house light, diet indie, sharp edges shorn: the kind of film that Netflix abounds in because the platform doesn't want to frighten off potential subscribers with experimentation. Movies can't be too original because then people won't chill.
What about setting? There are various local Indian concerns that are raised but never really explored. The startlingly low median age in the country (this causes the tension between young Pash and aging Ghalib) and the binding family ties (Ghalib is forced to pay compensation to his deceased wife's family) only get small glimpses. A deep dive into these issues, confronting Netflix's mostly western viewers with new voices, might have offered a unique and courageous vision. Sadly Milestone plays it safe.
Milestone is available on Netflix