Voces8 LIVE from London online review - a cracking choral Christmas |

reviews, news & interviews
Voces8 LIVE from London online review - a cracking choral Christmas
Voces8 LIVE from London online review - a cracking choral Christmas
First half of this lavishly-tooled festival offers a range of musical delights
Tuesday, 15 December 2020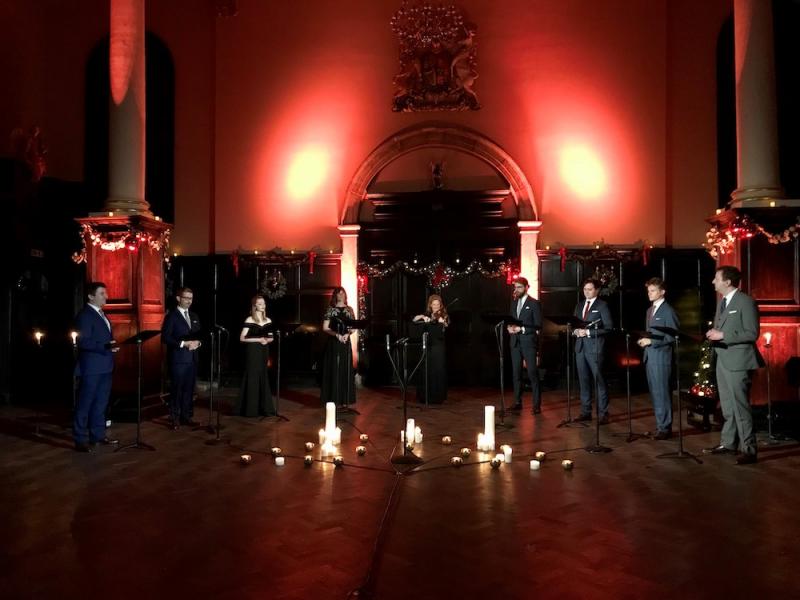 Voces8 with violinist Rachel Podger in the LIVE From London online festival
Voces8 are the Rolls-Royce of British a cappella ensembles and their LIVE From London - Christmas online festival is the Rolls-Royce of online festivals.
Amazingly, it is their second such festival of the year: the first, during the summer, which I regret I didn't catch any of, featured recorded, streamed performances by leading vocal groups from this country (I Fagiolini, Stile Antico) and the US (Chanticleer). The Christmas edition that has followed soon after has mopped up some important groups missing in the summer, with expanded international element and a Young Performers Spotlight.
The festival is also an attempt to make the paid-ticket model of online concert work, a hard nut to crack. The summer festival certainly went some way to proving its viability, with over 40,000 tickets sold in 62 countries – and the very existence of the Christmas festival shows that Voces8 reckons it has legs. The tickets are £12.50 per concert, or £80 for the whole festival, which is cheap for a concert but steep for an internet subscription.
There are lots of ways they have sought to maximise the value. The quality of the production, both visually and sonically, is very high. The concerts are filmed at the Voces8 centre, a deconsecrated church in central London, lit by candles, filmed multi-camera and sensitively mixed. Each concert film (in high definition on Vimeo) has a running time of at least 2 hours, including an introductory interview, a main recital, a short Young Performers slot and in two cases a second slot for an American group. Each film ended with an informal and often revealing "Artists' Lounge", in which the singers sit and chat post-performance. There are also detailed and well-produced pdf programmes of 30-45 pages for each concert.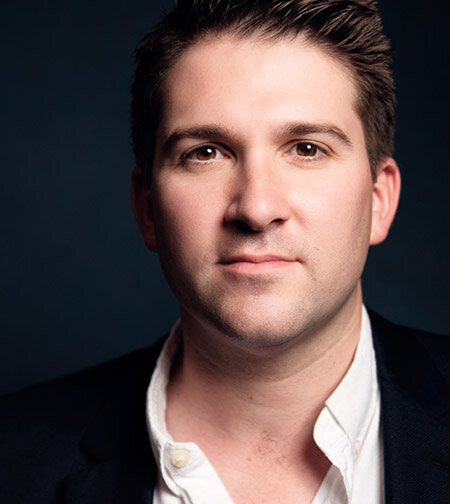 The shows are held together by the brothers who co-founded Voces8 15 years ago and who are jointly behind the group's extraordinary rise, Paul and Barnaby Smith. Barnaby (pictured left) is the group's artistic director, as well as both director and countertenor in performance. Paul is the chief executive, and also appeared in concert 2 as a composer. They present each concert with a relaxed style and with clear enthusiasm for the groups involved, with Barnaby conducting the pre-show interviews (which occasionally became a bit cosy) and the post-match analysis, a fascinating opportunity to hear from the singers and directors.
There are 10 concerts in the festival (with another five to follow at the end of the month of Bach's Christmas Oratorio) and this review covers the first five, up to Sunday night, which I have binge-watched in thoroughly contemporary style. The content has been extremely varied and largely successful. The standard of singing is astonishing, especially in the light of the absence of rehearsals and performances through most of 2020. Above all this is a brave attempt to keep music alive and help it thrive through a can-do approach of just getting the show on.
The opening two concerts featured Voces8 themselves. In the first they were joined by violinist Rachel Podger, playing some solo items and joining with the choir for others. Alec Roth's Men and Angels had a violin part specially added, that was so well integrated it's difficult to imagine the piece without it. Owain Park's Antiphon for the Angels also used the violin – creating a halo of vocal harmony decorated with fluid violin lines. Perhaps the highlight was Jonathan Dove's Three Kings weaving its haunting spell, growing towards a gloriously simple but hard-won climax.
The second event showcased six new commissions, written specially for the festival. These embraced three British and three American composers. On the whole I preferred the British pieces: Paul Smith's Let's Walk Together had a terrific contrapuntal section and Roderick Williams's Now Winter Nights was like a brand-new jazz standard, stylish and rich, which felt like an instant classic.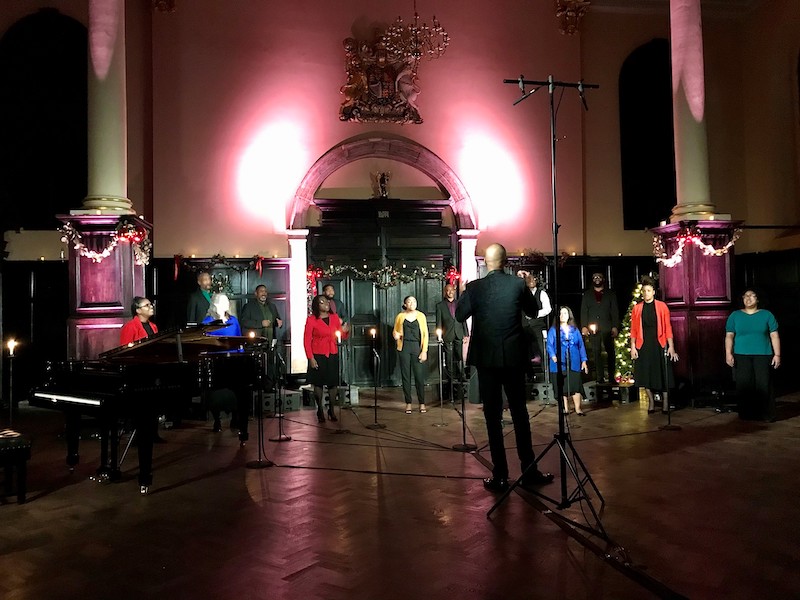 The silky-smooth sound and extraordinary ensemble that is the Voces8 trademark was in evidence throughout, even when one of their number had to self-isolate and be replaced at the last minute. If there is a minor complaint it might be that most of the pieces were slow and richly euphonious, and I might have liked a bit more spice with the sugar, or at least a bit more variety of tempo. But they know their market.
The additional item in concert 2 was the Aeolians, a legendary gospel choir from Oakwood University, an Adventist college in Alabama. They come from the "more is more" school, ladling on the kitsch and earnest religiosity. Hampered as they were by having to sing in masks, I found it difficult to connect with this performance, even as I warmed to their determination evident in making it happen.
This contrasted strongly with the set from Ken Burton's London Adventist Chorale (pictured above by Libby Percival). They too engaged with the African-American spiritual tradition, but in a way that (to me, and I'm no expert) seemed more in keeping with the simplicity and humility of the songs. Burton is a wonderful choral leader, taking a choir that was the notably the most diverse in the whole festival to date, in age, race and musical background, and melding them into something special.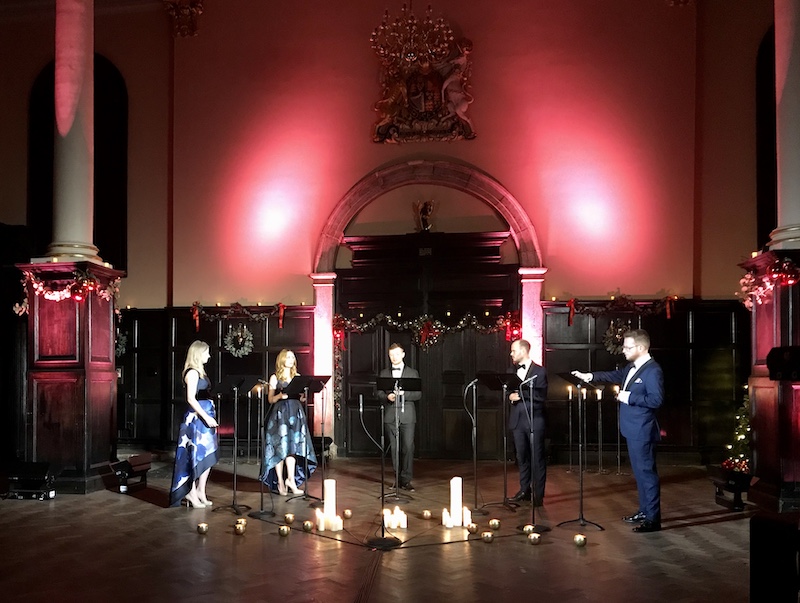 Burton is also an expert arranger, and he was happier to let the songs speak for themselves than the Aeolians. His relatively simple, mostly chordal arrangements had real atmosphere and were delivered with sincerity and conviction. (I loved Deep River, with its fruity low D-flats in the bass.) There were also faster pieces – Joyful True Religion was the stand-out – that balanced the set, and if intonation was occasionally an issue I would put this down to the unfamiliar distancing between members of the choir, that makes hearing the other singers so hard.
The remaining two concerts featured Apollo5, Voces8's sister group, and the Tallis Scholars. Apollo5 (pictured above by Libby Percival) mixed ancient and contemporary carols in some fine arrangements by Fraser Wilson, of which the best was The Angel Gabriel. They also have a seamless blend, heard best when they sang in unison. Their glittering performance of Josquin's Gaude Virgo Mater Christi was energetic and crisp, and in Alexander Campkin's Crimson Sun the glorious "glorias" sounded like 10 rather than five voices.
The Tallis Scholars under Peter Phillips (pictured below by Peter Adamik) gave a typically refined concert of their core repertoire: Tallis, Sheppard, Victoria, with a dash of Britten and Pärt. The singing offered – even to this atheist – a glimpse of heaven, generating a physical pleasure in the act of listening. The soaring top line bore out Peter Phillips' explication in the pre-interview of his feelings about vibrato: not to eliminate vibrato altogether but aim for a purity and cleanness of sound at all times. ("Vibrato is a fact of life," Phillips said, but also: "vibrato is basically out of tune.") Nothing was out of tune in this performance, in which Phillips was a headmasterly presence, minimal gestures shaping each vocal gesture with care.
The Young Performers Spotlight sections featured vocal ensembles from Germany, Singapore as well as the UK, mostly singing lightweight Christmas items. Although I welcomed and enjoyed their inclusion I felt they could have been given – or taken – freer rein in their repertoire choices, which were undeniably safety-first.
There is more to come from this beautifully packaged and lavishly tooled festival, leading up to Christmas Day – part of the marketing is as an ideal Christmas gift for a music lover in the family. It certainly has my enthusiastic recommendation.
The standard of singing is astonishing, especially in the light of the absence of rehearsals and performances through most of 2020
rating
Explore topics
Share this article