Classical CDs Weekly: Stravinsky, Weinberg, Igor Levit |

reviews, news & interviews
Classical CDs Weekly: Stravinsky, Weinberg, Igor Levit
Classical CDs Weekly: Stravinsky, Weinberg, Igor Levit
Colourful ballets, neglected chamber music and a great German pianist's lockdown album
Saturday, 12 December 2020
Elisaveta Blumina plays Weinberg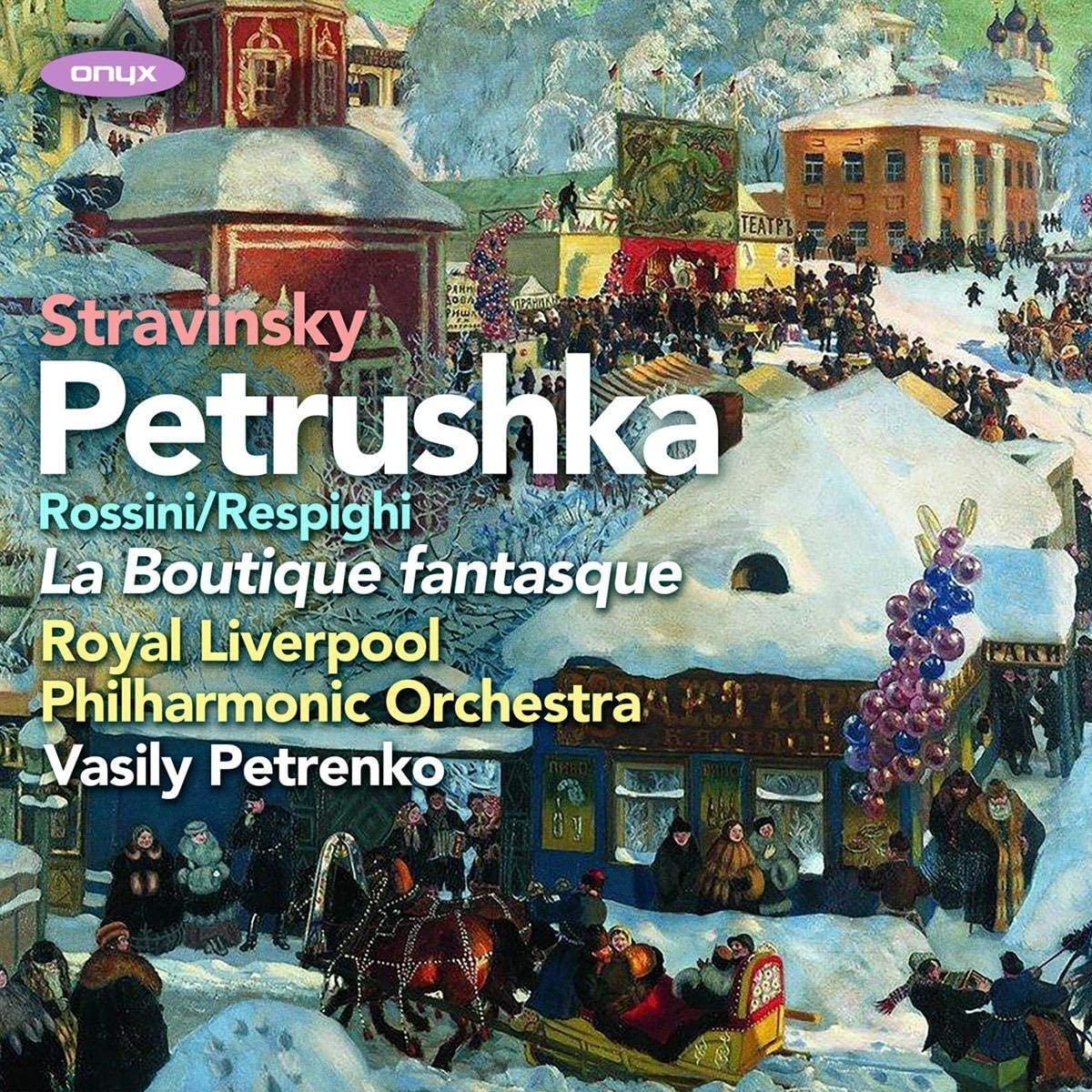 Stravinsky: Petrushka, Rossini/Respighi: La Boutique Fantastique Royal Liverpool Philharmonic Orchestra/Vasily Petrenko (Onyx)
Stravinsky's Petrushka is usually played in the 1947 revision, so it's a pleasure to hear the 1911 original. The musical material is identical, though the later version's sharp glitter is less apparent; this Petrushka looks back as much as it looks forward. Vasily Petrenko's Liverpool recording is a triumph; it's sharply played, neatly characterised and full of life. Think thick oil paint rather than neat line drawing. There's a wealth of detail that emerges as if newly minted: the contrabassoon grunts heard when the Showman brings the puppets to life one of many examples. This "Russian Dance" has exhilarating forward motion, pianist Ian Buckle's contribution as effective as any you'll hear on record. We get a superb cornet solo in the Scene 3 "Waltz", and the final section's fairground tableaux are incredibly vivid: wet nurses, bears, coachmen and grooms all visible. And I'd never noticed the spiky xylophone writing just before Petrushka's death, the grisly moment signalled by a dropped tambourine.
It's coupled, very aptly, with the suite compiled by Malcolm Sargent from Respighi's La Boutique Fantastique, another Ballets russes score. Diaghilev himself compiled and edited a sequence of short Rossini piano pieces sourced from the Péchés de vieillesse, before hiring Respighi (like Stravinsky, a Rimsky-Korsakov pupil) to orchestrate them. The results aren't as ear-tickling as Stravinsky's Pulcinella, but this set of eight short numbers is a lot of fun, Diaghilev's toyshop-based scenario allowing for a sequence of vivid folk dances performed by a cast of dolls. Petrenko's players excel in the brief but brilliant "Can-Can" and make the "Waltz" and "Nocturne" soar. Great fun, beautifully recorded and with nifty sleeve art.
Weinberg: Piano Quintet (string orchestra version by Mathias Baier), Children's Notebooks Op 16 & 19 Elisaveta Blumina (piano), Georgian Chamber Orchestra Ingolstadt/Ruben Gazarian (Capriccio)
If you don't already know Weinberg's 1945 Piano Quintet, you should: this is one of the 20th century's great chamber works. Jens F Laurson's sleeve essay doesn't get into specifics but usefully compares it to the the Op. 57 Quintet by Weinberg's mentor Shostakovich, pointing out that "Weinberg is symphonic where Shostakovich is introspective." Both works have five movements, and that's about far as the similarities extend. The music's bigness, its broad sweep, makes it ideal for a chamber orchestra upscaling, though Ruben Gazarian's Georgian Chamber Orchestra Ingolstadt doesn't make a huge sound. Massed strings are effective in the fourth movement's stern recitative and in the scherzo's scarier outbursts, but what we hear on this well-played disc doesn't deviate far from the original. I love the first movement's opening, Weinberg's questioning first subject entering with no preamble, and the Quintet's spectral final bars. Wonderful music, with Elisaveta Blumina delivering a flawless rendition of the solo piano part, nicely integrated into the string textures.
Blumina's accounts of the two sets of Weinberg's Children's Notebooks, taped in 2010, are the filler. Written in 1945 and dedicated to his daughter, their simplicity is misleading; as with Bartok's Mikrokosmos, there's an awful lot going on just below the surface. Pushed to choose just one number from the 16, I'd opt for the little "Andantino" of the second set, 90 seconds of haunting, lopsided waltz. New to Weinberg? Start here.
Igor Levit: Encounter (Sony)
Busoni's transcriptions of Bach chorale preludes date from 1897, Busoni hoping that the preludes could reach a concert hall audience ("I know of no better keyboard music than this.") and not be restricted to regular church-goers. The results are thrilling; Bach's bass lines given extra oomph, Busoni adding detailed instructions concerning articulation and pedalling. Not that you'd guess that from Igor Levit's playing, his spontaneity and warmth suggesting that he's improvising. "Wachet auf" unfolds with quiet dignity. "Nun freut euch, lieben Christen gmein" is giddy and fleet, each line beautifully articulated. The best comes last, the major key resolution of "Jesus Christus, unser Heiland" paced to perfection. This being a Levit anthology, there's much more, and the first disc of this double album also contains Busoni's rarely-heard versions of six of Brahms's chorale preludes. Agnosticism didn't prevent Brahms identifying with the Protestant musical tradition; these late works are absorbing despite their small scale.
Reger's arrangements of Brahms's Vier ernste Gesänge open the second disc, Levit finding ample warmth in the consolatory final song. Reger's own Nachtlied, heard in an arrangement by Julian Becker, is a stately five-part chorale. Then there's Morton Feldman's final work, Palais de Mari – the inclusion of which makes more sense that it may appear. Busoni's one-time pupil Vera Maurina Press was one of Feldman's early teachers, Feldman recalling the delicacy of her playing. Levit's delicacy and sense of intent bring the work to life, the silences which punctuate its 29 minute span as compelling as the skeletal chords, pealing like soft bells. A marvellous anthology.
the later version's sharp glitter is less apparent; this Petrushka looks back as much as it looks forward
Explore topics
Share this article