Why Don't You Just Die! review - Russian roulette |

reviews, news & interviews
Why Don't You Just Die! review - Russian roulette
Why Don't You Just Die! review - Russian roulette
Cartoonish violence and sharp satire in gleefully black Russian horror comedy
Face-off: Matvei (Aleksandr Kuznetsov) meets Andrei (Vitaliy Khaev)
It's hard to feel sympathy for a young man plotting to stove his prospective father-in-law's head in with a hammer.
But when Matvei (Aleksandr Kuznetsov) discovers his quarry is bull-necked
cop
Andrei (Vitaliy Khaev), this simple plan inevitably suffers violent complications. The ensuing sustained, gruesome slapstick recalls early Sam Raimi, as the antagonists swing a hammer, TV and power drill, sustaining cartoon damage. But
Russian
director Kirill Sokolov's wittily grisly debut is about more than mayhem.
His claustrophobic premise is skilfully expanded with character-building flashbacks which also deepen his satire of Russian corruption and casual misogyny. Matvei's girlfriend Olya (Evgeniya Kregzhde, pictured below right with Kuznetsov) is first glimpsed, foot toying with his groin, demanding her dad's death for raping her as a child. Femme fatale or victim? Sokolov holds her story back as his last card. She is very much her father's daughter, though he sickens her. Swilling down spaghetti, he's a greedy pig and, like her handjob-requiring boss, the pits of Russian manhood. Andrei's pregnant wife Natasha (Elena Shevchencko), so submissive she seems drugged, also repeats a telling detail in Andrey Zyangintsev's state-of-Russia films, by fetching and carrying for her thoughtless man.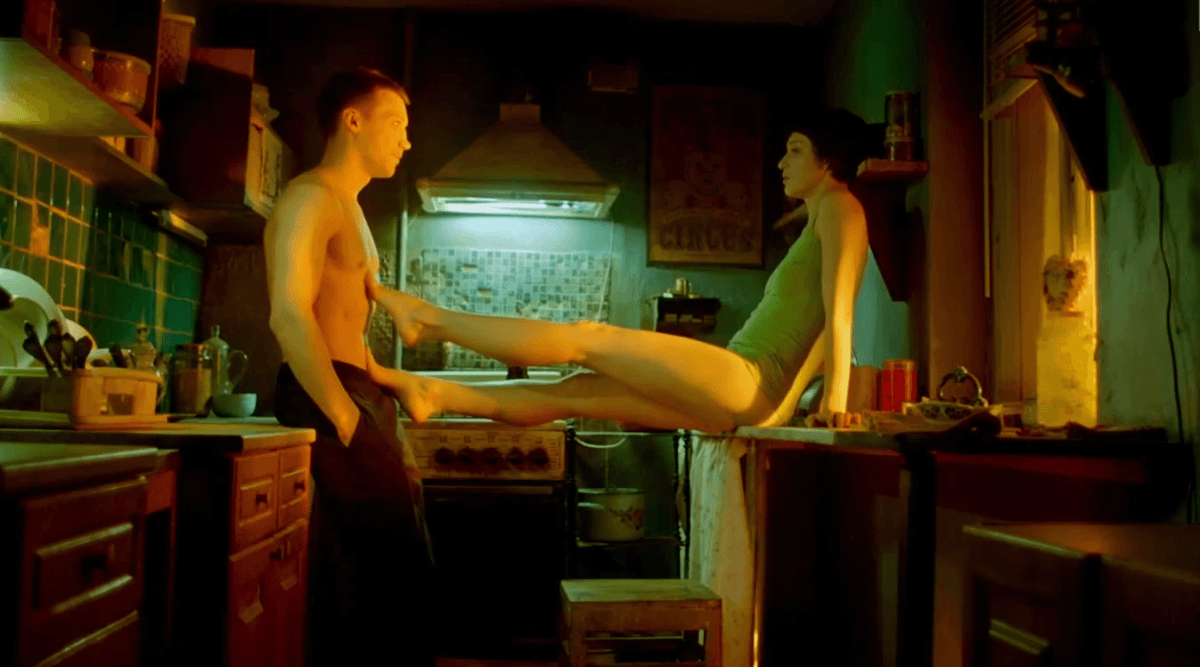 For all the pulp fireworks, this is recognisably the country dissected in Zyangintsev's masterpiece, Leviathan (2014). Andrei casually breaks the law as a policeman, and the mysterious bag of cash in his apartment signifies a particularly pernicious Chinese box of betrayals, beginning with a rich kid's beheaded girlfriend. "It's surprising how evil becomes acceptable...people adapt. But you're ahead of them all," Olya moralises to Dad, while excusing her own ruthlessness. "What about justice?" Matvei whines, the failed assassin a boyish innocent by contrast.
The balance of power regularly shifts in a home whose shotgun-punched walls resemble a war-zone, as Matvei becomes a groggy bystander to the exploding, venal madness. Olya easily sees off curious cops by mention of dad. "Oh, and the call came from Apartment 8," one officer snitches amusingly, betrayal and vengeance both routine.

A Morricone-esque score, extreme close-ups and absurdly wide tracking shots spanning the cramped apartment nod to Sergio Leone's spaghetti Westerns. Blood spurts like a busted pipe, bursts in ripe globules, and leaks through Andrei's fingers as he clutches the guts of a man he's just shot, who soliloquises: "And so I've lived to see my death." This isn't the only literary touch in a film which starts with an epigram from Irish absurdist Flann O'Brien, but employs fated moral logic Dostoevsky would understand.
Sokolov overuses jittery slow-mo, but really belies his budget with the narrative invention packed into his compact setting. Tarantino's Kubrick-indebted debut, Reservoir Dogs, with its Mexican stand-offs among shifty, armed characters in a confined space, is a likely model. As with QT, a fine cast flesh out an essentially ironic film. From sphinx-blank beauty Olya to bovine Andrei, the flat's fistful of roubles unravels them all. You could almost think that Sokolov is slipping a root-and-branch social critique into his government-subsidised, gleefully black horror comedy.