Album: Pigs Pigs Pigs Pigs Pigs Pigs Pigs – Viscerals |

reviews, news & interviews
Album: Pigs Pigs Pigs Pigs Pigs Pigs Pigs – Viscerals
Album: Pigs Pigs Pigs Pigs Pigs Pigs Pigs – Viscerals
Geordie rockers sharpen up to kick out the jams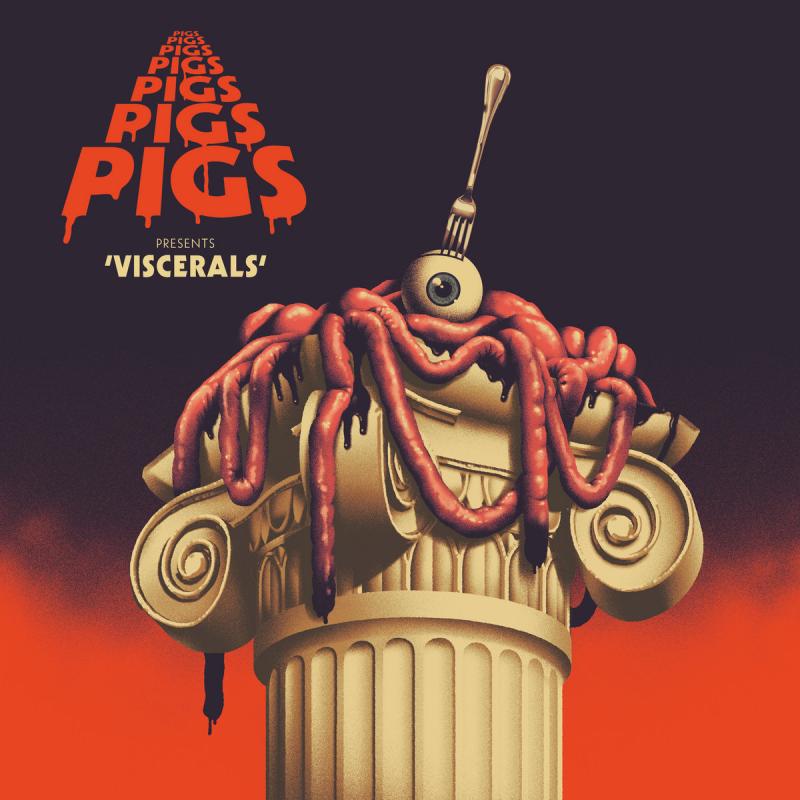 Pigsx7: meaty stuff
The perfect introduction to Newcastle's mighty Pigsx7 is undoubtedly to be made in the live arena, for it's here they seriously let sparks fly with monolithic slabs of sound and an exuberance that is truly infectious. That isn't to say that their studio output isn't worth serious attention and Viscerals is a sonic treat with plenty to offer.
For while the band's
sound
remains firmly rooted in the legacy of Black Sabbath and Hawkwind's peak moments, their new disc is sharper than both
Feed the Rats
and
King of Cowards
, while losing none of the intensity of either.
"Reducer" hits the ground running and goes off like a pub brawl, with a battery of drums that explodes into a cavalry charge. Recent single, "Rubbernecker" similarly kicks down walls with John-Michael Hedley's rumbling bass and Chris Morley's thumping percussion, as Matt Baty howls like a banshee, while a languid guitar solo floats above the muscular raw power. It's certainly an attention-grabbing opening before things get slow and low but no less heavy on "New Body" and the particularly sinister "Blood and Butter".
It's on the second half of the disc, however, where Pigsx7 really go for the hips and "World Crust", and especially the final pairing of "Halloween Bolson" and "Hell's Teeth" would have the more energetic among us bouncing around with some fervour if these musical barbarians were hitting the gig circuit anytime soon. Indeed, Viscerals is not at all short of grooves ripe for dragging all and sundry into the heart of the mosh pit. It's just a mighty shame that's one place where none of us will be venturing for the foreseeable future. In the meantime, the enlightened will have to make do with turning up the volume at home and introducing the neighbours to this tasty platter.
Viscerals is not short of grooves ripe for dragging all and sundry into the heart of the mosh pit
rating
Share this article