Classical music/Opera direct to home: 3 - Two Jenůfas |

reviews, news & interviews
Classical music/Opera direct to home: 3 - Two Jenůfas
Classical music/Opera direct to home: 3 - Two Jenůfas
If you want searing music-drama, Janáček's are the place to start - but choose carefully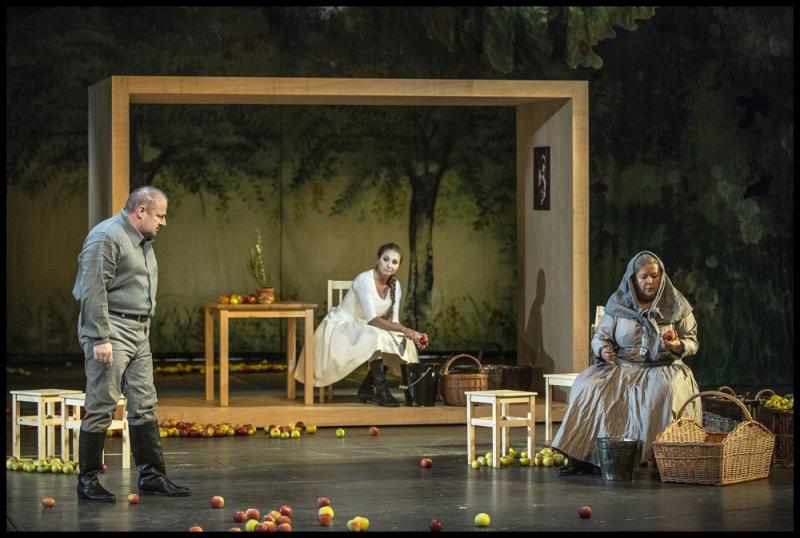 Scene from National Theatre Brno's 'Jenůfa'
We're learning fast what works and what doesn't with online arts offerings in a time of coronavirus. A distinguished young pianist I know rightly pointed out to me yesterday that however good the artists sharing their talents with us from their living/music rooms, and however reassuring it is to be able to join them at a set time, bad sound cancels out most of the pleasure (though he didn't rule out making an appearance himself).
That's mostly not a problem with the opera companies around the world putting up their back catalogue of productions on film for free.
The big guns are turning on their vintage firepower: the Metropolitan Opera's free streaming service is halfway through its Wagner week, today embarking on the second instalment in Robert Lepage's high-tech Ring, Die Walküre; shame it's been treating its workers like Nibelung slaves. Opera North, which has been doing the honourable thing and paying artists whose performances have been cancelled, offers its own concert Ring, though that had already been available in full on YouTube.The Bavarian State Opera has rich pickings for free, though in the short time I had to try and find them, I only came up with Verdi's Il trovatore starring Jonas Kaufmann and Anja Harteros. Enter the company whose work you'd like to watch on Google, and you'll find plenty you can see for free. Our own Royal Opera has a selection to view (ballet of course included), though so far less exciting, on its YouTube channel.
Most admirable, and long available before the present crisis began, is what the best site of all to date, OperaVision, has to offer. It supports a wide range of recent work from companies known and not so familiar, easy to access both on its site and on YouTube. Since today would have seen a review of the new Royal Opera Jenůfa, which had been well advanced in preparation (along with tales of star Karita Mattila at temperamental loggerheads with director Claus Guth), I thought I'd watch a recent production from composer Janacek's home city of Brno in Czech Moravia. There's an excellent chief director at the National Theatre there, Jiří Heřman, whose orphanage settings of The Cunning Little Vixen was the best production of the opera I've ever seen (it was on OperaVision, but due to rights issues had to be removed after the statutory six months). The Jenůfa is, alas, not so good. Its mixture of stylisation – with three sets of doubles for the main characters – and realism might work if the acting were less wooden. Top notes are a problem throughout – it matters – and you need to believe in the heroine as a young girl. Orchestrally, it's excellent. Here it is if you want to brave it.
But (stop right there): if you haven't seen the late Nikolaus Lehnhoff's 1989 Glyndebourne production with the superlative, shatteringly moving Roberta Alexander and Anja Silja, that's what you have to watch. It's still my number one recommendation for anyone unfamiliar with the world of opera who comes fresh from the world of theatre. All three acts are currently on YouTube: here's the first, and you can then access the other two.
Nevertheless I'll be investigating what else OperaVision has in store, starting later this week on The Arts Desk with coverage of Opera North's revival of Britten's The Turn of the Screw, since we didn't get to cover it earlier this year. Garsington Opera's The Marriage of Figaro goes up there in two days' time. Happy virtual operagoing - and any more suggestions/findings are welcome in the comments.
The big guns among opera companies are turning on their vintage firepower
Explore topics
Share this article