Slipknot Unmasked: All Out Life, BBC iPlayer – masked metalheads reveal all |

reviews, news & interviews
Slipknot Unmasked: All Out Life, BBC iPlayer – masked metalheads reveal all
Slipknot Unmasked: All Out Life, BBC iPlayer – masked metalheads reveal all
An intimate show from the Iowa rockers but not a mellow one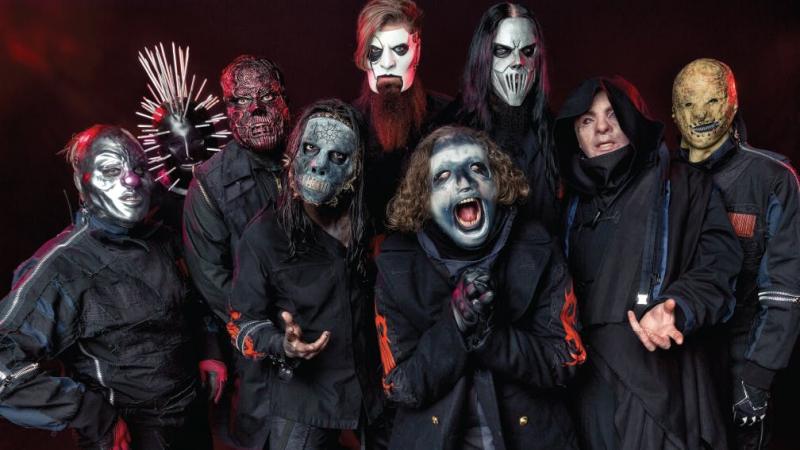 Slipknot: loud and aggressive but inclusive and non-judgemental
There aren't many metal bands like Slipknot. For a start, the nine-piece line-up consists of the standard vocalist, two guitars, bass and drums – but then there are also two percussionists, sampler and decks. Their music is consistently ferocious, with a hardcore, high-speed, ragging thump and semi-comprehensible lyrics that leaves no room for chart-friendly power ballads.
On stage they wear modern horror film costumes, fright-masks and put on a high octane, theatrical show that is not for the faint-hearted.
Yet, Slipknot are one of the biggest and highest-earning bands on the planet that only plays in huge stadiums or some of the largest festival stages. It was quite an honour, therefore, for the BBC to secure a performance from the full band at the famous but comparatively miniscule Maida Vale Studios in London recently for a short set before a small audience of fans.
Interspersed with live footage from past concerts and interviews with sole remaining founder member, Shawn "Clown" Crahan, vocalist Corey Taylor and guitarist Jim Root, as well as their management, Slipknot Unmasked: All Out Life could easily have become a pointless hagiography. Fortunately this was not to be. Indeed, Crahan, Taylor and Root came across as pretty well-adjusted individuals, as they discussed the death of founder member Paul Gray, their infamous masks, past alcohol and drug use and other excessive behaviour, such as their tendency to beat each other up on stage during their early gigs and its resulting injuries. However, as Crahan says: "It's always been about the show" and the performance consisted of a set of six tunes – one from each of their studio albums – played at full pelt, with Taylor howling his lyrics as the rest of the band threw themselves around and let rip. Happily, this was not MTV Unplugged.
It's not my fault that a lot of simple minds can't understand us
Kicking off with the screaming "Unsainted" from recent album We Are Not Your Kind, it was immediately clear that Slipknot had no intention of calming things down from their usual set. With no raised stage, but played on the same level as the audience, the band banged their heads, jumped in among the crowd and generally had fun with a set-up that they can't have experienced for almost 20 years. The crowd of Maggots (as Slipknot's fans have long been named) responded immediately, singing along with gusto and waving their fists or raising the Devil's horns. However, they did seem somewhat shy and reserved in front of the TV cameras, largely standing still with no obvious moshing going on, even as Slipknot ploughed through the industrial riffing of "Psychosocial" and "The Devil and I".
Perhaps sensing a need for more showmanship, "Duality" featured Crahan thrashing his oil drum with a metal pipe like a madman and "Disasterpiece" saw him stalking the audience, wrapping his arm around the shoulders of a willing victim and howling backing vocals in the midst of a maelstrom of thunderous noise.
Finishing with the high speed "Wait and Bleed", Slipknot ended things on an almighty high, with both audience and band seemingly more than happy with the results. As a vindication of Taylor's claim that the band have made a career by making decisions based on their hearts and not the rustling of money, this short but thrilling set successfully planted a flag in the ground for loud and aggressive but inclusive and non-judgemental art. However, it was similarly easy to see why Slipknot might be misunderstood by the social conservatives among us – but, as Taylor snorted, "It's not my fault that a lot of simple minds can't understand us".
The band banged their heads, jumped into the crowd and generally had fun with a set-up they can't have experienced for 20 years
rating
Share this article