Two Door Cinema Club, O2 Academy, Glasgow - lively but risk averse party songs for the weekend |

reviews, news & interviews
Two Door Cinema Club, O2 Academy, Glasgow - lively but risk averse party songs for the weekend
Two Door Cinema Club, O2 Academy, Glasgow - lively but risk averse party songs for the weekend
The Irish trio were in Glasgow supporting new album False Alarm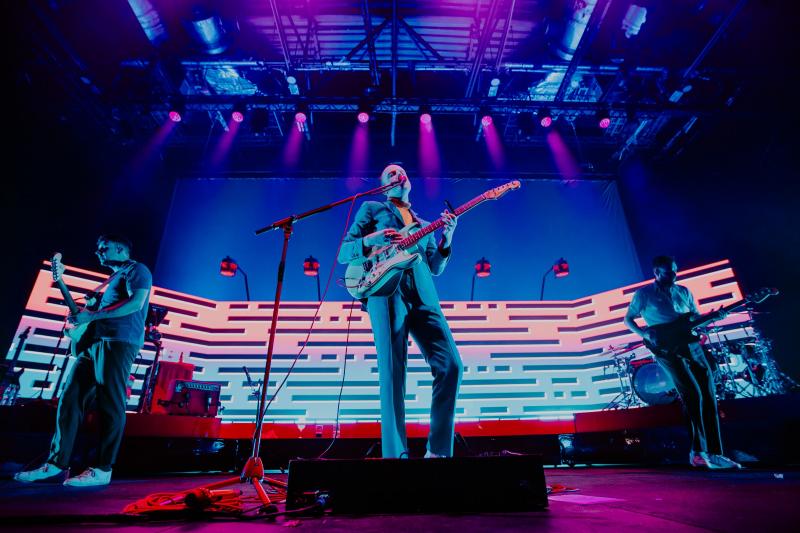 A well-honed and slick display from Two Door Cinema Club
The onstage arrival of Two Door Cinema Club was heralded by a tongue-in-cheek video countdown that reached zero and then flashed up an error message, before asking the crowd to "try again". In truth, the band's own performance was never likely to hit any hitches, being the sort of well-honed and slick display that you would expect from a group who have been touring steadily for the past several months.
That is both a positive and a negative.
The trio, augmented by synths man Jacob Berry and drummer Benjamin Thompson, started fast, though. They write songs well suited to the weekend, to exuberance and to forgetting any of life's mundane realities, which is one of the reasons they have continued to enjoy mainstream success in relatively fallow times for guitar bands.
This year's fourth album False Alarm might offer a more diverse palette than previous efforts, but the opening electro pop of "Talk" still sounded suitably booming, and dovetailed neatly into a couple of frantic, jittery old favourites in "Undercover Martyn" and "I Can Talk", with the crowd bouncing along, and, in one case, prompting an eager punter to wave a St Mirren flag at the band.
Their views on the men from Paisley's onfield struggles are unknown, but the trio can certainly pen a football terrace sing-along, as evidenced by a thumping "This Is The Life", while the funky melody of "Bad Decisions" presented a more playful approach. This was mostly music without preamble, a wham-bam approach focused on pace, noise and letting vocalist Alex Trimble shimmy around the stage. For a band rooted in indie discos, Trimble, comfortably the most charismatic of the trio, clearly loves a spot of pop star posturing, cutting shapes on the multi-tiered stage set-up as if he was living out childhood dreams of being on Top of the Pops.
Such moves were usually welcome, because for all that the band's material has a swiftness to it, it is also repetitive. Slickly performed they may be, but on some of the weaker tracks, from a leaden "Next Year" that failed to find a groove to the forgettable synth pop of new track "Once" and the speedy but flighty "Something Good Can Work", there is a lack of personality that prevents them lingering in the brain for long. They are competent party anthems, but safe ones that could do with more character or, indeed, diversity.
Far more interesting was the spoken word-heavy "Satellite", mixing up some pop smarts with bursts of noise. It felt vivid and different, and was something the set could have used more of, especially as there was surprisingly little of their more risky new album offered here. Instead, nearly half the set fell back on 2010 debut Tourist History, and while it is the album that established the three-piece, hearing them trot through all the old favourites veered worryingly close to a heritage band at times. That feeling increased during a variable home stretch overly reliant on formulaic indie pop that, at least, ended on a high with the enjoyably lively "Sun", a tune that displayed Two Door's knack for a melody. If only they'd take a few more risks, too.
For all that the band's material has a swiftness to it, it is also repetitive
rating
Share this article