Armstrong review - the man behind the leap |

reviews, news & interviews
Armstrong review - the man behind the leap
Armstrong review - the man behind the leap
Documentary offers a sombre but interesting look at the first man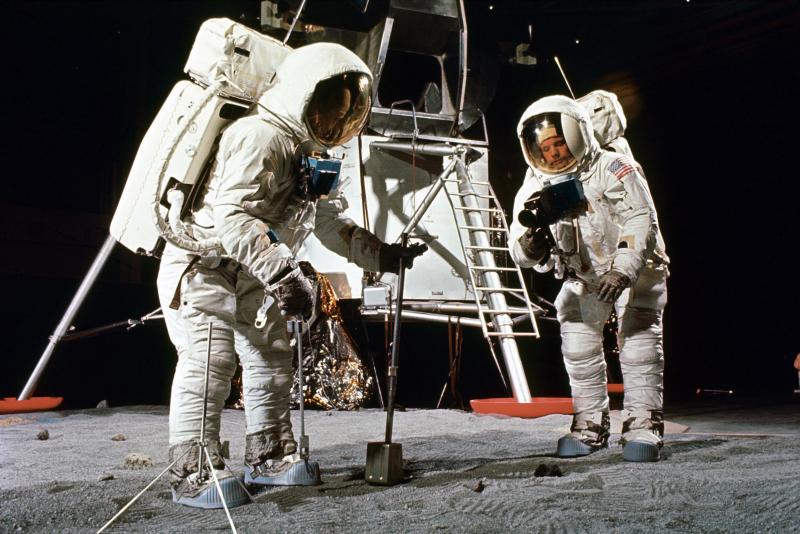 Neil Armstrong and Buzz Aldrin practicing their famous steps
You wait 50 years for a moon landing documentary, then two come along at once! With Apollo 11 still showing in cinemas, along comes Armstrong. But while the former focuses solely on the lunar mission through archive footage, the latter is the wider story of the man behind those famous first words.
Told with support from modern interviews and his own writings (voiced by the irrepresible Harrison Ford), we follow Neil Armstrong's journey from Wapakoneta, Ohio to the moon and back again.
Though he will always be remembered as one of the greatest humans to have lived, Armstrong is something of a mystery man. This is not down to some classified history, but because the extraordinary man was, in a way, incredibly ordinary. As a child, he dreamed of being an engineer. He joined the navy as a pilot in the Korean War, before returning to university. There he met his future wife, and started a family while testing jets. Everything he did, he excelled in for the simple reason he was intelligent, competant and reliable. There's a reason he was chosen over the flashier Buzz Aldrin to take that one small step - he was strait-laced, white bread Americana.
This means that although he lived an exciting life, it can make for somewhat sober watching. It would appear that director David Fairhead knew this, because the film is structured around that faithful Apollo 11 mission. The narrative bounces back to it between segments of Armstrong's life. This constant return to his space exploits is a wise choice, as these are the film's best moments. It excels in showing how Armstrong remained calm and capable in some truly astonishing situations, from the Gemini rocket spinning out of control, to the lunar lander almost crashing into a crater.
Though told in a more traditional format than Apollo 11, Armstrong still has plenty of flourishes. Ford's aged growl bears little resemblance to the astronaut's soft tones, but he gives the words the appropriate gravitas. Diary entries and letters home give a great insight into Armstrong's considered, and a time poetic, mind. The film also plays with aspect ratios well, not forcing perspectives onto older footage, giving even grainy war footage a cinematic sheen.
After the landing, Armstrong retreated from the public spotlight, lecturing in university and leading the investigation on the Challenger disaster. In fact, so sensible was he that it feels like a footnote in his own film. For this reason, Armstrong probably isn't the best film about Apollo 11 currently in cinemas (a rather cruel evaluation reminiscent of Ringo's drumming). However, it's still an essential watch for space buffs and a great partner piece to Damien Chazelle's First Man.
It excels in showing how Armstrong remained calm and capable in some truly astonishing situations
rating
Explore topics
Share this article