Gravity & Other Myths: Backbone, Brighton Festival 2019 review - eyeboggling and very human circus show |

reviews, news & interviews
Gravity & Other Myths: Backbone, Brighton Festival 2019 review - eyeboggling and very human circus show
Gravity & Other Myths: Backbone, Brighton Festival 2019 review - eyeboggling and very human circus show
Australian troupe dazzle with balletic acrobatics, stunning precision and teamwork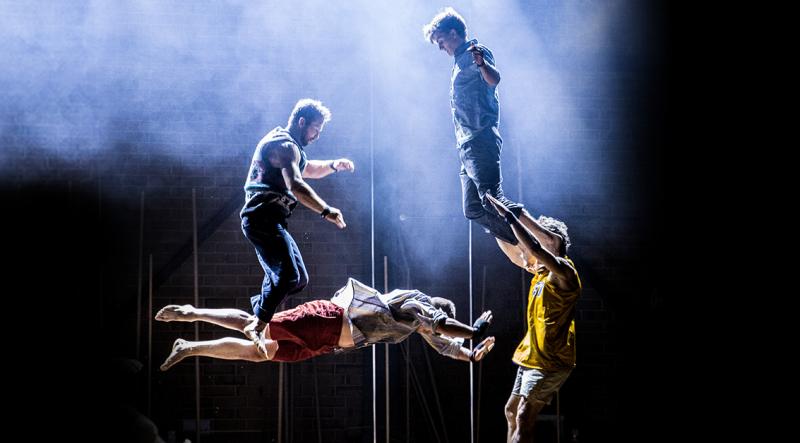 Wandering about in the air, as usual
Shows by Gravity & Other Myths fall into the realm of "contemporary circus". It's an off-putting moniker, bringing to mind a performance where there's no clowning but quite possibly much "thought-provoking" interpretive dance.
The decade-old troupe from Adelaide,
Australia
, appearing tonight in Brighton's Dome Theatre, deliver a show that is certainly contemporary circus, but they reinvent the term in in a riveting, entertaining way.
Proceedings begin with the house lights coming up to reveal the stage cluttered by a rack of clothes, a line of steel buckets, a suit of armour and more. It's also littered with the perfomers' bodies as if asleep. All is quiet. Moments pass in an evocative silence. Then they gradually awake. The sound of instruments tuning up is heard. The cast busy themselves, moving everything about, trying on clothes (which they do throughout). It is an introduction that seems to say, "This is us, we're just getting on with our day, just like you."
There are ten of them and much of Backbone is an endless eye-boggling bustle as they clamber over each other, climb up each other, do flying kicks into each other, stand one atop another three high, constant fluid action, an acrobatic ballet that has a real poetry to it. Whenever there are not set pieces, that's what's going on. The Brighton Festival programme says Backbone is all about "the concept and perception of strength" and, yes, this crew is so strong of body, but it also seems to be about competition and comradeship.
There are various sequences where they line up to compete, right up to a climactic weight-bearing competition, and including a jokey piece where losers are twanged with a giant elastic band. But the awed shouts and applause greet moments such as those where a performer is flipped through the air over distances and in ways that look impossible. Much of this action takes place around, amid and involving a mass of what looks like builders' sand, which is what turns out to be in the buckets and which they throw about with abandon.
There is a stunning section later on where a woman – quite possibly the supremely agile, multi-jointed Gravity & Other Myths co-founder Jascha Boyce - is held aloft on a bed of scaffolding poles then eventually left flopped on her back on just one in what looks like an agonizing manner, redolent of a Caravaggio suffering Jesus.
It does not all work. There are a couple of routines which seem to offer more drama than they eventually deliver, notably one involving rocks raised up high in a net with much fanfare, but the engaging material far outweighs the passable. A mention should go the to the music, performed by Elliot Zoerner and Shenton Gregory, stage right, on violin, percussion and synth software. They create an involving soundtrack that runs the gamut from dubstep womping to a funky folk dance that precedes the end.
It's an odd thing to say but Gravity & Other Myths make the almost impossible look so doable that it sometimes defeats the purpose of their show. From the very first move – standing forward on each other's thighs - and for an hour-and-ten-minutes, they're doing exhausting things with their bodies which most of us never could and, in some cases, would cripple us if we tried. Yet, after a while, the human mind being what it is, and they being so relaxed and confident, it's almost as if it looks too easy!
In the end, though, such thoughts are just passing. Backbone sees a team working with a coordination that defies belief. The way they move about each other gives the impression of a Heath Robinson-esque contraption made of actual people, but as much the fluid way one floats through space in a dream. It is supremely impressive and when it's over Gravity & Other Myths receive a standing ovation, which they accept with the same cheery, unpretentious smiles they've worn throughout.
Below: Watch a trailer for Gravity & Other Myths' Backbone
Makes the almost impossible look so doable that it sometimes defeats the purpose of their show
rating
Explore topics
Share this article