theartsdesk Q&A: Bananarama |

reviews, news & interviews
theartsdesk Q&A: Bananarama
theartsdesk Q&A: Bananarama
The indestructible girl group on singing, clubbing, post-punk, Lemmy, George Michael and much more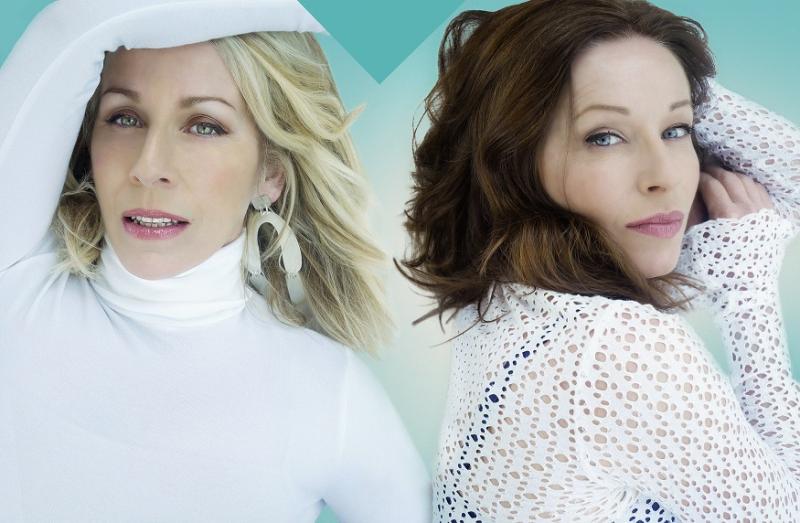 Sara Dallin and Keren Woodward
Bananarama are one of the most successful girl groups of all time. Consisting of Sara Dallin and Keren Woodward, the band's third original member Siobhan Fahey left in 1988 to form Shakespears Sister. The trio reunited in 2017 for a tour but new album, In Stereo, sees them back as the long-standing duo. The pair have been friends since their school days.
Bananarama formed in London in the milieu of post-punk clubland, their opening shot "Aie a Mwana" leading to a major label record deal and backing vocals for Fun Boy Three who were, at the time, one of Britain's most eagerly anticipated new bands. This collaboration led, in turn, to Fun Boy Three guesting on Bananarama's "Really Saying Something" single. From there, they were on their way.
Hits such "Na Na Hey Hey Kiss Him Goodbye" "Cruel Summer" and "Robert de Niro's Waiting" followed, but Bananarama reached a whole new level of success when they collaborated with mega-producers Stock, Aitken and Waterman on a hi-NRG cover of the Shocking Blue song "Venus". A hit-packed album, Wow!, followed. After Fahey's departure, a new member, Jacquie O'Sullivan, was recruited for one album, Pop Life, but by 1992 they were a duo again, still maintaining success. The mid-Nineties, however, saw their chart career start to wind down.
The band never stopped but it was the 2005 hit "Move In my Direction" that resurrected them and they've remained a presence in pop ever since, now massive on the festival circuit, playing this year's Glastonbury among much else.
Thus theartsdesk meets them in a restaurant in Highgate. Sara Dallin (the blond one) has a cold but both are on cheerful, chatty form, unselfconscious, and quick to have a laugh.
THOMAS H GREEN: You've worked with the producer Ian Masterson a lot, including on the new album. He came up via the late-Nineties trance scene. Was it that pumping dance aspect what originally drew you to him?
KEREN WOODWARD: We do love dance music. After doing lots of pop stuff in the Eighties we did an album [Pop Life] with Youth that was loosely drum & bass. In the early Nineties we'd go to Ibiza, we loved all that music, Pop Life was more experimental. With Ian we can try anything, do anything, write anything. It may never see the light of day but that relationship is enduring because it's so comfortable and brings so many great ideas. Ian is also very versatile. He's done the arrangements on Strictly Come Dancing for the last couple of years. We've been on Strictly a couple of times. We've known Bruno Tonioli for years.
SARA DALLIN: Since 1984 and the video for "Robert de Niro's Waiting".
K: He says he choreographed it but I'm not sure. He was there to make us a bit more excited about it all.
Below: Watch the video for "Long Train Running" [sic]

You mentioned your times in Ibiza. Was that where you heard the Doobie Brothers' "Long Train Runnin'" which was big on the Balearic scene and which you covered?
K: We did go to Ibiza a bit. We went to one of [late Ibiza hotelier and party animal] Tony Pike's weddings round the pool. That's where they shot the video for "Club Tropicana", isn't it.
Clubland changed after acid house…
S: Yes, it was really exciting for us to be part of the scene as a punter. In London we missed out on [Leigh Bowery's decadently androgynous post-New Romantic mid-Eighties nightclub] Taboo because we were always away. The 1990s were a change. After ten years of success we got to do things normal people would do; go to Ibiza, go to clubs without performing, I think we really enjoyed that.
K : We just loved clubs from the get-go and clubbed and clubbed, then we went into our 40s and suddenly we felt we really couldn't do it anymore. We went clubbing not to be seen or be cool, we absolutely lived it.
And Pop Life reflected those times?
S: Yes, we met Youth when we were 18. I dated him for a few days then, 10 years later, we worked with him. He never told us what to do or sing. Youth was, like, "Let's put this beat down and see what comes out."
K : We were writing with the guitarist Andy Caine who was also a talented songwriter.
S: After the Stock, Aitken & Waterman period we were spreading our wings with varying degrees of success. At least we gave every type of song a go.
Youth must have been heavily involved with Killing Joke when you first met him?
K: He was, then he was with The Orb, but Alex [Patterson of The Orb] had been his mate since way back. They used to share a squat that we'd frequently visit in Ladbroke Grove. When we moved to London we were based in the West End, first in great Russell Street, opposite the British Museum, in Helen Graham House, the YWCA, then in Denmark Street.
S: Keren and I met [Sex Pistols drummer] Paul Cook in Studio 21, a club on Oxford Street. He really liked us and must have remembered we lived at the YWCA because the next Sunday morning over the Tannoy it said, "Sara and Keren, you have Paul Cook in reception." He was the first guy that ever took us out in his BMW convertible. We were, like, "Oh my God, this is the high life!" When we had nowhere to live he said, "Come and live in Malcolm McLaren's office," which was above the room the Pistols used to rehearse in. He and [Pistols guitarist] Steve Jones used to have a band called The Professionals. We did backing vocals, learnt the bass.
K: We went to the Manor [Studio] with them when they were recording and Lemmy turned up with his girlfriend at the time, Motorcycle Irene. I remember being scared to death. She had fishnets and leather and hair down to here and we were two little punks. We'd go clubbing to the Music Machine [the Camden Palace, now KOKO] with Lemmy and Echo & the Bunnymen. It was just a whirlwind. We'd come from school and were suddenly going to all these amazing places.
Lemmy was a gentlemen underneath it all.
S : Yeah, he was lovely. His son Paul [Inder] played bass on Pop Life on lots of tracks.
I like The Professionals. "The Magnificent" is one of my favourite songs. Which ones did you sing on?
K: We only sang in rehearsals, not on the album. We used to push our way in and get on the mic.
S: They loved us - we were like their little mascots.
K: Paul suggested we make a demo and he produced our very first demo.
S: With a guy from Mott the Hoople.
Below: Listen to the 12" of Bananarama's debut single "Aie A Mwana"
And have you been on Steve Jones' radio show in LA?
S: We did, he played "Venus" and we had a singsong in the studio.
Did you ever have anything to do with The Slits?
K: Not really but we went to see them a few times.
S: We loved Viv Albertine, that tutu and DMs thing. I think our style came from her.
K: In the early days we were always down Camden or Portobello buying old dresses and putting them on with boots. We had a similar style.
Did you find the female punks empowering?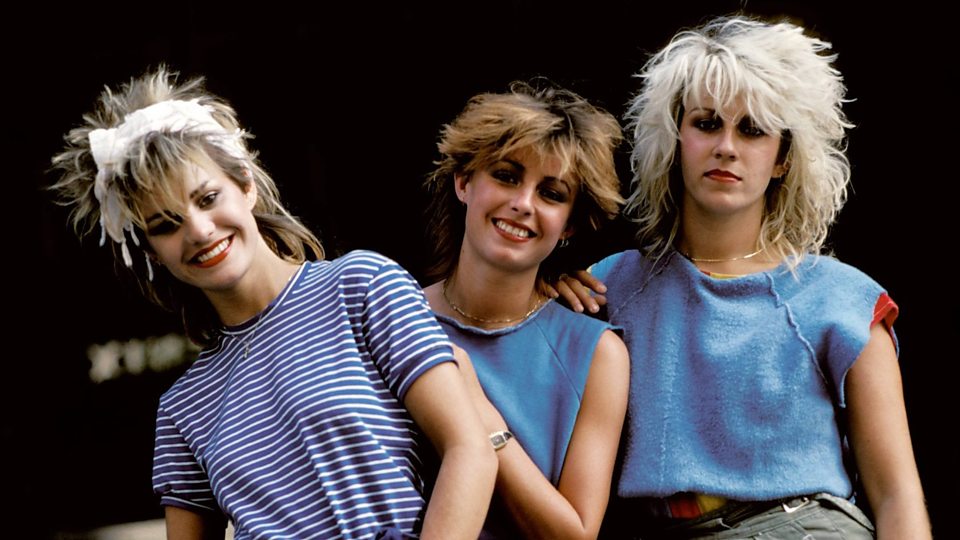 S: Yes, apart from Debbie Harry and Patti Smith there weren't many other women I could look up to or who would make you think, "I could do that." When I was at school I didn't think I could be in a group because it was all for guys, wasn't it. Women didn't really do that at that time.
Except for women in punk and disco.
K: I love disco, absolutely love it, so exciting.
S: I wish I'd been at Studio 54.
K: My dad bought me Sylvester's "You Make Me Feel (Mighty Real)" because he loved it. That was the first single he ever bought me. We used to dance around together. It was so uplifting.
Given Sylvester was black dude in drag, that was quite advanced for your dad at that time.
K: I don't think he knew, he just liked the song.
S: He did switch David Bowie off the TV. I don't know what it was but he was snogging a skeleton head [probably footage of 1974's Diamond Dogs Tour].
K: I don't think we knew what he was doing anyway.
Would you like to be asked more by journalists about your song lyrics and how they reflect issues in your lives?

K: Our new album does reflect stuff in our lives.
S: I don't think we need to explain them. They're self-explanatory. Some of it is real, some of it embellished. If I ever listened to a Smiths song, oh my God, or when I read Sylvia Plath's The Bell Jar, it's like that makes you feel better, especially when you're young and you think someone else has had those feelings.
K: So many people say to us that one of our songs got them though something and you think, "It's only a silly pop song," but it has certain lyrics that resonate with a situation.
Neil Tennant has observed that there is a tendency to trivialise pop as compared to presuming that rock music is earnest and has real emotion.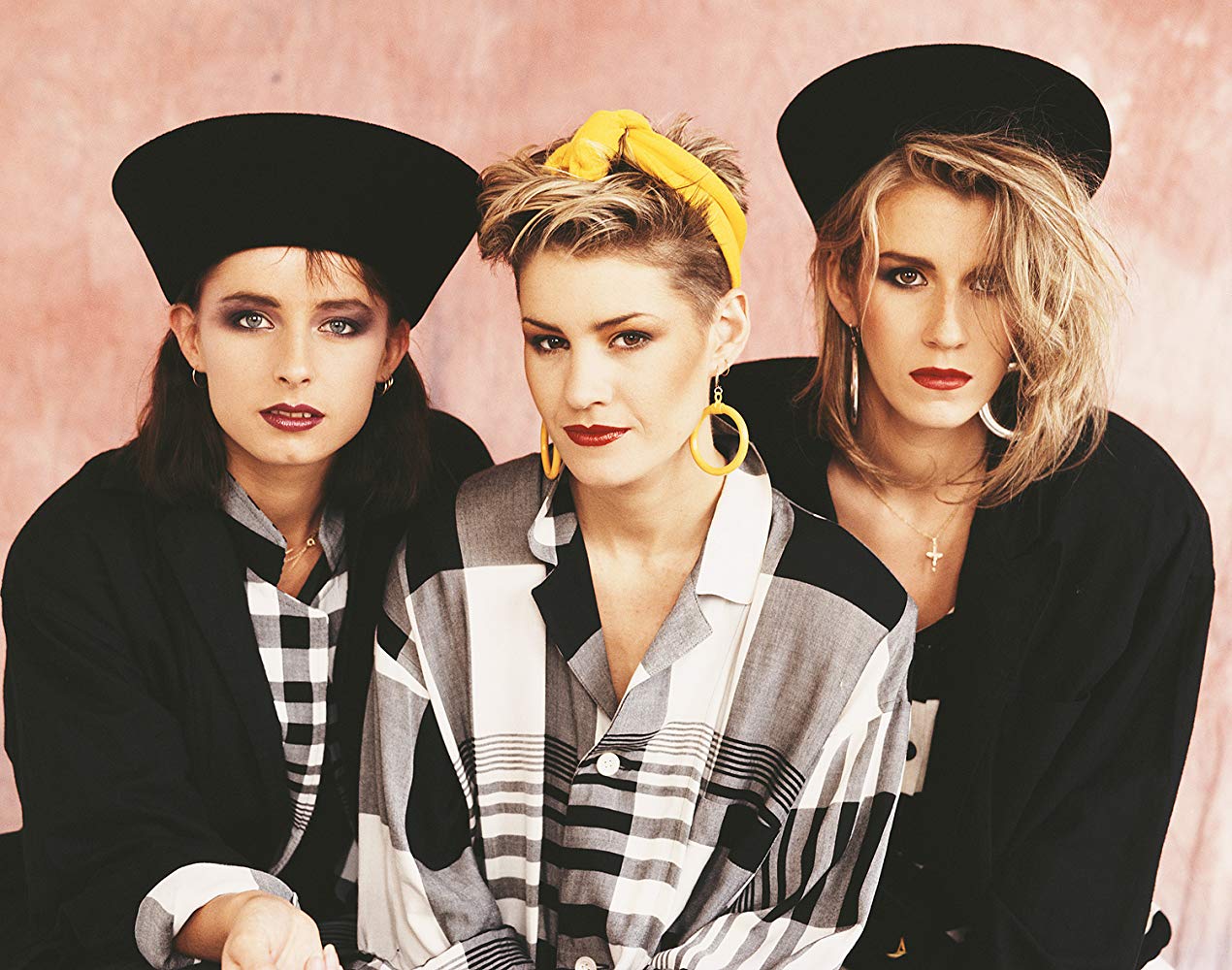 K: Memories come from pop songs, growing up or when you're going through a rough time with a boyfriend. Pop also triggers memories; that's what it's there for really. It shouldn't be discounted because it's pop. It has just as much meaning and validity. Also, like Serge Gainsbourg, it's about love and loss, just in a different form.
There's a song called "Dance Music" on the new album, celebrating exactly that, but you said earlier that you don't really go clubbing anymore.
K: Not in earnest!
S: We do occasionally on our travels.
K: The last time we went to a club was when we did a show in Singapore on the way to Australia in February and had a few drinks afterwards in a bar. A girl said, "Oh, there's this great club round the corner." We all walked in - and then we all walked straight out again.
S: I looked at this girl standing on a podium with her champagne, a guy with his top off, and I remember those days but I didn't feel, "Oh I wish I could do it."
Below: Watch the video for "Dance Music"
Your new album's closing song, "On Your Own" has some lovely forlorn twangy guitar on it.
S: That's Matt Backer. He plays with ABC all the time and does his own stuff, blues; he's often out in Florida playing festivals.
Do people think of you more as singers than musicians?
S: I love vocal arrangements. I learnt that between 18 and 19 and now, at this age, knowing how to construct the music, that's my favourite part, building and layering. I would hate to just go in and do a vocal and leave it to someone else to produce… unless it was Timbaland, I suppose.
I read the other day that "Robert de Niro's Waiting" is about date rape.
K: [Slightly exasperated] This always comes up: no, it's about hero worship.
We'll park that there, then. How about "Rough Justice"? Was that a comment on homelessness and the values of Thatcher's Britain?
S: You're much more political when you're very young. You want to be aligned to something, to stand up for something. It's not that you don't for the rest of your life but you take a broader view. When you're young you think, "That's so unfair – I'm going to write a song about that." We co-wrote "Rough Justice" with Steve Jolley so he had a lot of impact on the lyrics as well. Maybe at that stage, as a female group, we were keen for people to know we were not three fluffy airheads.
Below: Watch the video for "Rough Justice"
K: A lot of people genuinely thought that because they didn't go into the ins'n'outs of what we were, how we started it all ourselves.
S: Every girl group that came after us was put together. It used to annoy me when girl groups would be lumped together. We have more in common with The Cure or The Prodigy.
The Prodigy once said they were Bananarama fans.
K: We just went to Keith [Flint]'s funeral; really, really sad. We met in Japan in the early Nineties and became such great friends with them instantly.
S: Keith was just so adorable.
K: He was nothing like his image. I'm sure he had that side to him but he was so sweet and gentle; He bought my daughter a little bicycle and used to take her out for rides, they'd go to his vegetable patch, he'd be singing songs and he had a pack of dogs, he'd cook dinner, a really lovely guy.
I've probably seen them live more than any other band and they always, always deliver.
S: We've been on stage with them. It was at Knebworth with Oasis. We were really good friends for that period of time, then we lost touch, he got married and we didn't see so much of him. People are complicated; people used to think he was an absolute lunatic because of that manic dancing but he was a sweet guy.
On your first three albums you worked extensively with the production duo Swain and Jolley. One feature I read intimates that the relationship was not an immediate success, that it took a while to bed in?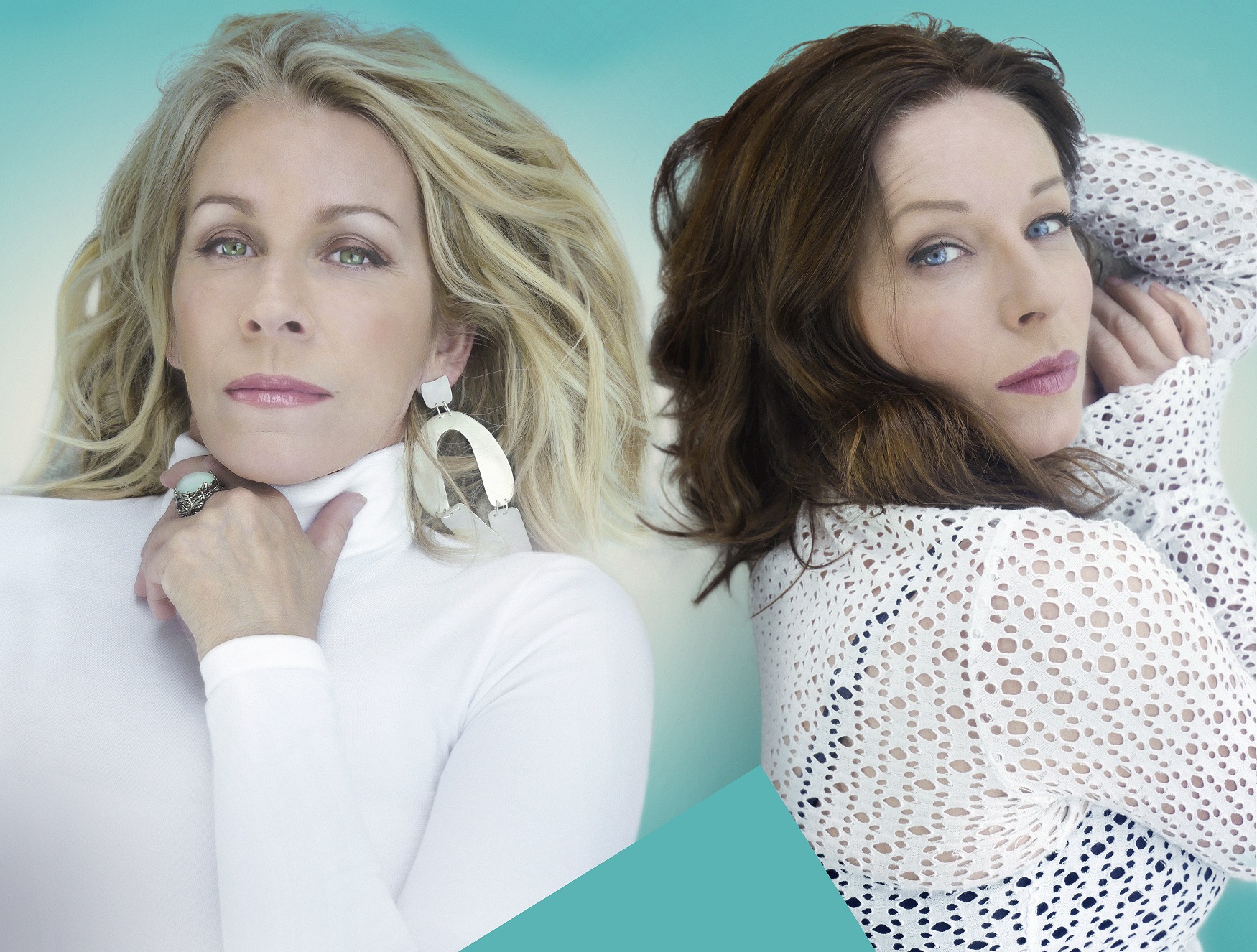 S: I don't think so. We heard "Body Talk" by Imagination in a club and we loved that bass, that disco cool, and thought, "Who's done that?" We found out who they were and arranged a meeting. The thing was, they had to get to know us. The first song they wrote was "Shy Boy", which was originally called 'On My Big Red Motorbike".
K: We said, "We're not singing that." It's bad enough singing "Shy Boy"!
S: That's actually terrible, but we were young and it's a catchy song. We co-wrote the first album with them and really learnt how to write the melodies. They were great teachers.
There was no sexism, then?
K: No, no, we really enjoyed working with them. They were very generous with us and we had no real experience. As people they were hilarious fun. We saw Tony recently in Kew Gardens.
For a performance?
S: No, we went there for a day out.
It's great you still hang out together after all these years. The only band of any longevity that I've interviewed who still do things like go on holiday together was The Wurzels.
K: [Laughing] We have this enduring friendship. Work and friendship go hand in hand. We decided we were going to do lots of day trips last summer but only managed a couple.
S: The older I get, the more lucky I feel to have a best friend. Friends disappear until you can only count them on one hand.
Being in a band together can sometimes bring on a siege mentality.
K: It can be really tense. A lot of bands break up because of a clash of personalities – [laughing] but I don't think that's likely to happen to us now! We seem to want the same things. We've really come out of the other side of the crazy stuff. I want to enjoy my life. We turn stuff down. I don't want to do something I'm uncomfortable with. We had a discussion with our agent where he said he's never had this thing he offered us turned down. "There you go," we said, "it's a first!"
There's a bangin' campness about the new album. Do you ever think of doing stripped back, more minimal stuff?
S: Actually, yes, we did think about that. For the album shows we're playing quite small places and not doing many old tracks, but those we are doing are going to be very different. I can almost see it being like Sophie Ellis Bextor with the orchestra, I'd quite like to do a little set in a different style.
Sometimes I think Madonna should get out of the gym and just change things up, make an album with just piano accompaniment or something.
K: That'd be a comment you'd never have to make to me – being in the gym, not these last ten years.
S: In America they have running machines in the dressing room. It's a whole different mentality.
And it's caught on here too. I haven't been to a gym since 1985. It just seemed like PE at school so I didn't fancy it.
K: I used to go to the gym but not now.
What do you think of Autotune. You use it on some tracks, such as "Seventeen" from your last album.
K: That was as an effect.
S: We didn't have Autotune in our day but I think it can be quite effective. Sometimes Kanye West uses it too much but then he can't really sing, can he. We have a Vocoder a couple of times in our live set. I love it but I don't know what he's saying. We always turn round and say, "What you on about?"
Jacquie O'Sullivan [in Bananarama below right] was in the band for three years when Siobhan left. Are you still good pals?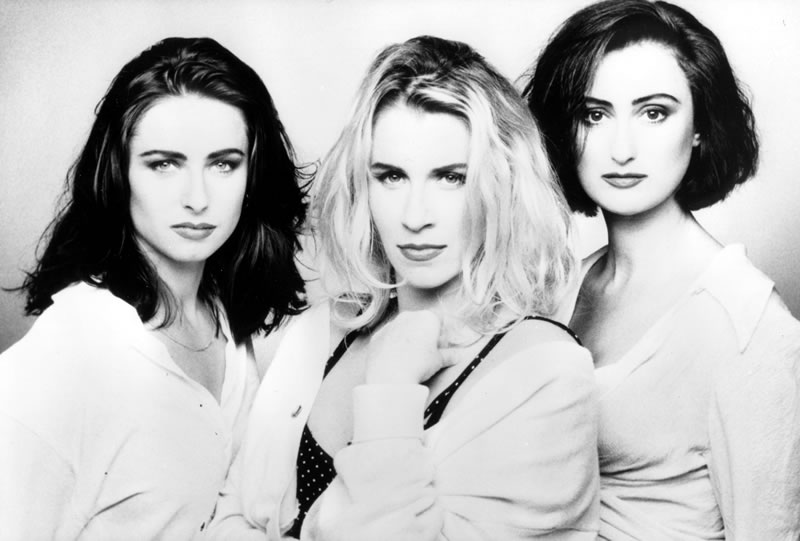 S: We haven't seen her really.
K: She's a yoga teacher, isn't she?
S: We didn't really fall out. It was just really difficult to always be the new girl, very difficult. She did a massive world tour with us and we loved all that.
K: Jacquie was a great asset to us. We knew her from clubbing then when she left the group we lost touch. That doesn't mean to say we wouldn't be friends if we met. Life takes you through different patches.
Did she join because you thought Bananarama needed to be three people?
S: The record company said we needed to be three. I don't know if we did think that or if we didn't because Siobhan walked out at the height of our fame. "I'm leaving!" We just did something. Eventually we realised we didn't need to be three.
Do people still think there are three of you?
K: Yes. "Where's the third one?" "She left in 1988!"
Ant & Dec say that no-one knows which one of them's which. Do you get that?
K: No, they just say to me, "You're the dark-haired bird out of Bananarama."
In the mid-Nineties you left London Records and your music was released on multiple small independents around the world. Your profile also waned somewhat. Was that period a challenge?
K: We had children. You realise you've had ten years at the height of fame. The decade changes. New people come on - Britpop, Oasis - Bananarama wasn't relevant. That doesn't mean to say we didn't want to continue. If record companies or business people think you've had your day, where do you go? We still managed to find people to work with. Over the next few years we always managed to find hedge funds or rich Italians who wanted to invest in it. "Look on the Floor", "Move in My Direction", they were hits [in 2005]. I love those tracks and love that album [Drama]. "Look on the Floor" was huge in the US dance charts.
S: We were able to have a life outside Bananarama, to do stuff as friends.
Below: Watch the video for "Look on the Floor"
K: People feel that if you're not on TV, not on This Morning, you don't exist, when you're busy doing shows in Japan and Germany. I got asked yesterday in a radio interview, "What's it like to reform?"
S: That's just sloppy journalism. We have consistently worked. We haven't stopped in the last few years. Come this time of year there's virtually no time off until September.
K: The Grand Prix in Singapore, those kinds of gigs. It's better now because people can see on Instagram and Twitter but back in day they'd just think you'd disappeared.
When you did things like rolling around topless men in the video for "I Can't Help It" back in '87 or, especially, your appearance at the BPI Awards the following year, when you were backed by dancers wearing nothing but black pants and knee-socks, were you consciously flipping pop's regular objectification of women?
S: We were shy when we started out, hence the dungarees, like tomboys, monkey boots, donkey jackets, we didn't look a bit sexual, then we got a bit more glam, a bit more risqué - and finally got into a heels.
K: We have a camp sensibility. We had lot of gay friends, we'd go to a lot of gay clubs. Down at Heaven they were wearing cycling shorts. It wasn't a conscious effort. These were just the people we were hanging out with
S: On the BPI show most of the guys were straight and not keen on wearing the short pants. They had pulled-up socks. We wanted them in stockings but it was too much for them.
K: It was a wonderful time in London, such a fantastic group of friends, all very creative; Baillie [Walsh], John Maybury, Leigh Bowery, Sue Tilley, like a little family. We used to go out all the time en masse. Baillie and John had a mirror ball and a throne in their place and that was it. Baillie just did a video for Bruce Springsteen. He did Kylie's "Slow", did a lot of stuff with Francis Bacon. It's almost like our set were a bunch of freaks, always out together.
What was your favourite club in those days?
K: Daisy Chain in Brixton, Jeffrey Hinton at the turntables every Tuesday. He ended up being our wardrobe mistress on tour in '89 just because we wanted to take a bunch of friends. That's why I have such fond memories of the Stock, Aitken & Waterman time, because it was around "I Heard a Rumour" and "Love in the First Degree". We had three dancers who travelled everywhere with us and we got up to all sorts; silly, fun and joyous
Were Bananarama into sex, drugs and rock'n'roll?
S: We liked to drink and to dance; humour and banter with like-minded people.
K: We had weekly card game and whoever lost each round would have to drink a shot, always vodka. You're about to go on TV and you're doing a shot with Bruno [Tonioli].
With the package tours that do the rounds it gives the impression that Eighties pop stars are one big happy gang who all know each other. Is there any truth in that?
S: No, we used to meet Duran Duran in Germany a lot for some reason and had a few nights out with them. The Cure we'd hang out with, became quite good friends. Became very good friends with George Michael in the Nineties. George was so much fun. He used to live just over there [points out towards Highgate] and we knew the code to get into his house so we'd go out, have a glass of wine and think what shall we do now? Go and bother George! He'd be like, "You again..."
K: Bless him.
S: His troubles were well-documented over the past how many years so you could see how things were going but when he actually went it was just awful.
It strikes me that you might have a kindred spirit with the two women in the Human League.
S: They're ones we don't ever see. We saw them once in Singapore and always have a good chat when we do.
Their attitude is similar to yours. They went straight from being school girls at the dawn of the Eighties to pop stardom. They've always said that they weren't the best singers in the world but that they have something that works. Actually, that sounds rude, like I'm saying you're not the best singers in the world!
K: We're obviously not but we can hold a tune.
S: I'm actually quite a good singer.
I think what I'm referring to, before I dig myself a deeper hole, is when they worked with US Producers Jimmy Jam & Terry Lewis on the album Crash, they were daunted by the fact that the pair had worked with Janet Jackson and all these American soul singers, but they eventually realised that while their own voices couldn't technically complete with that, they had their own unique character.
S: How many people in pop are brilliant vocalists? Madonna's not brilliant but it's the ideas and the collaborations that make the whole thing great and that is a talent in itself.
K: If you listen to a lot of huge male stars they are really not the best singers but they have a quality. I can listen to Bob Dylan and he's not the best singer in the world but it's more than that. I think we've actually got stronger voices now than we had in the Eighties and we're more confident now. We never used to want to sing on our own but we do now.
Do you ever look at the video for "Cheers Then"? It's so innocent, especially the bits where you're jumping around on the stairs
K: It's shot in all these locations from The Sound of Music.
S: I don't know why we decided to do that. Everything we wore we'd made ourselves. I made a horrific skirt that made me look really wide because it was a thick wool. I just sewed up each side and it was hideous.
K: Knitted top, homemade trousers, so innocent and sweet.
S: We just wanted to go and see the places in the film, the gazebo and those stairs.
K: I had the Sound of Music sheet music and I used to play it on the piano at family gatherings with everyone singing along. That film still makes me cry.
Below: Watch the video for "Cheers Then"
Being pop stars since the early Eighties, you have the equivalent of a very public photo album and home movie collection.
K: The good and the bad. George Michael used to stand in front of the TV in his house whenever the video for "A Different Corner" came on because he had hair extensions and a mullet. He used to say, "Don't look at it, for God's sake," and block the screen. He was ever so fussy about his hair.
S: He had very curly Greek hair, he really had to blow-dry it out.
Of all the characters you've met over the years, who really blew you away?
S: I like meeting famous people who are nice to you, like Michael Caine. We met him in the Russian Tea Room in New York and he said his daughter liked Bananarama. He came over and said, "Girls, would you mind signing something for my daughter?" He was so lovely
K: We crossed paths with him a few times and the next time we saw him he said, "I don't know if you remember me but we met in the Russian Tea Room…" It's Michael bloody Caine, of course we remember you. Such a gentlemen and such a star.
S: Andy Warhol we met. Keren and I were at an MTV 4th July anniversary thing on the Staten Island Ferry. ZZ Top were playing and Andy Warhol was taking Polaroids of us. When asked by the NME what was the most exciting thing in New York right now, he said, "Bananarama". There's a picture on my wall of me and Andy Warhol and one of my Polish builders came and said, "Oh, you know Bernie Eccleston." It's that similarity in hairstyle…
Do you think you might have had a different career if you hadn't been called Bananarama?
K: I didn't think it was going to last, that's for sure.
S: I don't look at it like "Banana" and "Rama". It's like "fish'n'chips". It's just there. I don't dissect the name and think it's embarrassing.
But it is a name that doesn't emanate seriousness.
S: We didn't anticipate the spectacular career we've had. It was something to write on our first demo. Who knew where that was going? It was something sunny, something tropical, it was that basic.
K: I'm glad it wasn't pretentious, anyway.
Below: Watch the video for "Stuff Like That" by Bananarama

It used to annoy me when girl groups would be lumped together - we have more in common with The Cure or The Prodigy
Explore topics
Share this article