Cypress Hill, O2 Academy, Birmingham review – OG hip-hoppers light-up |

reviews, news & interviews
Cypress Hill, O2 Academy, Birmingham review – OG hip-hoppers light-up
Cypress Hill, O2 Academy, Birmingham review – OG hip-hoppers light-up
Old school ganja-gangsters set Birmingham ablaze
Thursday, 06 December 2018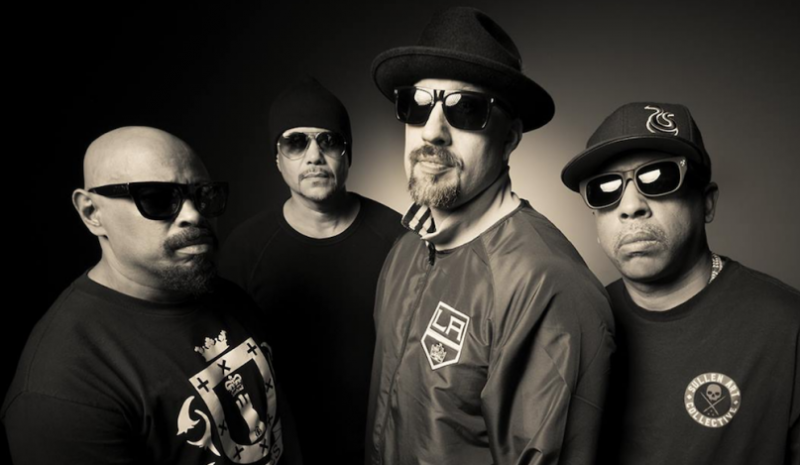 Cypress Hill: hip-hop's Freak Brothers
There've been more than a few cold and wet days in Birmingham just recently, as winter has been making its presence properly felt.
On Tuesday, temperatures were sent soaring in an over-full O2 Academy however, as
heavy metal
and
hip-hop
heads from all over the West Midlands descended on the place to witness the return of South Cali weed ambassadors Cypress Hill. In fact, so full was the Academy that getting served at the bar proved to be a 40-minute odyssey that almost meant missing B-Real, Sen Dog, Mixmaster Mike and Eric Bobo hit the stage and break into "Band Of Gypsies", the stand out track from the band's fine new album
Elephants On Acid
.
Fortunately, Cypress Hill's appearance was preceded by a short solo set of mixing and scratching by former Beastie Boys' turntablist Mixmaster Mike, which gave some warning of the main event – as did the lighting up of more than a few fat joints, which added to the old school feel. After all, it's been a fair few years since the smell of weed was all-pervasive at indoor gigs in the UK.
From the off, it was fiery tune after fiery tune from 1991's self-titled debut album all the way through to this year's Elephants On Acid. Given that they've been around for almost 30 years, there were plenty of tasty tracks on offer. Somewhat inevitably, plenty of these came from Cypress Hill's breakthrough album Black Sunday, with "When The Shit Goes Down" and "Cock the Hammer" getting things moving nicely early on. As the beats got louder and the crowd more lairy, hands were thrown in the air, t-shirts were removed and there was even an NHS crutch getting waved over people's heads. Cypress Hill kept them coming though, as they battered the audience with "Tequila Sunrise", "Boom Biddy Bye Bye" and the mighty "Lick a Shot".
As can sometimes be the case in the Academy, there were times when the bass distorted so badly that you could be forgiven for thinking that the whole building was about to collapse in a cloud of dust. Fortunately, these moments were few a far between though and after Mixmaster Mike and percussionist Eric Bobo's short instrumental break, B-Real and Sen Dog were back to lay down "some hip-hop shit for the people of Birmingham". Needless to say, the people of Birmingham lapped it up as Cypress Hill hit the final straight and tore into a fine "Insane in The Brain" and "I Ain't Goin' Out Like That" from Black Sunday and finally "(Rock) Superstar" from 2000's Skull & Bones.
Cypress Hill may be a bit long in the tooth these days but there is nothing lame about their old school delivery. The weed fog that was floating above the contented crowd as they exited the building was also more than enough to suggest that hip-hop's Freak Brothers will have no trouble pulling in similar numbers of fellow travelers the next time they return to UK.
It was fiery tune after fiery tune from 1991's self-titled debut album all the way through to this year's Elephants On Acid
rating
Explore topics
Share this article