David Crosby & Friends, Shepherd's Bush Empire, review - still spine-tingling at 77 |

reviews, news & interviews
David Crosby & Friends, Shepherd's Bush Empire, review - still spine-tingling at 77
David Crosby & Friends, Shepherd's Bush Empire, review - still spine-tingling at 77
The singer-songwriter rifles through a long back catalogue from the Byrds through CSN to his new output
Wednesday, 19 September 2018
In impeccable voice: David Crosby
"This, quite possibly, could be a really good night," declared David Crosby. He's a couple of songs into this show, one of only two UK dates on the tour promoting his current album Sky Trails. Looking trim, beaming and in impeccable voice, the 77-year-old known as Croz fulfils his prophecy – and then some.
It's a predictably mature crowd, but there's a Crosby-shirt-sporting young boy in front of me who, with his mum, seems as thrilled as the rest of the audience packing out Shepherd's Bush Empire.
With a massive back catalogue to plunder, Crosby presents a fine selection tonight from his time in Crosby, Stills & Nash, Crosby & Nash, CPR (his band with astonishing guitarist Jeff Pevar and keyboardist James Raymond, who are both in tonight's line-up too), Crosby, Stills, Nash and Young, the Byrds and his solo records. The first half of the show opens with CSN's "In My Dreams", with groove-laden CPR tracks Morrison" and "At the Edge", a deeply funky version of solo track "Thousand Roads" and an ethereal rendition of CSN's "Guinevere" also on offer.
Between songs Crosby is personable, twinkle-eyed, self-deprecating ("I wrote the weird shit," he explains before "Guinevere", "not the hits") and populates his stories with the likes of David Gilmour, Warren Zevon and Jackson Browne – but his fiery political views remain undimmed. After apologising to the "whole world" for his home country, Crosby leads his band in a powerful a cappella version of "What Are Their Names" from his first solo album, If I Could Only Remember My Name. It's a chillingly beautiful moment, leading into a furious "Long Time Gone" and a spine-tingling "Déjà Vu".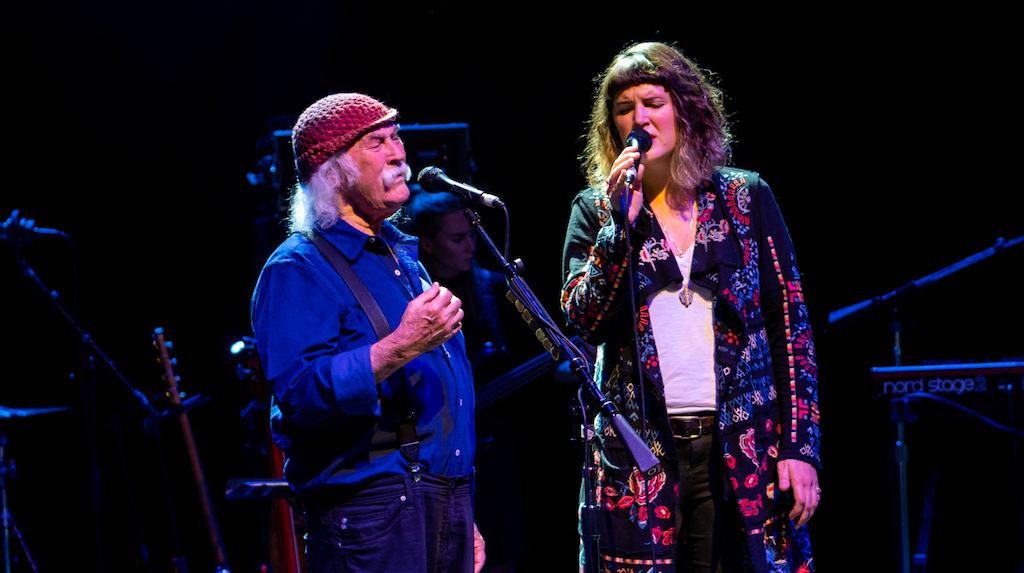 After a brief intermission ("if we were in California, we'd go out and smoke a joint," says Crosby, who's in the process of launching his own brand of weed), the band returns with a second set including Crosby & Nash's "Homeward Through the Haze" and CSN's "Delta", the latter introduced with the moving story of its creation ("I'm glad I got that off my chest," he says when it's all over). Keyboard player and vocalist Michelle Willis takes a turn on lead vocals with "Janet", from upcoming album Here If You Listen before the Byrds' "Eight Miles High" and sublime CSN track "Wooden Ships" (causing my neighbours, the mum and young lad, to go nuts) close out the set.
But it's not over yet - a blistering encore sees Crosby return with a CSNY double bill: the rarely played "Almost Cut My Hair" and a heart-stopping "Ohio", which Crosby introduces by pointing out how painfully relevant it still is today. "I can only sing this," he urges, "if you sing it with me." It's a stunning close to a show that leaves the thrilled audience spilling out into the street with a feeling that they've just seen something very special indeed.
Between songs Crosby is personable, twinkle-eyed, self-deprecating
rating
Explore topics
Share this article