DVD/Blu-ray: Coco |

reviews, news & interviews
DVD/Blu-ray: Coco
DVD/Blu-ray: Coco
Big-hearted musings on death and memory, disguised as a family blockbuster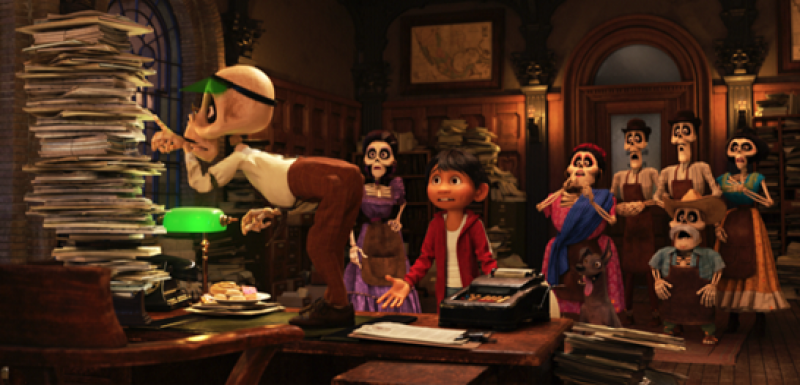 Looking for a way out: Miguel, with relatives, in 'Coco'
The brightness and colour are deceptive; at its heart, Lee Unkrich and Adrian Molina's Coco is an affecting reflection on death, remembrance and the redemptive power of music, dressed up as a frenetic and gag-stuffed Disney comedy.
I'd place it above recent hits such as
Frozen
and
Moana
; here, the music is integral to the film's plot, and the closing scenes have an emotional impact comparable with the montage which opens Pixar's
Up
. Have a box of tissues on hand, in other words, especially if you've had to deal with memory loss in an elderly relative.
Set during the Mexican Día de los Muertos, Coco follows 12-year-old Miguel (voiced by Anthony Gonzalez), whose chief gripe is that he's forbidden by his family to pursue his interest in music. Miguel idolises the long-dead singer Ernesto de la Cruz, retreating to his hide-out to watch grainy film clips and play along to Cruz's songs. Convinced that Cruz was his great-great-grandfather, Miguel steals his hero's guitar and finds himself trapped in a lovingly realised underworld.
It is a place which follows strictly enforced rules: the dead are only allowed to visit living relatives if they can prove that they're actively remembered. Those poor souls who become forgotten are condemned to a "second death". Miguel sets out to find Cruz, aided by the down-at-heel Héctor (Gael García Bernal), literally falling apart and desperate for Miguel to take his photograph back to the world of the living to ensure his continuing existence. The big twist, when it comes, is deftly handled, and the film's bittersweet coda is enchanting.
The visuals are eye-popping – Mexican culture (to this viewer, at least) lovingly respected rather than appropriated. There's a barrage of witty throwaway gags, including a fleeting cameo from a skeletal Frida Kahlo (pictured above). This being Disney, there's an endearing animal sidekick who plays a crucial role in advancing the plot. And, as with all good animated films, you soon forget that you're watching characters painstakingly created with pixels rather than flesh-and-blood actors; the marvel is that Pixar's animators make their performers seem so spontaneous, so real. The recurring Oscar-winning song, unlike Frozen's ear-splitting "Let It Go", doesn't grate.
Viewing Coco on a small screen inevitably diminishes the visual thrills, though I'd recommend watching it for a second time accompanied by Unkrich and Molina's commentary, with the pause button on standby. Look out for the pinatas made to look like Pixar characters, and marvel at how convincing Miguel's guitar-playing is – you'd swear you were watching a live performer. Other extras include musical numbers, deleted scenes and reflections by cast and crew on the importance of family, plus a handy tutorial on how to draw a skeleton. Have a pencil ready...
Below: watch the trailer for Coco