Life and Fate / Uncle Vanya, Maly Drama Theatre, Theatre Royal Haymarket review - the greatest ensemble? |

reviews, news & interviews
Life and Fate / Uncle Vanya, Maly Drama Theatre, Theatre Royal Haymarket review - the greatest ensemble?
Life and Fate / Uncle Vanya, Maly Drama Theatre, Theatre Royal Haymarket review - the greatest ensemble?
Stunning detail from Lev Dodin's company in desperate tragedy and human comedy
Tatiana Shestakova as Anna Shtrum, Igor Ivanov as Mostovsky and Daria Rumyantseva as Nadia Shtrum in 'Life and Fate'
Towards the end of the Maly Drama Theatre of St Petersburg's Life and Fate, a long scene in director Lev Dodin's daring if necessarily selective adaptation of Vasily Grossman's epic novel brings many of the actors together after a sequence of painful monologues and one-to-ones.
The social nuances and the glimmers of humour here in a mostly lightless play are pure
Chekhov
- a writer referenced several times by Grossman - and give us a preview of the warm, human laughter to come in the company's
Uncle Vanya
. Then the blackness envelops the drama again. It could hardly be otherwise in a tragedy of what it meant to be Russian and Jewish in the Soviet Union of the 1940s.
Grossman's novel, written a decade after the events it describes but only published in 1980 in Switzerland, for obvious censorship reasons, can be confusing to begin with. I didn't get beyond the first 200 pages the first time, puzzled by the appearance of characters without proper introduction; it turns out, though the fact is rarely highlighted, that many have already appeared in the book's predecessor, For a Just Cause, the Stalingrad saga which Life and Fate simply continues. The Maly presentation is also bewildering for the first half-hour: it takes you some time to realise that characters from each of the settings - in the first part, German and Siberian prison camps and the Moscow apartment of Jewish physicist Viktor Shtrum's family - often remain on stage to react to the parallel stories.
It's a novel if challenging idea and all the more effective for the economy of Alexey Poray-Koshits's set, a volleyball net at a diagonal which also serves as a wire prison fence, and decayed furniture in the apartment. You need patience to work out who's who, and how they're connected, but the pay-off is tremendous, and the acting seizes you from the start with Tatiana Shestakova's heartbreaking performance as Viktor's mother Anna. This is autobiography on Grossman's part: he suffered lifelong guilt that he didn't do enough to save his own mother, murdered in Treblinka, and there is no more moving literary treatment of the Holocaust than her final letter which forms the 18th chapter of the novel's first part. It has been staged as a monologue, but its steady presence here, punctuating diverse strands in the drama, is the connecting thread. Grossman always said that his novel was a person whose "arrest," ie confiscation, he had never anticipated, and that person is his mother.
There are two other dominating performances in a perfect ensemble, and both bode superbly well for these two actors' re-emergence in Uncle Vanya. Sergey Kuryshev's Shtrum (pictured below with Yelena Solomonova and Daria Rumyantseva) is magnetic: flexible of body and voice, blackly funny - because we know at what cost it will come - when, expecting deportation, Shtrum gets a phone call from Comrade Stalin himself, who needs him for Russia's development of the atomic bomb, with the sign-off line "I wish you success in your work", which the protagonist can't stop repeating. We see the unspoken price of that success in Shtrum's turning to drink and the intensification of the toll on his health. "It so happens," writes Dodin in an excellent programme, "that to be true to oneself when miraculously saved is much harder than when you are a despised outcast".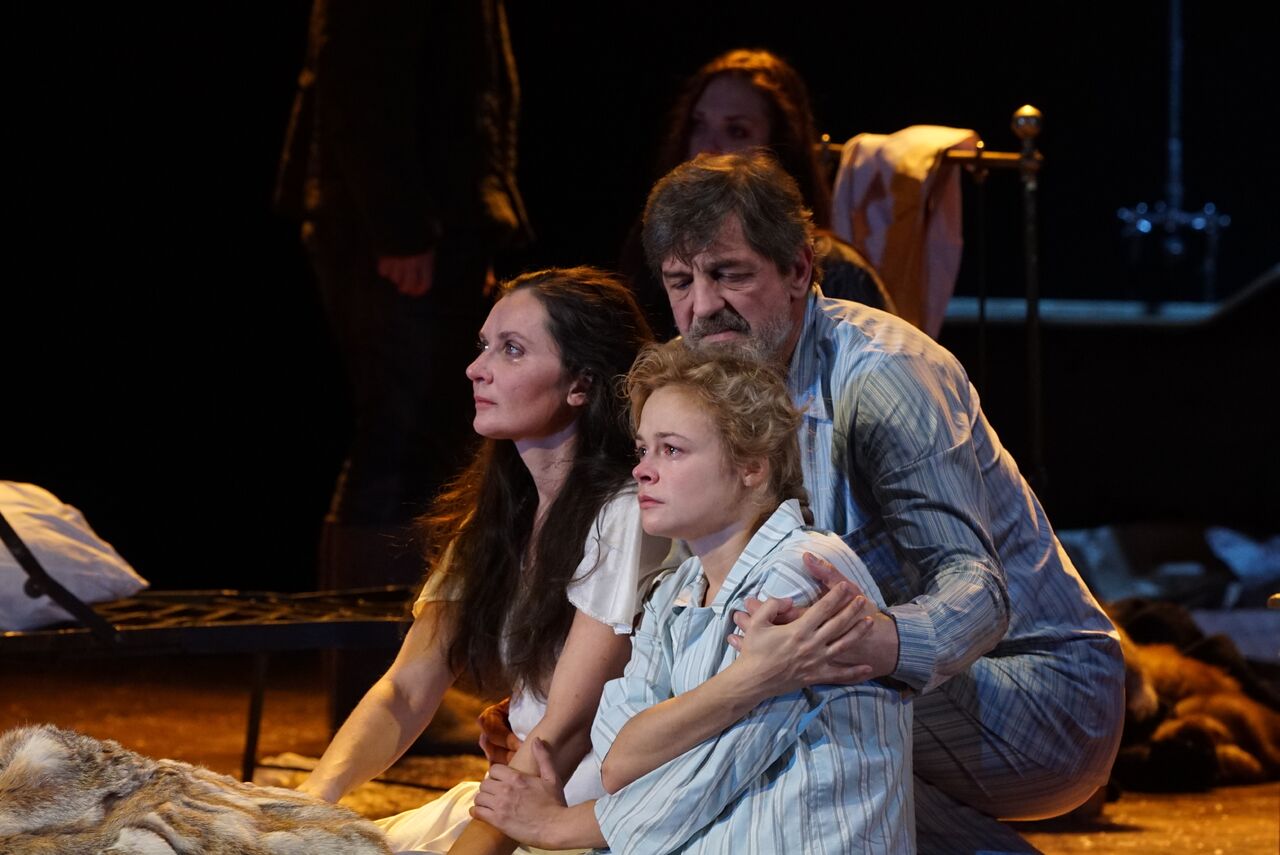 Meanwhile in the German camp, the ideals of old Communist Mostovskoy (Igor Ivanov) take a battering in a seminal confrontation with officer Liss (Oleg Dmitriev). Grossman's then-heretical central idea, that Nazi Fascism is only a mirror image of the Soviet system, remains powerful today in a world torn between the caprices of the American Horror Clown and the wiles of the Beast from the East. You see the struggle to comprehend on the careworn, economically expressive face of Ivanov's character.
There are no weaknesses in a cast that worked for years on the adaptation, reading it all over time (few parallels exist elsewhere - the nearest I've seen to this dedication on stage is from Ivo van Hove's Toneelgroep Amsterdam). Elena Solomonova as Lyudmila Strum is rather quiet, a realistic Russian acting style that takes some getting used to, but beautiful in her variousness; her daughter is played with spirit by Daria Rumyanteva and her sister Zhenya is the low-voiced Elizaveta Boyarskaya, compelling in her relationship with Igor Chernevich's chameleonic Barkhatov.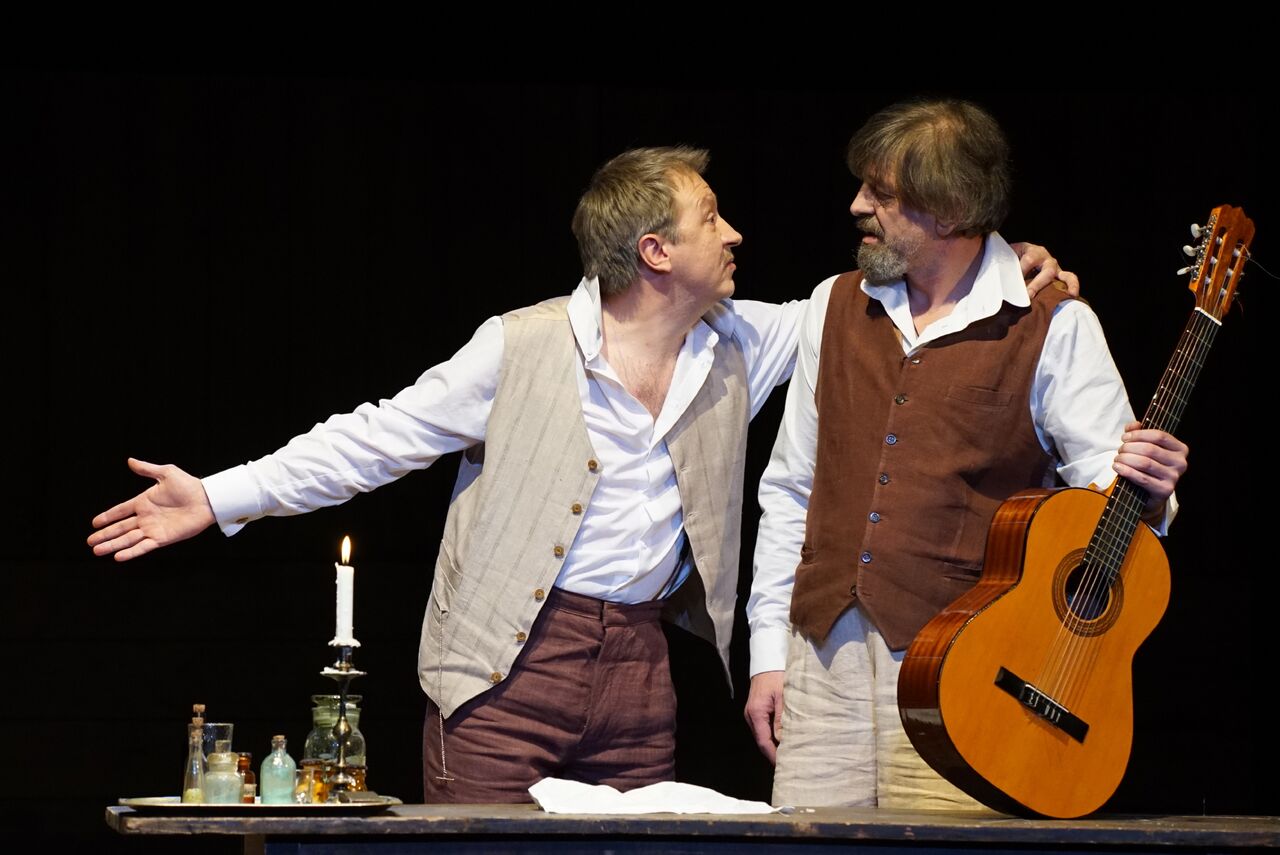 Chernevich, Kuryshev (pictured above as Astrov and Vanya) and Ivanov all turn up again in Uncle Vanya, and it says so much for the total unity of Dodin's company that none of these encyclopaedically inflected performances overshadows the other, or anyone else. The biggest rethink comes in Ivanov's character here, the pompous Professor Serebryakov, whose visit with his much younger wife Yelena wreaks havoc on the quiet estate work of his daughter Sonya and her uncle Vanya. Usually Serebryakov is portrayed one-dimensionally as a hypochondriacal blusterer, but Dodin's Bergman-level scene in which he raises the household in the middle of the night shows a man tormented by demons - when Vanya confirms that the man really is ill, he taps his forehead - touchingly fussed over by Yelena. Again, Ivanov's careworn face says so much. Later, he sees the gun with which Vanya has unsuccessfully tries to shoot him and considers picking it up - the inference being, one assumes, that he thinks of suicide.
Even more radical as a reinterpretation, in a production that sticks to a period setting (yes, samovar included) in the clean lines of the late David Borovsky's set design, is Ksenia Rappoport's Yelena. Usually an enigmatic beauty with a dash of neurosis, she has the wit and variousness of Katherine Hepburn in a screwball comedy, the hilarity surprisingly raised to fever pitch in her farewell scene with Chernevich's Doctor Astrov. What a team these two make, caught in passionate clinches not just by Vanya, as Chekhov establishes, but by all the other characters, in a moment which has the audience gasping in amused horror. There's also great warmth in Yelena's increasingly tipsy chat with Sonya. Yekaterina Tarasova (pictured below with Ivanov and Rappoport) certainly isn't the plain girl she tells us everyone thinks she is, but everything else about the character is right - until, perhaps, the final "we shall rest" speech which, one presumes deliberately, is surprisingly low key, but doesn't relish the poetry.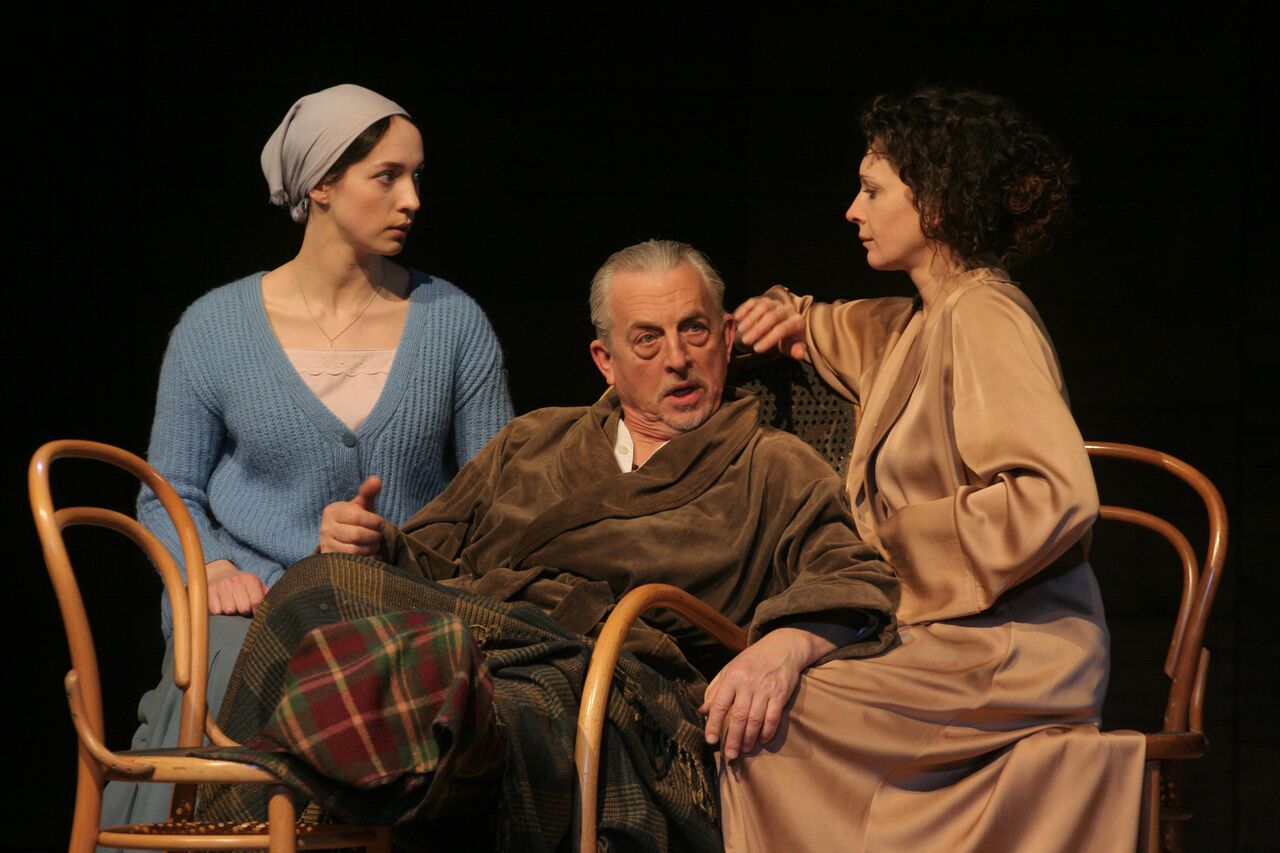 That and the swelling of "Waffles" Telegin's guitar music at the end are possibly the only false moves in an incredibly rich panorama that always keeps a hair's breadth from mannerism. Kuryshev, a beautiful speaker of Russian, changes character to be an understated clown whose bleakness we often glimpse; the big scene in which he rounds on Serebryakov is played almost in a whisper, and all the more effective for that. Every character is finely observed, down to the servant (Ivan Chepura) whose hero-worship of Dr Astrov is so nicely sketched; Oleg Ryazantsev makes more impact as a tragic "Waffles" than the usual caricatures for comic relief. Dodin's direction is as much about how the characters behave towards one another in the many non-verbal tableaux which help to give his production its amplitude as in what they say (and how eloquently they all say it).
The seriousness of intent is underlined by the absence of music except where the drama demands it, a lesson which could be learned by our own companies and previous Russian visitors - especially the hideously affected Vakhtangov Theatre with its misguided attempt to turn Vanya into non-stop Regietheater song and dance. Both productions now are a reminder that we haven't had as high-level a Russian company in London since the two epoch-making showings from the Maly of Chekhov's Platonov. This is a welcome return to the very essence of great theatre. Quite how long the possibly dubious Russian funding for such visits will continue to underpin them now depends on Parliament's long-overdue application of a Magnitsky-style bill. In the meantime, we can endure the blingy, unsophisticated audience members - like the chap next but one to me who took photos during Sonya's final speech - in the name of the high art such sponsorship continues to bring us.
Ksenia Rappoport as Chekhov's Yelena has the wit and variousness of Katherine Hepburn in a screwball comedy
rating
Share this article