Roy Orbison In Dreams Hologram, Eventim Apollo review - it's a gig, Jim, but not as we know it |

reviews, news & interviews
Roy Orbison In Dreams Hologram, Eventim Apollo review - it's a gig, Jim, but not as we know it
Roy Orbison In Dreams Hologram, Eventim Apollo review - it's a gig, Jim, but not as we know it
A virtual Big O takes us back to the future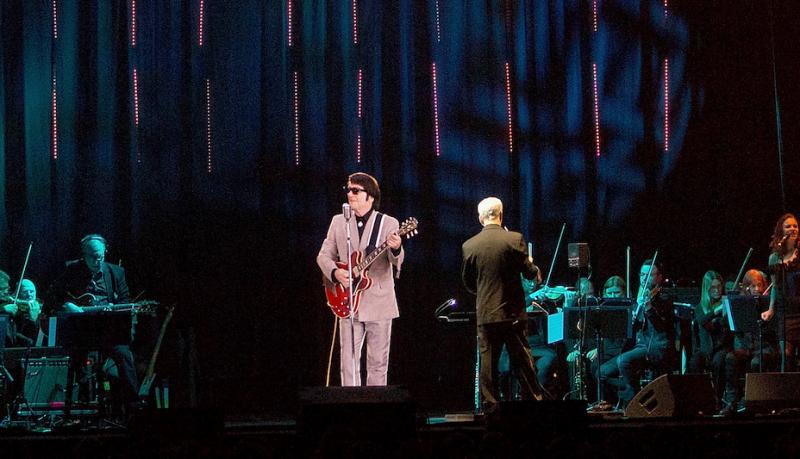 Roy's avatar - in good voice
On Wednesday night, the music world took a small step closer to the realms of science fiction. Roy Orbison, 30 years dead, stood in front of a packed Hammersmith Apollo. It wasn't a resurrection, of course, but a hologram, and a damn fine one. Virtual Roy wiggled, turned around and occasionally thanked the audience.
At one point he even looked like he was going to pick his nose (it turned out to be just a wipe). The audience responded with plentiful applause and open-mouthed wonder.
The evening started in a very human way. The organisers had had the good sense to find a support act which exuded personable charm. The Hayley Sisters, Jo-Ann and Becky (plus husband) from Yorkshire were as warm as their harmonies were full. Moreover, they established a level of interaction with the audience without which the concert would have been lacking.
After a brief recess, the curtain came up. First, the Royal Philharmonic Orchestra treated us to a medley of hits backed by a video montage. Then the big moment: lights shone up from down below and the Big O was "beamed up" through the floor. As holograms go, this was as convincing as these things get, with no hint of projectors or screens. The only anomaly was a slightly ghostly image on the rear curtains. That and the fact that occasionally you could see through Roy's head. Still, if they'd managed to make Orbison completely opaque, it would have probably been eerier.
The blend of the remastered recordings and orchestra really sounded like a proper gigOrbison was dressed in a silver suit with a black shirt and a string tie. The tassels on his jacket fluttered as he raced through a series of hits that started with "Only the Lonely" and and finished with "Pretty Woman". He was in good voice too. The blend of the remastered recordings and the Royal Philharmonic (plus band and backing singers) really sounded like a proper gig. So much so that after "It's Over" the audience actually stood up and gave Roy an ovation.
Inevitably, there were moments when Roy's physical motions – the swaying and turning around – became a little samey. For the most part, though, the repetition was broken-up well by instrumentals and video projections. During one video, Jeff Lynne and Tom Petty talked about Roy's instinctive songwriting. It was a little ironic, then, that the setlist also threw in a couple of dull numbers. That may be forgivable in a singer promoting a dodgy new album but not in a legendary artist who has been dead for 30 years.
Which brings us to the fundamental criticism that has been levelled at this tour, namely "why not leave the past alone?" On internet forums some have pointed to other holograms – Tupac and Michael Jackson, for instance – and seen them as part of a worrying trend. One user even complained that Roy would never have worn a silver suit or played a Gibson. Such pedantry is all well and good but I'm not sure it really chimes with the spirit of the evening. Ultimately, In Dreams delivered just what it promised: we got to reconnect with a singer from the golden age of rock'n'roll, and to see an amazing technological spectacle. Surely, that was enough.
After 'It's Over' the audience actually stood up and gave Roy an ovation
rating
Share this article