theartsdesk on Vinyl 36: Gary Numan, Wes Montgomery, Trevor Jackson, Propaganda and more |

reviews, news & interviews
theartsdesk on Vinyl 36: Gary Numan, Wes Montgomery, Trevor Jackson, Propaganda and more
theartsdesk on Vinyl 36: Gary Numan, Wes Montgomery, Trevor Jackson, Propaganda and more
The widest-ranging record reviews in the solar system
The needle descends and all else fades away
Vinyl matters. It matters to theartsdesk on Vinyl, clearly, as the name may hint. And it matters to many of you. But why? Why does it matter? We all have our own reasons for playing records, some practical, some sound-related, some personal, some ritualistic, some nostalgic, and many more that are harder to define.
But for those who wish to dwell at greater length, Brit-based Californian music enthusiast and academic Jennifer Otter Bickerdike has put together "a manifesto from musicians and fans", a chunky hardback book entitled, simply,
Why Vinyl Matters
. Within it the matter is chewed over in a series of lively interviews with music people, not just those out front, like Metallica's Lars Ulrich, but also those who've been involved in iconic cover art (Peter Saville, Gered Mankowitz etc), record company players (Martin Mills of Beggars, Simon Raymonde of Bella Union etc), DJs and turntablists (Fatboy Slim, Cut Chemist etc), as well as those who make records, those who sell them, those who celebrate them (eg author Nick Hornby), and more. It's a chatty dipper of a book, aimed squarely at those of us who continue to revel in this classic format. And below are more of those records, newly remastered reissues alongside spanking new sounds, some apparently beamed in from the future, across a mind-frying range of genres. Dive in. There will surely be something there for your system to wrap its speakers around…
VINYL OF THE MONTH
Various დე/DE: Sounds From Georgia (Intergalactic Research Institute for Sound) + Stanislav Tolkachev Blue Mood/Absolute Limit (Intergalactic Research Institute for Sound)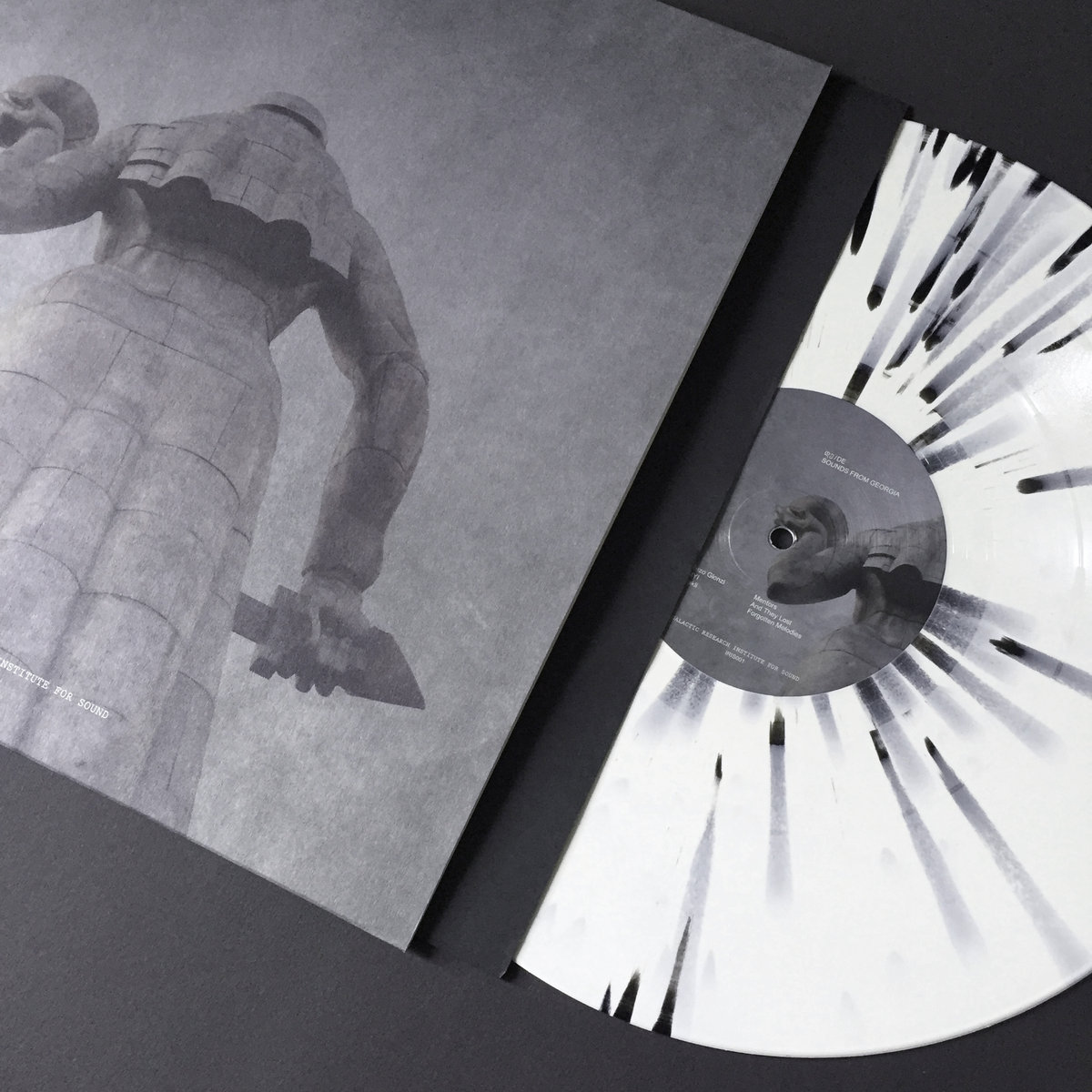 Berlin label Intergalactic Research Institute for Sound are new to theartsdesk on Vinyl but if this is what they're up to we're liable to hear more of them in future. The Sounds From Georgia mini-album is a showcase for that seldom-visited country, a place that's had its share of tribulations, which perhaps reflect in this shimmering melancholic electronica. The album, on white vinyl splattered with navy blue/black, contains six tracks by six artists – Rezo Glonti, MYI, Irakli, Natalie Beridze, Zesknel and Severiane – all of which have a hazy, dark, industrial-ambient quality, as if classical string sonata leanings had been subsumed by glowering machines in the haze of an end-of-days sunset. Stand-outs are Rezo Glonti's opener "Mentors", the majestic Bladerunner 2049 darkness of Natalie Beridze's "Waves Future" and the ghost rhythmicality of Zesknel's "კი. სორა. ტორი.". Revered Ukrainian abstract techno producer Stanislav Tolkachev, meanwhile, drops a double-headed transparent vinyl 10", featuring the incongruously empty yet enveloping dub-tech plod of "Blue Mood" and the oddly sinister-yet-jolly, enthused insectoid drive of "Absolute Limit". Both are futurist exercises that captivate in unexpected and brilliant ways.
Dijf Sanders Java (W.E.R.F.)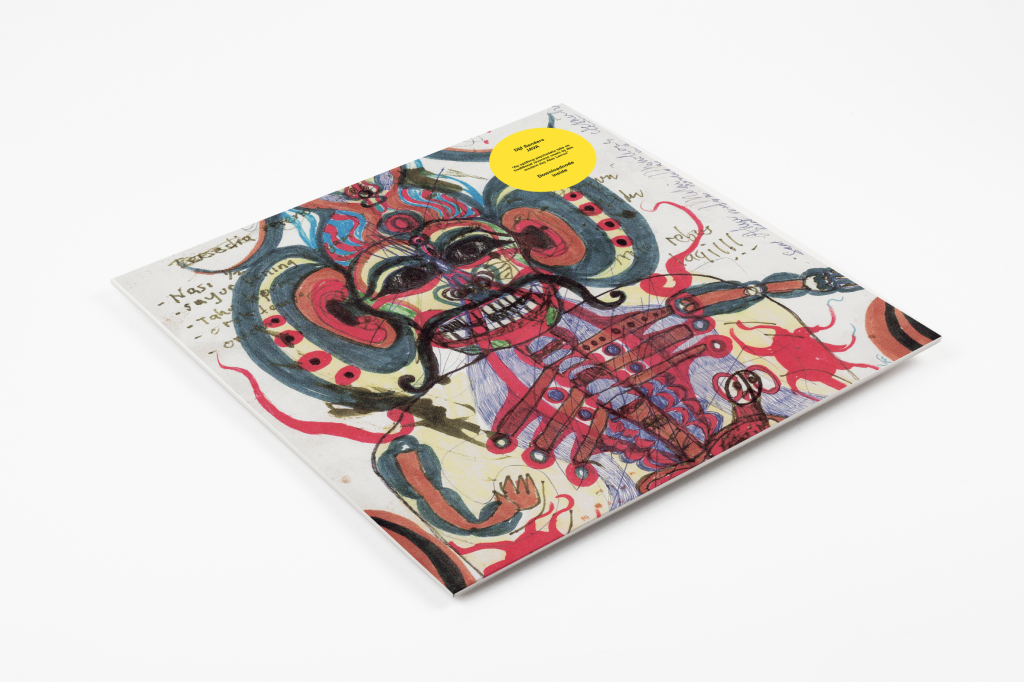 Belgian producer Dijf Sanders went out to Java to make a load of field recordings, accompanied by American ethnographer Palmer Keen, who guided him towards the most sonically interesting ceremonial occasions. How did he afford it? Funded by a couple of European arts organizations. Thank the Lord for Brexit. We don't want any of that sort of thing here. Let's settle down and have a good old giggle at Mrs Brown's Boys. I digress. Sanders then took his recordings home and, with musicians from psyched Ethio-jazz outfit Black Flower (whose own Artifacts album was reviewed by theartsdesk on Vinyl last year and comes recommended), turned these sounds into something warm and approachable, especially on numbers such as the easy sax-filled "Bandung". He also regularly lets percussive, hypnotic power take over, leading the listener into an original and welcome stoned groove that'd have them shaking their baggy trousers at WOMAD after midnight. Comes in photo/info inner sleeve.
Gary Numan Dance (Beggars Banquet)
This Numan double on gatefold, with bonus tracks including his sidekick Paul Gardiner's atmospheric corker "Stormtrooper in Drag", is a re-release from 1981 and, marks the young electro-pop star striking out in a brave new direction. At the time it caused a lot of bemusement and sneering, from both inside and outside his devoted fanbase. Up to that point he'd been the princeling of glacially catchy, alien electro-pop, three albums of it, much of it era-defining. Then he re-emerged looking like a worried transvestite auditioning for Guys and Dolls and his sound had changed completely. Key to this was the involvement of Mick Karn of post-punk art pop band, Japan (who this album often sounds like). With plenty of fretless bass and gently clattering, woody-sounding drum machine backing, it doesn't wholly work because Numan's yelpy nasal voice doesn't sit as comfortably within such a framework as Japan singer David Sylvian's airy tones. But there are tracks that suddenly make the listener sit up and realise how far Numan was ahead of the game with his weird, ambient, underwater funk, most especially the two 10 minute tracks, "Slowcar to China" and the twinkling "Cry the Clock Said". Numan's next albums pushed the digital funk thing into unlistenable Eighties places (check Warriors - actually, don't) but on Dance one can only admire his chutzpah.
Playgroup Previously Unreleased Volume 2 (Yes Wave) + Dark They Were And Golden Eyed Design Your Dreams (Pre-) + FROM Y.O.U. (Pre-) + PINKLUNCH Pink Lunch (Pre-)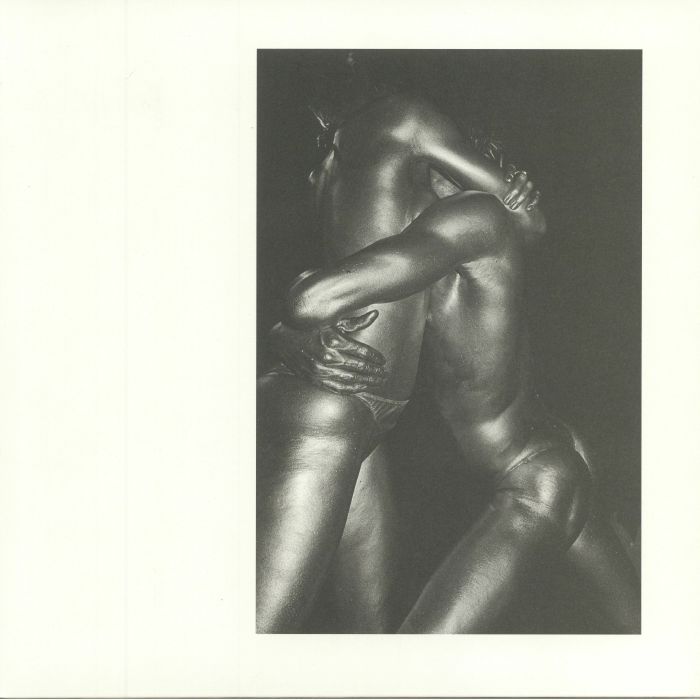 A welter of unearthed material from the acerbic music/art maverick Trevor Jackson, a man who's done everything from art directing for BMW to encouraging the career of LCD Soundsystem. Round theartsdesk on Vinyl's way he's most appreciated for his long-defunct eclectro-maniac label Output and his understanding of dub-percussive grooves (he's done some great compilations for On-U Sound). The Playgroup collection [cover pictured right] is very much about this latter capability, full of fudge-thick hashish bass'n'bongos head-nodders and their loose electro-smeared cousins. The three-tracker from Dark They Were And Golden Eyed, meanwhile, in art inner sleeve, compiles cuts jammed by Jackson in the wee hours, circa 2010-14. There's something about the rhythmic programming that ties the blissed, textured, revolving title track to modern clubland – and it's the best cut – but the other two are very much tone music experiments. Back in the Nineties Jackson's Underdog production persona had a deserved rep in UK hip hop circles (check his tasty remix of Sabres of Paradise's "Theme"). After working with pioneering Brit rappers The Brotherhood in 1996 his next project was FROM, another hip hop experiment, originally intended as a fully formed album with vocals. It never came to fruition, but these beatsy chill-out instrumentals pre-empt the sounds that blossomed from LA's Low End Theory club scene a decade later. It's on clear vinyl. Finally, on double, comes
PINKLUNCH, with twisted sex-o-delic cover art by Toni Ungerer (from his influential mechanophilic 1969 book of drawings Fornicon) [pictured left]. These four sides are gritty bangers created in 2003, with one foot in techno and the other in the sleazy divide between electroclash and EBM (DJ Hell's International Deejay Gigolos signed them briefly). It features a couple of guest vocals, one from Douglas McCarthy of Nitzer Ebb but, for this listener, while it has a sassy crunchiness, it's the least satisfying of these releases. If I could only pick one, I'd go for the Playgroup.
Lilly Hiatt Trinity Lane (New West)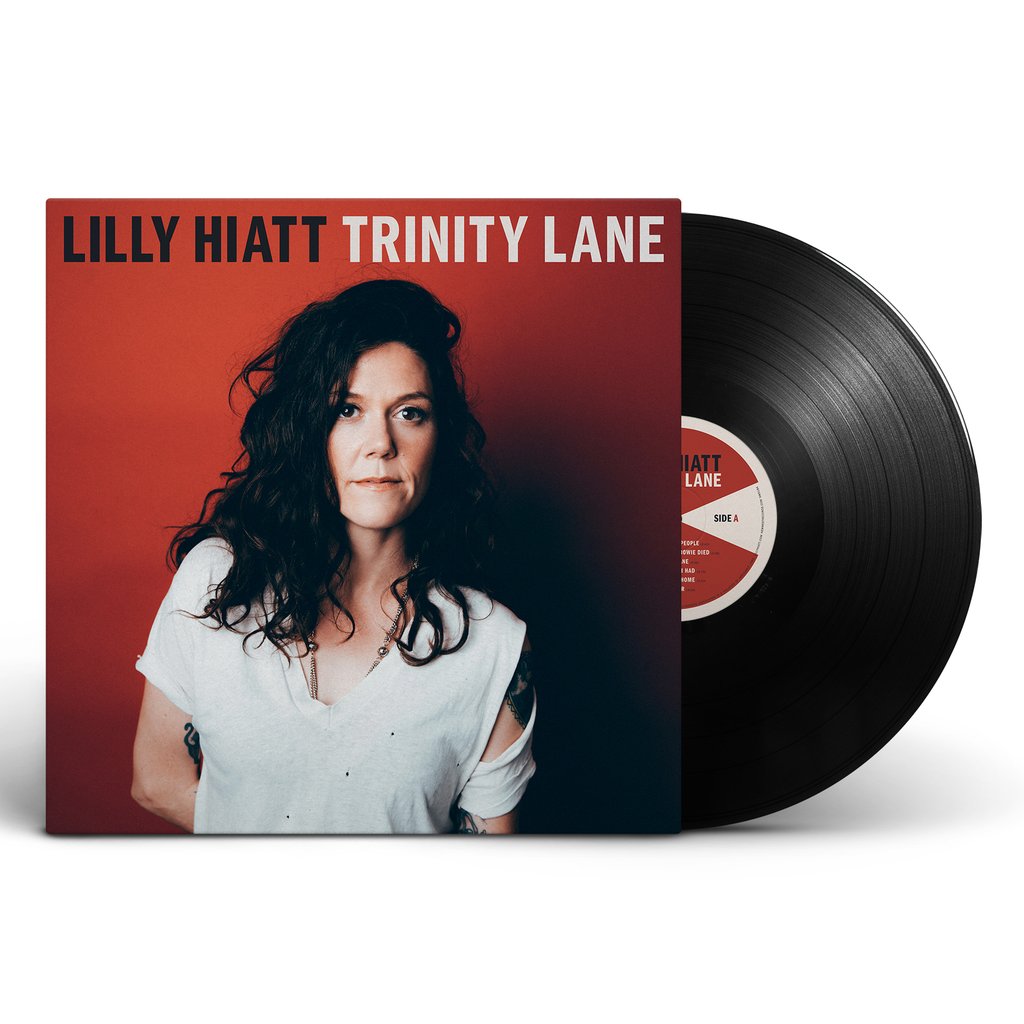 This was available to stream from last summer in the States but now appears on plastic, sounding as robust as its sharply observed lyrics and occasional fat guitar riffs. This is no rock record, though, it's by the singer-songwriter daughter of John Hiatt, and veers strongly into old fashioned country stylings. Lilly Hiatt wrote it at home in backwoods Tennesse while cooling off after a tour of the west, ruminating on love and sobriety. She truly gets her teeth into the former, with some meaty, sometimes lacerating soul-searching. Even "The Night David Bowie Died" is about messing up a relationship, rather than further hagiography of rock's latest patron saint. She can go rockin' honkytonk but is as at home on more thoughtful fare, and she can deliver a stinging couplet with real heartbroken power ("I'm not trying to whine, I'm just fucking spent"!). It's not my kind of music,really, but it certainly has emotional bite and sizzle.
Propaganda A Secret Wish (BMG)
ZTT Records are, of course, famous for Frankie Goes To Hollywood's brief, blagged pop career, a case of burning bright but only for a year. The label also had hits with The Art of Noise but their most undersung band was Propaganda, whose only album is a minor gem. One member, Michael Mertens, went on to make another album under the Propaganda name but it wasn't the real deal. For one thing he was missing Claudia Brücken, who was the "face" of the band, her harshly accented vocals gracing their two Top 30 hits, the stentorian and delightfully Teutonic "Dr Mabuse" and the impeccably melodic "Duel", also here. This re-release "deluxe edition" comes with a six page 12" x 12" photo/info booklet and a 12" x 12" art print but the best news is that, after a number of flat-sounding CD reissues, this time it's been pressed from the original masters, capturing the sound as envisaged by its producer, Trevor Horn acolyte Stephen Lipson, whose career would eventually encompass everyone from Pet Shop Boys to Paul McCartney. It's not a steadily great album – the sound is occasionally almost caustically Eighties - but it has truly great moments (the ambitious 10 minute percussive opening, "Dream Within a Dream", is alone worth the price of entry). It's great to have it back, afresh.
George Martin/The Berlin Music Ensemble conducted by Craig Leon The Film Scores and Original Orchestral Music (Atlas Réalisations)
The fifth Beatle receives a full-scale orchestral makeover in Berlin's iconic Meistersaal in art gatefold double with a thorough 16 page booklet that offers an overview. It goes without saying that history will ever celebrate Martin for his Fab Four mentoring, but there may be interest here for devotees keen to dig into his wider career. That said, this album could have been less fustily formal in tone. "Whisper Who Dares", from the first Roger Moore Bond film, Live And Let Die, has a John Barry-ish feel that hints at early Seventies grooviness but the orchestration is tightly scored, precise, lacking looseness, which takes away from it, while "Snakes Alive", from the same film and featuring Monty Norman's original Bond theme, even manages to make bongos sound cold-counted and bland, quite a feat. Other material includes previously unrecorded work created for the 1986 Robert de Niro film, The Mission, four-and-a-half pieces (one's a reprise) from Beatles animation The Yellow Submarine, that are surprisingly flat, and a likeable overture for Under Milk Wood, as well as various stand-alone compositions. The album works best on pieces revolving around more traditional sad-eyed strings, such as "Prelude for Strings" and "Old Boston" but, overall, it's one for completists.
Aksak Maboul Un Peu de L'âme des Bandits (Crammed Discs)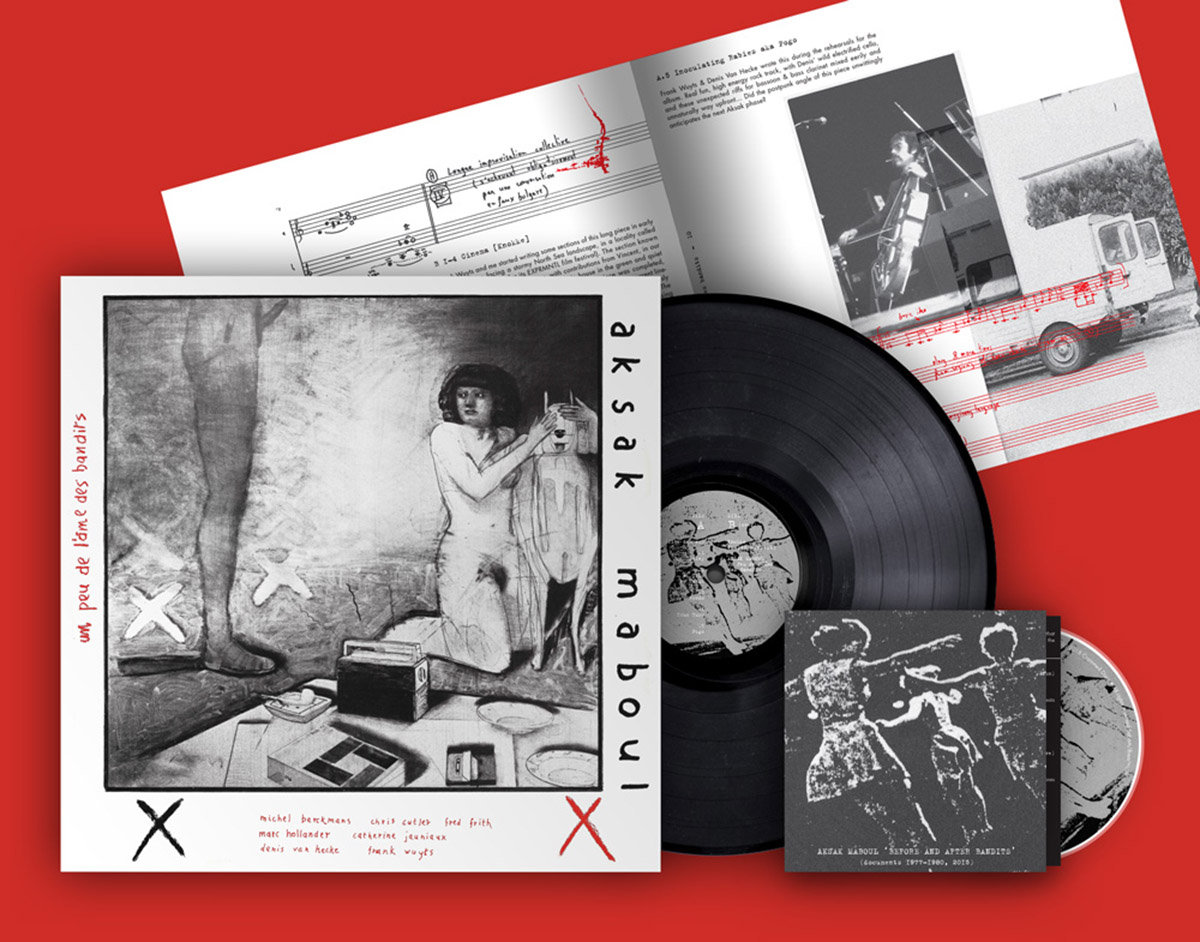 Re-release for the 1980 second album from Crammed Discs founder Marc Hollander's strange and wonderful collective. I confess I'd never heard of them until starting theartsdesk on Vinyl three years ago, but they're a revelation and, what's more, while collating leftover old odds'n'ends into a third album, Ex-Futur, they reconvened for live dates, and more recording is forthcoming. If the results are as far ahead of the curve as their old stuff, they'll be releasing music that hints at what forward-thinking people will be enjoying in the 2020s, 2030s and even the 2040s. Un Peu de L'âme des Bandits comes with an art inner sleeve, a 24 page 10" x 10" booklet that contains a mass of interviews, photos and information, and a CD with well over an hour-and-20-minutes of demos, live recordings and offcuts. The record itself has a more overridingly art-jazz outlook than its predecessor, kind of a skronky post-punk Soft Machine. Highlights include the pared back drone'n'percussion of "I VIaggi Formano La Gioventu" and opening cut " Modern Lesson" which transforms from rustic, classical strings to a jolly but experimental Parisian café folk tune. It's not easy music, by any means, but it certainly fascinates the ears and brain.
Nightmares on Wax Shape the Future (Warp)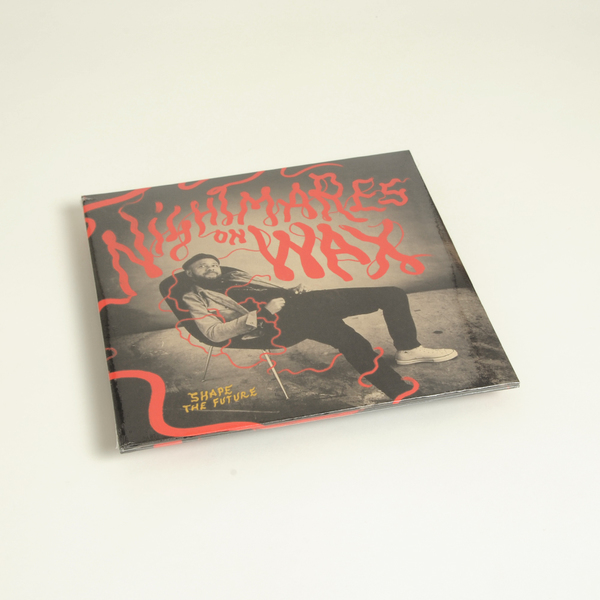 George Evelyn has been distilling Shape the Future for five years. It hits like an ecstasy float-down at sunset/sunrise on his beloved Ibiza. Evelyn has returned, in recent years, to the original Balearic ethos, utopian, gentle, hippy-ish, with a groove but organic and fluffy, rather than urban-led and sweaty. His eighth album is full of elegant music fugged with after-party cheer in tropical climes. Then again, he never really moved far from that. His music has always been joyous, bubbling with a spliffed MDMA benevolence (which isn't to suggest Evelyn has been doing all that gear - that's his business, not ours). But Shape the Future has that feel. Pianos and bubbling bass, melodic string lines and occasional verbals intertwine with dubby, jazz-licked ease, actual songs bubbling to the surface just when needed, and appearances by Ninja Tune's Jordan Rakei, Kanye/Flume collaborator Allan Kingdom and, for the full psychedelic experience, the new age wordage of contemporary cosmonaut Kuauhtli Vasquez on "Back to Nature". Comes on double in gatefold, loudly cut to vinyl, in photo/info inner sleeves.
The Hidden Orchestra Dawn Chorus Remixes (Tru Thoughts)
Last July The Hidden Orchestra's album of stunningly intermeshed morningtide found sounds, Dawn Chorus, was theartsdesk on Vinyl's Vinyl of the Month. Now it reappears in remixed form with results that veer from the listenable to the fantastic, which is to say that sometimes the original's beauty is messed with in a way that doesn't reinvent or expand it but, on other occasions, the tunes have been taken apart, turned inside out, reconstituting the component parts with ear-boggling ingenuity, like a magician transforming a newspaper into a bunch of roses. Among this latter category is London producer Throwing Snows' utterly compulsive jazz-basslined, throbbing take on "Western Isles", Matthew Herbert's abstract house "Spring Dub" recreation of "Stone" and The Physics House Band's industrial wrecking of "Long Orchard". Comes on double in black'n'grey art inner sleeves, pressed to transparent vinyl on which label Tru Thoughts Records have star-spilled the pitch squid ink of their funk-burnt souls.
Wes Montgomery In Paris: The Definitive Ortf Recordings (Resonance)
Wes Montgomery, one of the 20th century's behemoths of the jazz guitar, only visited Europe once, in 1965, three years before he died of a heart attack aged only 45. One performance, captured in pristine clear detail over two discs, took place on the night of March 27 at the Théâtre des Champs-Élysées in Paris. The recording existed for years as a bootleg, the stuff of jazz legend, acclaimed by Montgomery's fans as one of his finest outings. On it the guitarist is heard on the cusp, his post-bop sound mutating into something more accessible (his brief later career became less experimental). He shows off genial but brilliantly calibrated playing, cool but ready to dive into less easy waters in the blink of an eye. A limited run of 3000, it comes in photo gatefold with a thorough eight page 12" x 12" booklet that tells the entire story, including an interview with Harold Mabern who played piano at the concert.
Oliver Huntemann Propaganda (Senso) + Anja Schneider SoMe (Sous)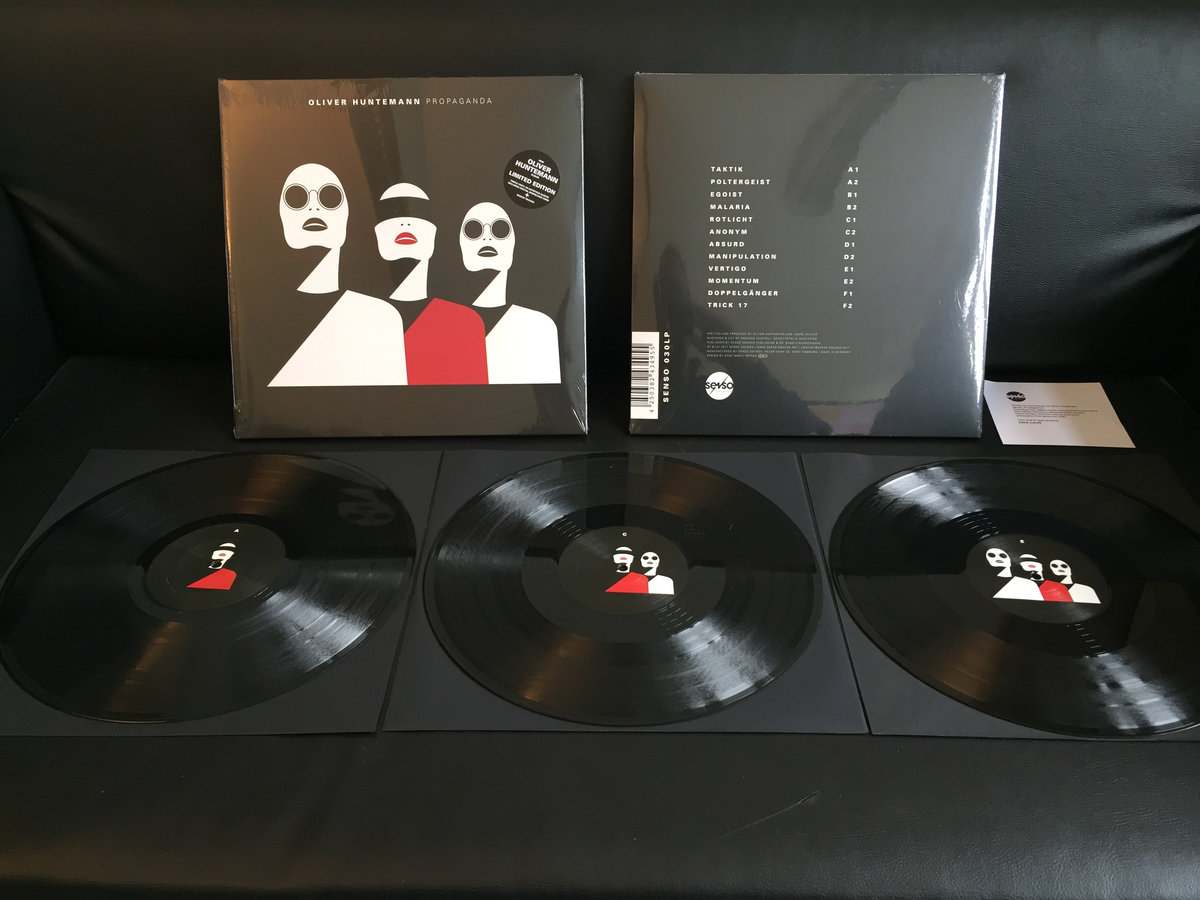 A couple of solid techno outings. Those looking for cuts that have big room bang potential might want to place Hamburg DJ-producer perennial Oliver Huntemann's fifth album (and first in six years) on the decks first. It comes on triple vinyl in minimal art gatefold and is mastered with widescreen gorgeousness. A sticker on the front says the vinyl has bonus tracks but the CD's track-listing appears the same. Never mind that, though, this is fine propulsive stuff, steady-paced and large. It's not going for abrasiveness or edginess, just pure, juddering wallop, track after building track. There are moments when the pace becomes more considered (such as the moody ambience of "Momentum"), but not many. By contrast, the first album from fellow German DJ-producer Anja Schneider in just under ten years, plays its cards closer to the chest, offering a more sedate, rolling session of clubland sounds, even taking in LTJ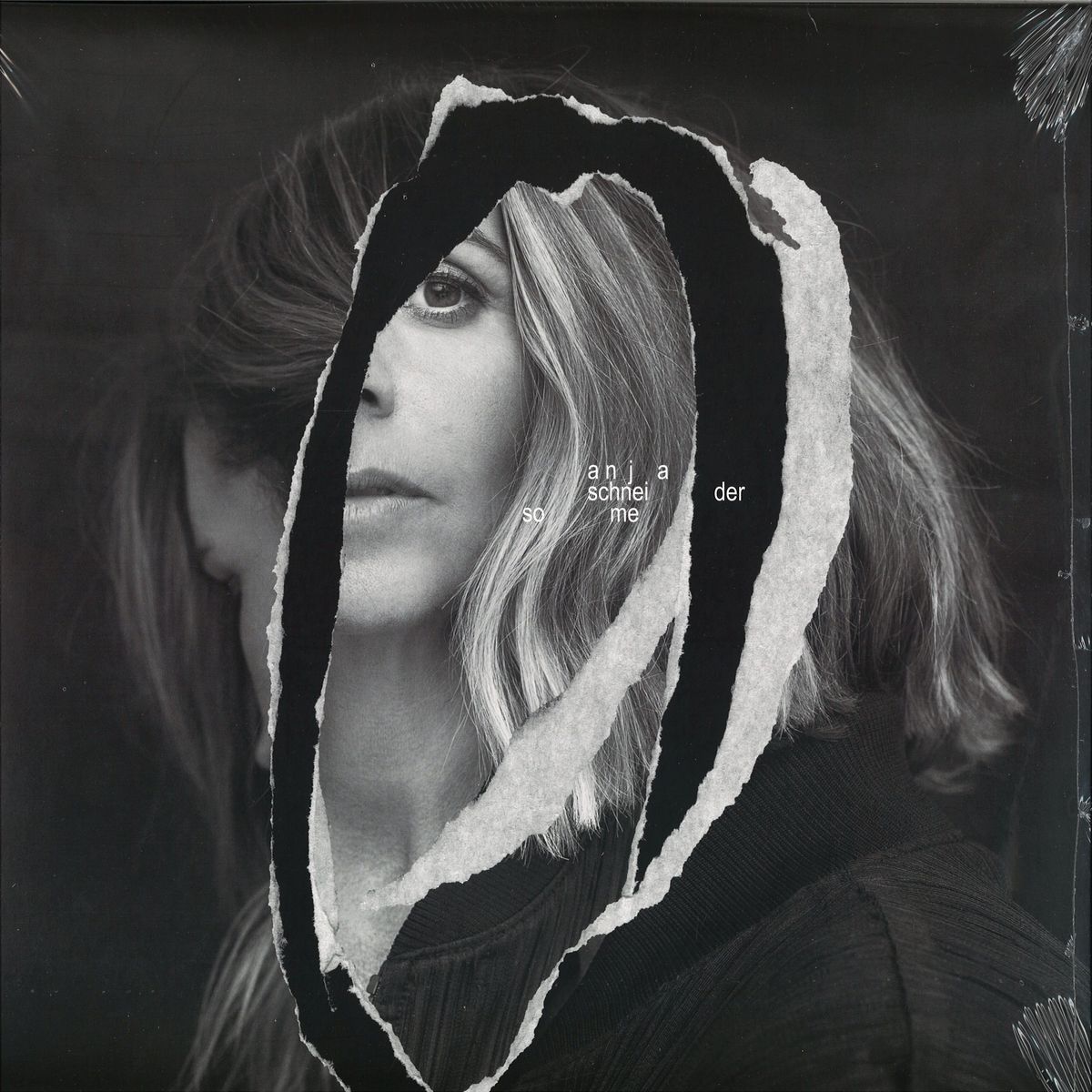 Bukem-style drum & bass on "Wmf". Schneider has made some drastic changes in her career lately, parting from the Mobilee imprint, which she had co-helmed to global dance music success, and SoMe can be seen as a statement of sorts. The over-arching feel is a little too laid back for me, but this is elegant, understated fare, from the old school vocal deep house of "All I See" to the drifting electronica of closer "Shadows", via a host of handsomely tooled 4/4 cuts.
Gili Yalo Gili Yalo (Dead Sea)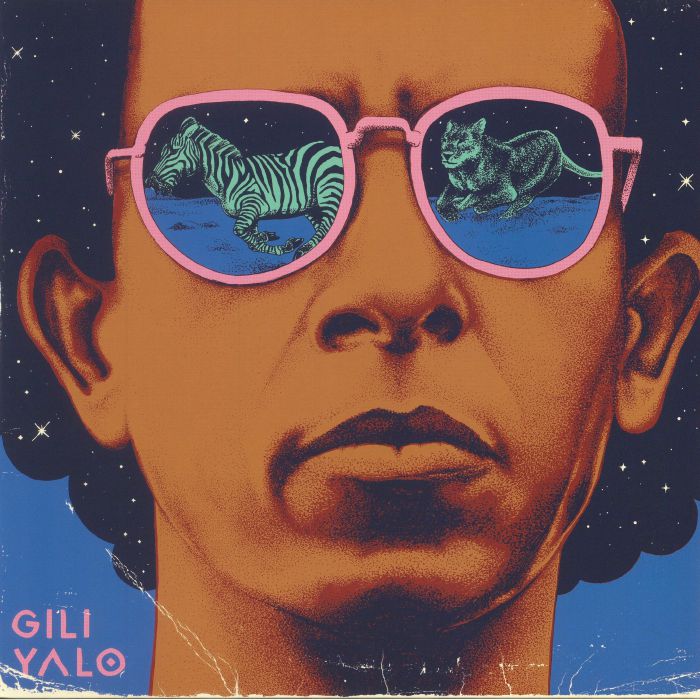 Are the touchstones for Afro-Western crossover forever going to be Paul Simon's ancient, controversial Graceland, and feeble tints in the music of bands such as Vampire Weekend? Wouldn't it be ace if forms of African music each found their own Bob Marley and crossed over on the same scale, seeding rock and pop with a richness it urgently needs. Here's a debut album from a contender. Gili Yalo is a Tel Aviv-Based Ethiopian Jew who left his home country during a famine in his childhood. His music is a distinctive melding of jazz, rock, Africana and a developed sense of pop. Thus, there are moments, such as the psychedelic synths on "T'ebik'ew', the strummed "New Life" or his singing about "cosmic energies" on "Fire", when he shows his rock song side, but pop is equally present in contagious form. "Selam" boasts a hugely catchy chorus that seems to be based around mangling his surname, while "Africa", a duet with Keren Dun of Israeli jazz outfit Buttering Trio, has a catchy Hammond skank and joyful, simplistic lyrics ("When your friend kissing all night, you know, be happy"). It may be a little too jazzy for true mass consumption, but this is still a vision of pop as it could be.
Modulus III Modulus III (Friendly)
Modulus III are a trio from Bristol who make a persuasive ambo-Kraut-jazz potage. Their instrumentals start out deceptively floaty but, like a black hole or whirlpool, by the end, anyone nearby has been hauled into their maelstrom of synths, effects, cello and very fine drumming. This mini-album contains three tracks which owe as much to the serialist end of modern classical as they do to jazz, with the end result being something closer to motorik psychedelia than anything you'd hear having dinner at Ronnie Scott's. After two brain-fusing pulsars, "Waiting For Network" and "Diego Says Hello", the final cut, "Joyce", goes for a slower, more straightforwardly uplifting synth-out, redolent of Eighties Vangelis by way of Brian Eno, although, naturally, it heads into tempestuous squalls at the end. This is good mind-warping stuff.
Pnau Changa (etcetc)
Aussie outfit Pnau are famous for two things. One is their long association with Elton John, who's been a big long-term supporter (their last album, 2012's Good Morning to the Night, was a collection of early Elton pieces electronically reinvented). The other is that Pnau's Nick Littlemore is also in another Australian success story, the melodramatic Baroque electro-pop act, Empire of the Sun. Neither of these facts impacts on the sound of Changa, which comes in art gatefold double pressed clear and loud. Instead, it's akin to Nineties piano rave filtered through post-Rudimental up-up-up major key dance-pop, plastered with super-catchy chant lyrics. The production is pin-sharp, yet there's also an airiness, a relentless sense of euphoria that lifts the music. It's too candyfloss fluffy for this writer but, as "Into The Sky" batters out of the speakers, a rainbow of cleverly crafted party bounce that would be equally at home of the radio, it's easy to hear the appeal.
ALSO WORTHY OF MENTION
Monster Treasure II (♯Major): The second album from Californian punkers Monster Treasure is an enjoyable attack of over-amped guitars. It has a fat sound, ram-raiding out of the speakers, and is pressed to vinyl that looks like an M&M McFlurry draining down a transparent shower curtain. A two-thirds female trio, the women, guitarist Briana Granados and bassist Rachel Orimo, share vocals and go for that opiated Slowdive/My Bloody Valentine vibe while the guitar does something much scuzzier and grungier, speeding along. The songs have actual tunes too. Power pop via the veil of noise. If I was 16 and had never heard this sort of thing before, they might become my favourite band ever but, instead, I'm ancient, and have guzzled this style many times… however I still get off on Monster Treasure's unfiltered, visceral buzzsaw attack. Comes in pop-art photo inner sleeve.
Rocheman Rocheman (Accidental): On electronic wizard Matthew Herbert's Accidental label comes the debut, on marbled vinyl, from Rocheman, whose oeuvre sits somewhere between blurry underground electronic composition and songwriting. His voice, swerving about low in the mix, deep and unobtrusive, occasionally disappearing to mumbles, but it's no hindrance to this being a characterful and atmospheric release. He can also nail a tune – check the vibrant, catchy "Pestle Pusher" – but he's possibly more at home wibbling around stranger soundscapes, dreaming aloud amid fuzzed tones and clacky android rhythms.
Various The Real Sound of Mark Grusane (BBE): A two disc compilation put together by the crate-digger's crate-digger for the kingpin label of crate-diggers, BBE (Barely Breaking Even). Mark Grusane is Chicago disco-soul aficionado who used to run one of the city's key music stores, Mr Peabody's (now defunct). Having put out two albums of funkin' obscurities from his home patch (The Real Sound of Chicago collections), he now gathers a selection of his own favourite barely available numbers, personally edited to add extra dancefloor pulse (for he's also a DJ). Some of it is too jazz-funk smooth for theartsdesk on Vinyl's tastes but the juiciest cuts, such as the ballsy, Hammond-inflected disco pulse of Frank Pellico's "Copa Cabana", have more than enough oomph.
Noya Rayo Icaros (Gondwana): What elevates Leeds four-piece Noya Rayo above the plethora of post-Flying Lotus ambo-jazz noodle is the way singer Olivia Bhattacharjee weaves a mainstream soul smoothness amongst the splodgy, splashy patterns producer Tom Henry and his associates construct around her. Some songs, such as "Golden Claw", have an electro-pop snap to them, but most of the album goes for a dreamy woozy feel, kind of dinner party music for futurist soul boys and girls living in glimmering glass-fronted apartments where everyone wears white. Tranquil in tone, it never drags me in, but still emanates a considered classiness.
Andy White The Guilt and The Innocent (Andy White): Belfast troubadour Andy White has been around forever. I can recall him being touted as "the new Billy Bragg" when the Bard of Barking's career took off in the mid-Eighties. However, unlike Bragg, White never broke through to a wider level, although he's held onto a career, touring regularly for the last 30 years. This is, unsurprisingly, because he has a way with a tune. His latest album, which comes in photo/lyric inner sleeve, bridles with righteous indignation at the state of the world. The lyrics veer towards the trite ("Dignity/Jesus was a refugee") but it's great to hear a singer directly addressing the way the world is totally fucked up right now instead of piffling irrelevant shite like most. The songs are very straightforward, A, B, C pop-folk that doesn't do anything subtle, but his words can bite ("Entertainment of every phone/There's a girl leaning on a traffic light/You never saw anyone look so alone"), and theartsdesk on Vinyl can only ever be in favour of protesting the crap we all put up with.
Molly Glimpse EP (Dalliance)
The title track from rising Austrian duo Molly's latest EP sounds initially as if it's going to be a dirge, but it then diffuses into nine minutes of auroral opiation, very, very Cocteau Twins in conception. The other side, "Time and Space", in two parts, lets the band show their teeth, letting singer Lars Andersson drop out of falsetto ethereal mode, for a fiercer piece of shoegaze attack, while partner Phillip Dornauer goes at the drums with gusto. If they can whip this up live, they've a promsing career ahead of them. Arrives on transparent vinyl with clear plastic sleeve with 12" x 12" insert.
Dub Syndicate Displaced Masters (On U Sound)
Continuing the On-U Sound re-release extravaganza, an album of outtakes from Dub Syndicate's first four albums. It comes with extensive inner sleeve explanatory notes from BBC Radio Lancashire's Steve Barker, explaining how the band blossomed from Creation Rebel, a unit that had their own career but mostly acted as a pick-up band for visiting Jamaican greats such as Prince Far I and Gregory Isaacs. It's as laid back as fans of the band would expect, with styles ranging from hardly-there stoned head-bobbers to songs featuring the late, great Bim Sherman (three of 'em). I particularly like the tuneful grooviness of "All Other Roads Are Shut Off". The inner sleeve flip has a big black'n'white picture of Bim Sherman and the mastering is mighty.
Joan As Police Woman Damned Devotion (Play It Again Sam): I've long liked the idea of American artist Joan As Policewoman but usually found the music not at all to my taste, stern, spiky and tuneless. With Damned Devotion, by the time I reached side two of the semi-transparent garish magenta vinyl, I came as near-as-dammit to enjoying her work. Her seventh solo album arrives on photo gatefold with a 24" x 24" cover art poster/lyric sheet and, at its best, on tracks such as the skittering "Rely On" it's weirdly poppy, an amalgam of scathing electro-pop with songwriting that's passionately busted up about love and wants to express it fiercely. The tone throughout is gloomy but the music is sneakily contagious in way that sells it.
The Bug Bad/Get Out of the Way (Ninja Tune): Kevin Martin is a noisenik whose tastes are ear-bogglingly catholic. He's had multiple incarnations, almost all revelling in knocking at windows and hacking at edges. His Bug persona has been a steady presence at the heart of it all, and may be the best-liked of his work. "Bad", featuring grime MC Flowdan, and "Get Out of the Way", featuring Killa P & Irah, are both suitably gruff backing tracks with roughneck ragga-flavoured ultra-masculine street vocals. They have an appeal but Martin can do this stuff in his sleep and this work won't be held up has career-defining.
Kim Myhr You|Me (Hubro): I hope Hubro Records make a decent living. Perhaps there are people who collect their output. I like to think so. The world needs Hubro. They're a Norwegian label whose output consists entirely of music that sits on the Venn diagram segue between jazz, improvisational, experimental, modern classical and downright avant-bizarre. Sometimes their records really go somewhere, slow-growers that, when the brain clicks into what they're doing, are quite something – Møster's When You Cut Into the Present and Building Instrument's Kem Son Kan Å Leve, for instance – but on other occasions, their output is more curious than compulsive. Such is the case with the second album from Trondheim musician Kim Myhr, in patterned inner sleeve, the contents of which are one-track-per-side of scratchy shimmerings, squeakings, and other effects, underpinned by a flowing musicality that is, nevertheless, not hugely broachable. But keep at it, Hubro. You truly are art and that's one of the best places to be.
Ashley Henry & the RE:ensemble Easter EP (Sony) + Nat Birchall Cosmic Language (Jazzman): A couple of jazz bits. Mastered superbly, loud and pristine, the first is a 12" showcase for a pianist who Sony clearly hope will be crossover catnip. They could well be right. Ashley Henry's own title track composition is an energized piece. It's accessible and light and lively then, just to show off, he throws in barely recognizable versions of US hip hop MC Nas's 1994 cut "The World Is Yours" and Coventry indie band The Enemy's "Pressure" (retitled "Beautiful Pressure" with a female vocal). The flip starts with "Bunny", a zesty explosion that cleverly swaps about tempos but without being all proggy, followed by another two buzzy cuts. All in all, very promising. Spiritual and spirited Brit saxophonist Nat Birchall has been around much longer than Ashley Henry and his latest outing is a more sensuously slow affair, underpinned by a harmonium, touching on Indian sound patterns. It's music that initially seems kind of bagpipey, for want of a better term, but, gradually, those in the right mood may find their head wanders off into it, time compressing, until they're spat out the other side in a meditative state.
Reema The LowSwing Sessions (Lowswing): Berlin-based Londoner Reema offers an EP of her work filtered through the moody studio sensibilities of Israeli-German producer Guy Sternberg. Some of the songs are left unadorned, such as the crisply beautiful and pared back heartache of "Killer", but much of this six track EP is smeared in downtempo orchestration that accentuates bleakness, so much so that even the jubilant brass on "Four Letter Word", which could have added levity, somehow sounds forlorn. There are good songs here but the overall feel is overpoweringly Mogadon maudlin. Comes in art/info inner sleeve.
Poppy Ackroyd Resolve (One Little Indian) + Spindle Ensemble Bea (Adderwell Music): These two releases represent the best of the latest swathe of modern classical to hit theartsdesk on Vinyl. The term "modern classical", which I often use, really doesn't cover the wide array of music it describes, most of which is some combination of traditional concerto-style instrumentation and electronica. Hidden Orchestra member Poppy Ackroyd has had a couple of releases out previously but now appears on respected independent One Little Indian. Her music bears comparison to treated piano don Hauschka, with whom she's worked, and is a hypnotic progression of pattering percussion and cyclical keyboard lines, infiltrated tenderly by lamenting strings, of which she's a master. It's likeable, ready for use in film and TV, but perhaps a step on the journey to where she's going rather than a personal peak. Resolve comes on double in abstract art/info inner sleeves. Bristolian outfit Spindle Ensemble, meanwhile, are led by composer Daniel Inzani and lean more towards a jazz sensibility, very subtly tinted with global music styles. Opening track "Moonbow" is representative, with its jazz piano meeting Middle Eastern-sounding strings head-to-head, a Gamelan rhythm playing unobtrusively at the back and another motif occasionally rearing up that sounds almost like an old Roy Rogers cowboy ballad.
Nick Ellis Adult Fiction (Mellowtone): Nick Ellis learnt his craft in underheard post-millennial Liverpool indie band The Maybes?, but since they parted ways he's been on a solo streak, with Adult Fiction his third album in the last couple of years. It's an acoustic, folky outing and a conceptual affair, written about the architect responsible for Toxteth's Princes Road Boulevard. Well, that's what he says. In fact, Ellis's jazzy drawl, wanders all over, painting lyrical pictures against sparse, precise backing, perhaps capturing some lost age, perhaps telling love stories, perhaps just letting ideas free that need to be let out.
We welcome any and all vinyl for review. Please hit thomash.green@theartsdesk.com for a postal address.
Pressed to vinyl that looks like an M&M McFlurry draining down a transparent shower curtain
Explore topics
Share this article