The Great British Bake Off, Channel 4 review – a cake with adverts is still a cake |

reviews, news & interviews
The Great British Bake Off, Channel 4 review – a cake with adverts is still a cake
The Great British Bake Off, Channel 4 review – a cake with adverts is still a cake
Despite a nation's furious concern, Channel 4 haven't burnt the pudding
Wednesday, 30 August 2017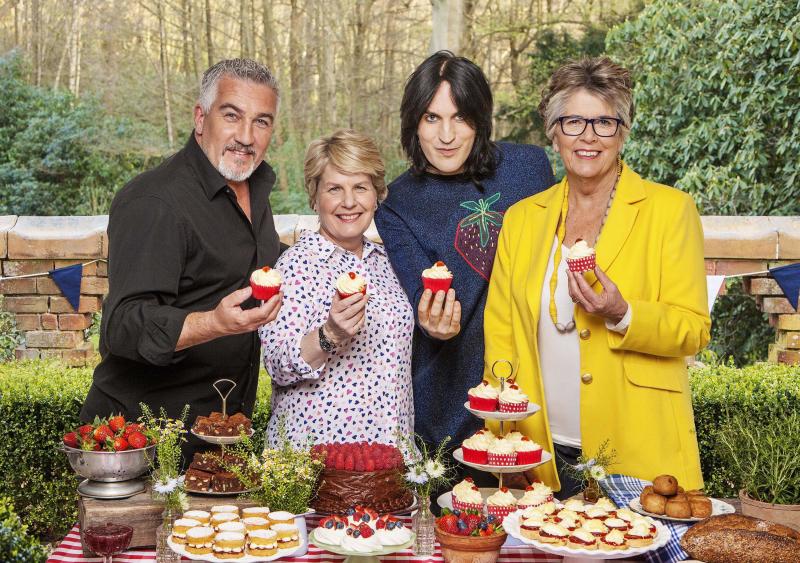 Did we not mention that Steps had reunited? Paul Hollywood with Sandi Toksvig, Noel Fielding and Prue Leith
By the outrage it prompted, you'd be forgiven for thinking that The Great British Bake Off's move to Channel 4 was a national disaster. If only the public felt so indignant about the sale of the Post Office, or the creeping privatisation of a beleaguered NHS… but hey-ho, cakes it is, then.
The news that co-host Mary Berry and presenters Mel and Sue wouldn't be joining Paul Hollywood in the move led to further disquiet and an unprecedented amount of criticism levelled at the Liverpudlian master-baker, including a series of frankly stunning tweets from former contestant Ruby Tandoh. They are, if you haven't seen them, essential reading – "peacocking manchild" is a description I can't, in all honesty, best.
I've always thought Paul Hollywood comes across like a slightly distant dad
The worries about the show's integrity always seemed to be more to do with middle England's resistance to change rather than any real consideration of the show itself. One of the reasons for its success is that it celebrates achievement and rewards skill. That hasn't changed and the producers have done well to leave the format alone, simply slotting new players into the relevant positions. The real test was whether the new kids were going to be able to fill the spaces left by their forerunners.
Prue Leith seemed a near perfect swap for Mary Berry when her appointment was announced and she brought an air of understated authority throughout. "It has to be worth the calories," she, not unreasonably, pointed out. Of course, Leith is no stranger to this kind of environment – she's been passing judgment on the meals of professional chefs for years in BBC Two's The Great British Menu. Here she was in a kinder mood: "It's nothing that a lot of custard wouldn't help," she said of one disaster, assuredly playing to the room.
Sandi Toksvig, meanwhile, realised straight from the off that the Bake Off presenter's job is to let the contestants shine. She mainly seemed to do this by disappearing for long periods, but when she was on screen she exuded the same quiet confidence that has seen her take charge of QI so comfortably.
And so to Noel Fielding (pictured below with Paul, Prue and Sandi). Quite why there was such wide-eyed horror when he was announced as the Mel to Toksvig's Sue is beyond me. The two of them have appeared together on QI and his skewed, sideways take on the world seemed, to me at least, a plausible replacement for the slightly tiresome innuendo that has gone hand-in-hand with the show thus far.
In fact, Noel was in full innuendo mode, with both "exposed bottoms" and "moist clutches" making an appearance, as well as the incident where he ate a begonia and declared it tasted like a "clown's nose". However, while he came alive when talking to the contestants, his voiceovers had the slight air of a teacher trying engage a class of bored children.
Paul Hollywood was, of course, exactly the same. I've always thought he comes across like a slightly distant dad: the sort of man who, while at a pub, ignores his children in favour of a discussion with a stranger about how many miles to a gallon he gets. They just want you to notice them, Paul… they just want a smile…
As for those bakers, it's early days, but I reckon we've got a decent season ahead of us if the "illusion" showstoppers were anything to go by. Steven, Kate and Flo look accomplished, and my money is on student Liam to be the baker with the "journey" ahead of them. In any case, it's fine. We can all rest easy – Channel 4 haven't burnt the show beyond recognition.