Monteverdi Vespers, Vox Luminis, FBC, St John's Smith Square |

reviews, news & interviews
Monteverdi Vespers, Vox Luminis, FBC, St John's Smith Square
Monteverdi Vespers, Vox Luminis, FBC, St John's Smith Square
Where was the vocal drama and the joy in Monteverdi's greatest sacred work?
Bringing rasping colour and brass virtuosity, the FBC led the evening's musical drama
On paper this was a knockout concert: Gramophone Award-winning Belgian ensemble Vox Luminis teaming up with the wonderfully gutsy Freiburg Baroque Consort to perform Monteverdi's Vespers in the composer's 450th anniversary year – one of the highlights of this year's London Festival of Baroque Music.
It may even be a wonderful concert when it is broadcast tonight on Radio 3, thanks to some skilful miking and the alchemy of the recording process. But in St John's Smith Square last night it just wasn't.
It's hard to know quite where the problem lay. Vocal forces of just 13 and an orchestra of similar numbers were never going to provide the choir-of-hundreds contrasts that can work so well in this music, nor should they have to. In their place you'd expect clarity of line, rhythmic freedom, expressive intimacy – a soloistic approach to music that, for all its sacred texts, has at least one foot in the opera house.
There was a lack of joy to the whole performance that was never fully supplemented by solemnity
What we got instead was a fairly undifferentiated choral sound, sustained uniformly across sensual Song of Solomon texts and dramatic psalms alike. Very few consonants survived the tricky St John's Smith Square acoustic, and anyone unsure of the texts would have had only the faintest idea whether the choir were singing of love or war at any given moment. The solo style of the singers did vary more noticeably – from quasi-operatic tenorial plangency (not always reliably tuned) to strip-lit soprano lines that offered the severest take on Early Music whiteness and brightness. The Pulchra Es duet was schoolgirl-polite, despite music whose coiling ecstasy begs overtly for something a bit more adult.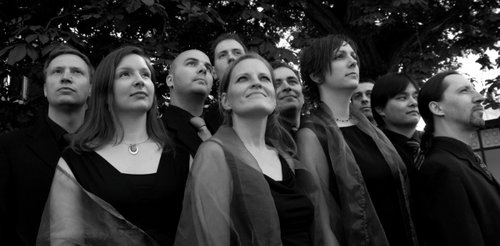 There was a lack of joy to the whole performance that was never fully supplemented by solemnity. Long pauses between movements (necessitated by stage choreography designed to reflect the composer's ever-shifting and reconfiguring vocal forces) banished any hope of ritual continuity and flow of drama, and a refusal from the ensemble to engage with the inventive delight and technical bravura of the contrapuntal movements left us caught somewhere between sacred service and concert-hall. Directed informally from within the singers, tempi were safe and fairly uniform, and together with a dynamic that rarely strayed beyond mezzo-something the effect was just a bit wan.
There were moments of excitement. The brusque attack of the "conquasabit" in the Dixit Dominus, a lovely dancing lilt at the opening of the Laudate Pueri, the poise of the Ave Maris Stella, passing between two choirs, and – above all – the playing of the instrumentalists of the Freiburg Baroque Consort. Cornetto lines punched boldly above the voices, winding themselves around one another in gloriously vulgar displays of virtuosity, while strings came to the fore in the Sonata, adding a grainy, contrapuntal interest to the soprano's plainsong line.
Monteverdi's Vespers remains a conundrum for musicologists. Is it a coherent work, or is it simply a resource-book of musical options? Some performances leave you certain of its cohesion, passionately convinced by the musical totality of this great work. This performance left me in doubt. Vox Luminis and Freiburg Baroque offered us a beautiful collection of musical fragments, but with little connection or dramatic arc. The glorious final Magnificat offered no sense of arrival, no sense of a larger musical narrative at work.
Cornetto lines punched boldly above the voices, winding themselves around one another in gloriously vulgar displays of virtuosity
rating
Explore topics
Share this article