DVD/Blu-ray: Catfight |

reviews, news & interviews
DVD/Blu-ray: Catfight
DVD/Blu-ray: Catfight
Anne Heche battles Sandra Oh in a bloody, singular satire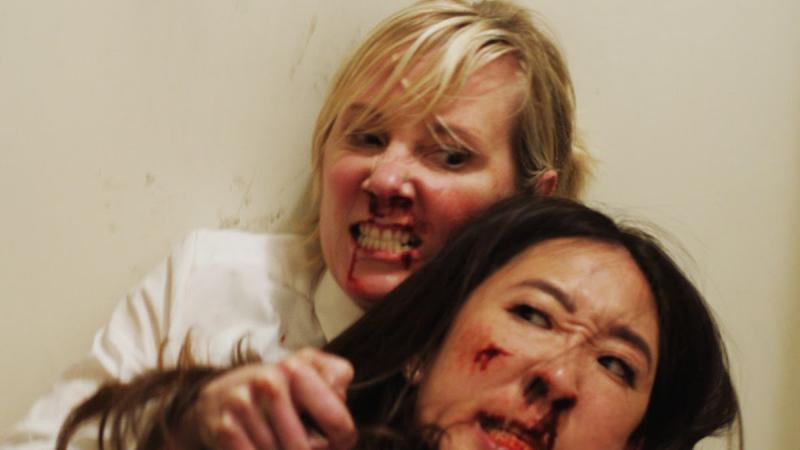 Ashley (Anne Heche) and Veronica (Sandra Oh) settle their differences
Catfights can be entertaining, till the blood starts to flow – or, as in Onur Tukel's brutal social comedy, you take turns putting your opponent in a coma. During three increasingly ritualised donnybrooks, Anne Heche and Sandra Oh batter past the title's fetishising of female fights.
In a way unlike any
other film
I've seen, they also lose the requirement to be likeable which can make standard female characters so insipid. As they pummel each other to the ground, they're finally saying what they really think.
Writer-director Tukel sets up former college friends Ashley (Heche) and Veronica (Oh) as polar opposites, drawn to each other again by resentments and rivalry they suppressed before. Ashley is a failing New York painter, whose girlfriend Lisa (Alicia Silverstone) forces her to help as she caters a party. Veronica is there, drowning in red wine as her industrialist husband celebrates a new Middle East war which will make them even richer. Bumping into each other, bitchy comments turn into a life-changing, stairwell fistfight. As the first blow lands, you can feel the relief. By the third fight, this relationship's ferocity is their one remaining pleasure.
This superbly extreme scenario is let down in many respects by Tukel. His wider satire of a US at Vietnam-scale war is framed by a wholly unconvincing, Jon Stewart-style TV show which, like most of the film, is leadenly unfunny. Only Todd Solondz regular Dylan Baker, as a mordant, overworked coma doctor, displays comic timing. Everything apart from Ashley and Veronica (and a couple of supporting performances) is phony, even inept. But Heche and Oh sweep everything before them. Their nuanced fury feels like something the actresses needed, too. What do women want? "Sometimes," Ashley realises, "I just want to punch you in the face."
As they pummel each other to the ground, they're finally saying what they really think
rating
Explore topics
Share this article