John Mayall, Ronnie Scott's |

reviews, news & interviews
John Mayall, Ronnie Scott's
John Mayall, Ronnie Scott's
A Briton with the spirit of a true American bluesman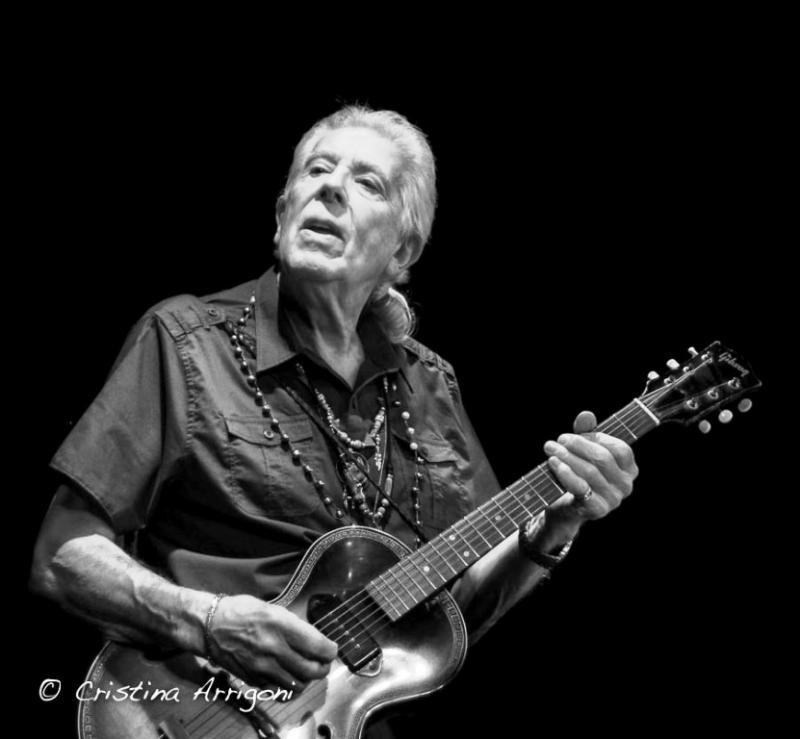 Mayall, making no concessions to age
It's a while since John Mayall last played Ronnie Scott's, and the six shows this week didn't begin to accommodate his many fans. The line to get in on Tuesday started a long while before show-time, and those who turned up hoping for returns will be pleased to know the British blues legend will be heading back to Britain in the autumn.
Those lucky enough to possess tickets were treated to an excellent opening show, much of it drawn from his recent album
Talk About That
.
Just as he did when Mayall celebrated his eightieth birthday at Ronnie's, Nigel Price opened the proceedings with a great blend of blues and jazz, working with Mick "The Man" Hutton on double bass and Jim Mullen on guitar. The latter had one foot encased in a surgical boot, but his picking was unimpaired and the trio commanded the room as much as Mayall would, their set including such classics as "Georgia on My Mind" and "Full House" by Wes Montgomery, whose guitar style (thumb rather than plectrum) resembled Mullen's own. "God Bless the Child", forever associated with Billie Holiday, was arguably the stand-out number.
He blew his harp with customary style and gusto
This time around, the Godfather of British Blues is also playing as a trio, working with Chicagoans Jay Davenport on drums and Greg Rzab on electric bass – guys not much more than half his own great age. And hats off: Mayall is pushing 84, and here he is playing two shows a night and signing autographs afterwards. Specs seem to be his only concession to the passing years.
As usual, Mayall played more keyboards than guitar (don't you miss the sound of the old Hammond!) and blew his harp with customary style and gusto. Rzab handles bass as if it were a lead guitar, he and Davenport – both of whom feature on the album – driving the trio, the first time Mayall has toured with such a small combo. "Don't Deny Me", the set's opener, showcased Rzab's handiwork from the get-go.
Numbers from Talk About That provided the main architecture of the set, with "Don't Deny Me" and "Gimme Some of That Gumbo" among the highlights – Mayall may live in LA but New Orleans is somehow never far away – and he dipped way back into his vast back catalogue with songs such as "Nature's Disappearing" (one of his guitar numbers) from the 1970 album USA Union and "Lonely Feelings" and "Blues from the Lost Days" from the great Bluesbreakers days. "Room to Move" from The Turning Point (1970) closed the evening's first show.
Mayall of course hails from Manchester but he has the spirit of a true American bluesman, a musician who lives to play and who will surely die (though hopefully not yet) doing the work he loves. In a career that spans more than a half-century, he's explored blues, rock, jazz and various fusions thereof and – crucially – with his celebrated Bluesbreakers nurtured some key rock talents, playing with figures who came to be some of the most revered performers of the 20th century, among them Eric Clapton, Jack Bruce, John McVie, Peter Green and Mick Taylor.
"As long as I have my health and the energies needed to give a storied performance, that's what I do, and I love playing, and as long as I have my health and energy as I say to be able to do a good job I think that's what's most important," Mayall told Blues Blast magazine last autumn. "I really love to play with these guys, and we have a great time together on the road. So, that's it. So as long as that continues, I don't see anything about slowing down."