Tubular Brass play Tubular Bells, Howard Assembly Room, Leeds |

reviews, news & interviews
Tubular Brass play Tubular Bells, Howard Assembly Room, Leeds
Tubular Brass play Tubular Bells, Howard Assembly Room, Leeds
Mike Oldfield's '70s classic. Performed live. With extra trombones
Monday, 26 September 2016
Tubular Brass in rehearsal
Sandy Smith's brass band transcription of Tubular Bells is an improbable triumph. He draws heavily on composer David Bedford's 1970s orchestral arrangement, along with Mike Oldfield's two recorded versions. Musically the work holds up very well. But the original 1973 LP sounds distinctly murky in places: this was a live performance in which every strand was audible.
These musicians ably demonstrate just how different a brass band sounds to an orchestral brass section: cornets, euphoniums and tenor horns subtly warmer, less abrasive than trumpets and French horns. Ear plugs were on offer to audience members, but you can't imagine anyone needing them; I've never experienced fortissimos quite so rich and ingratiating as those delivered by Wilson's hand-picked group of 28 players.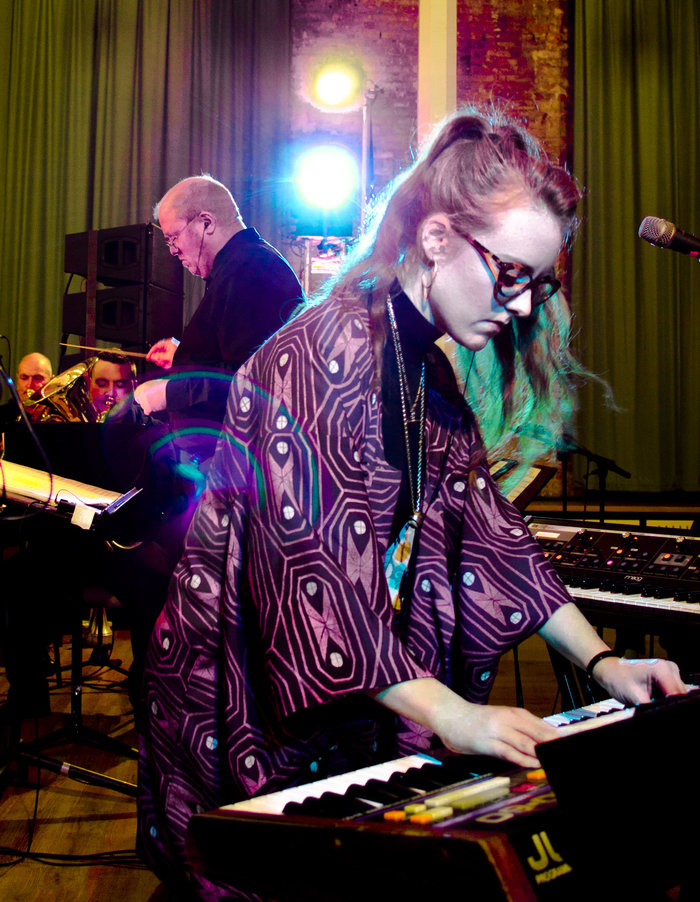 Oldfield's funkier bass lines were resplendent on bass trombone and a tuba quartet, the latter instruments coping magnificently with some fiendish runs over which a host of cornets soared, the clunkier chord progressions and key changes emerging freshly minted. Importantly, Smith's transcription has a genuine sense of fun – hearing Oldfield's opening 7/8 piano theme dispatched on massed brass was extraordinary, the punchy offbeat chords like a poke from a sharp stick. There's not a dud moment, and the playing was impeccable: these musicians first performed the arrangement in May, and they audibly own it. At the close of Part 2 there's a telling contribution from a Moog synthesiser, before the cheesy hornpipe finale. All of which served to transform Tubular Bells from a guiltily pleasurable slice of headphone music to a thrilling shared experience.
The brief spoken part originally taken by Vivian Stanshall wasn't included, though I was hoping that composer and sound artist Hannah Peel (pictured above, with Smith) might have stepped up to do the honours – her contribution to Tubular Bells being just the aforementioned electronics. Peel's newly commissioned, punningly titled Mary Casio filled the concert's first half. A seven-movement suite for analogue synthesizers and brass, the work plots the imagined journey of an elderly female stargazer from, er, Barnsley, to Cassiopeia. Non-digital electronics made a very human, approachable sound, complementing Smith's players without overwhelming them. The brass writing was idiomatic and effective (Peel was a trombonist); lower voices entering imperceptibly at the work's opening, making the synthesizers' dropout a few minutes in overwhelming. Huge slabs of sound washed across the room; a delicious smörgåsbord of Brucknerian chords and chattering ostinati.
Near the close, tutti brass jostled with the hiss and crackle of a 78rpm record, the emotionally charged coup de théâtre a scratchy sample taken from a 1928 recording of Peel's choirboy grandfather. A perfect mixture of solemnity and joy, much of the work's fun came from watching Peel perform. Gamely juggling multiple keyboards and a wind-up music box, her wordless vocals made her resemble an Ondes Martenot in human form.
Peel, who has collaborated with John Foxx and performs with The Magnetic North, is a real find, the Delia Derbyshire de nos jours. A perfect concert, in other words, with Smith and Peel's affable spoken intros adding to the programme's appeal. Further performances are planned, the next one in Bristol, and there'll hopefully be a recording at some point. Absolutely terrific, and the most satisfying live musical event I've attended in years.
rating
Explore topics
Share this article