Men and Chicken |

reviews, news & interviews
Men and Chicken
Men and Chicken
Mads Mikkelsen in a daring Danish horror-comedy about unhappy families
Brothers from another mother: Elias (Mads Mikkelsen) and Gabriel (David Dencik)
Half Man Half Biscuit have nothing on this. Splicing The Three Stooges and Island of Dr Moreau, this strange Danish film finds both slapstick and pathos in its grotesque premise. Part of the micro-genre in which adopted children search for biological parents, it takes its protagonists on some especially twisted country back-roads to get to where they're going.
Elias (Mads Mikkelsen) and Gabriel (David Dencik) have always been mismatched brothers. Hangdog university professor Gabriel inwardly despairs of his compulsively masturbating, gauche and rage-prone sibling. So when their late father leaves them a VHS tape detailing their birth to different mothers and a mysterious, 100-year-old male scientist, he hopes his luck has turned. Travelling to the remote Danish island of Ork, they instead find this professor to be of the mad variety, and nowhere to be seen in a crumbling sanatorium that's home to three further half-brothers, and a surfeit of chickens.
This new family (pictured above sharing a bedtime story with Elias) are even more grotesque, sex-starved and violent than Gabriel's current brother. The perfectly judged physical humour as Elias and his new siblings trade cartoonish blows runs alongside the provincial weirdness elsewhere on Ork. The island's venal doctor/mayor just wants its understandably plummeting population to stay above 40, so the distant Danish authorities don't wipe it from the map. The womenfolk, including those at an old people's home where Elias leads his virginal clan on the pull, are sensibly nervous or quivering with lust. It often resembles a prime Farrelly Brothers farce in its comic bad taste.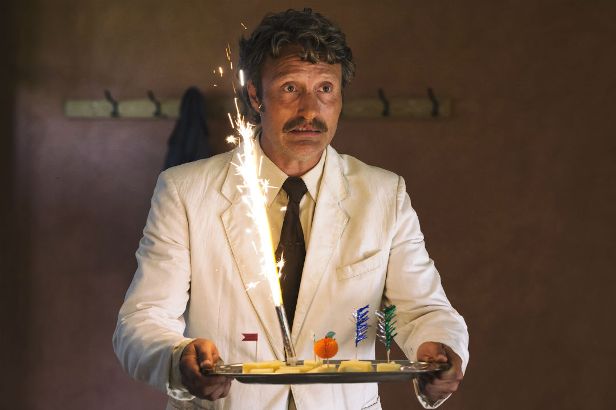 Mikkelsen's odd good looks and sometimes unreadable gaze have typed him as a foreign villain in Hollywood. His Danish work shows the vast, intense range they're missing, from the persecuted teacher in The Hunt to A Royal Affair's dissolute 18th century reformer. Men and Chicken's writer-director Anders Thomas Jensen, best-known for his screenplays for Susanne Bier, has been his most frequent collaborator. Jensen's career has been similarly potent and diverse – if a Danish film gets an international release and von Trier or Refn didn't direct it, he probably wrote it. A penchant for packed plots unembarrassed by melodrama and absurdity is especially plain when he's director, too, and Mikkelsen can carry it all. With his subtly malformed, flushed face here, and words that tumble from him, angry and desperate, he makes Elias a memorable anti-hero. Like the film, his intense ridiculousness is tempered by wounded dignity.
What begins as a back-country comedy, full of ugly caricature and behaviour, becomes a sentimental horror film after a while, when the family secret is revealed. The normal world around them is signalled by dropping jaws and flinching dismay. Its reality eventually closes in, as the (off-camera) violence becomes too much, and the national authorities arrive to clean up the mess. But Jensen and his game actors revel in the monstrous. Men and Chicken, though funny, isn't really nasty. It celebrates its misbegotten brood.
Overleaf: watch the trailer for Men and Chicken