DVD: Hail, Caesar! |

reviews, news & interviews
DVD: Hail, Caesar!
DVD: Hail, Caesar!
Hollywood satire with teeth and heart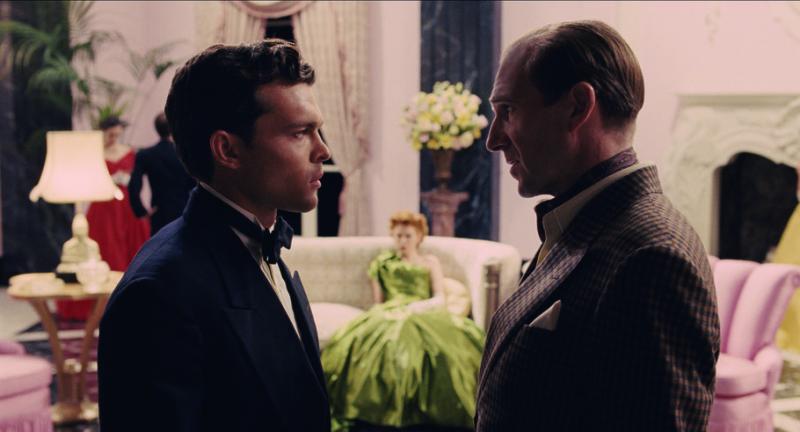 Would that it were so simple: Alden Ehrenreich and Ralph Fiennes in Hail, Caesar!
Hail, Caesar!'s shortcomings are easily forgiven. You could complain that the multiple plotlines aren't given enough time to breathe, or that the deeper issues rumbling beneath the film's frothy surface could be explored in more depth. Superbly designed and beautifully shot on film by the Coens' regular cinematographer Roger Deakins, this really needs to be seen on a large screen. But repeated DVD viewing allows the barrage of sight gags and wordplay to really hit home.
Set in the early 1950s, it centres on Josh Brolin's studio manager Eddie Mannix (pictured below with George Clooney), behaving like an honest sheriff attempting to impose order in a lawless frontier town. He has a lot to contend with: Capitol Pictures' star actor has been kidnapped, an unmarried starlet is pregnant and the latest male lead is struggling to enunciate words with more than one syllable. The pace is hectic, the set pieces elaborate in the extreme.
Mannix's duties necessitate his dropping in on an immaculately staged aquatic ballet starring Scarlett Johansson's foul-mouthed DeeAnna Moran, and a dazzling bar-room dance sequence paying scrupulous homage to South Pacific and On The Town. Director Laurence Laurentz (Ralph Fiennes) vainly attempts to teach singing cowboy Hobie Doyle (Alden Ehrenreich) how to act in a 1920s costume drama ("He barely knows how to speak!").
More pressing is the abduction, by a group of rightly disaffected communist screenwriters, of Baird Whitlock (George Clooney), whose disappearance disrupts the shooting of the worthy biblical epic which gives the film its title. Clooney's amiable klutz is a joy to watch. He's a superb physical comedian too: witness his clumsy efforts to sit down whilst wearing a centurion costume. Mannix's struggles also take in Tilda Swinton as twin gossip columnists and whether he should resign and take up a lucrative post with Lockheed – cue a sharp cameo from Ian Blackman as the Mephistophelian Cuddahy, forever dissing the movie business and urging Mannix to grow up and take a proper job.
Mannix chooses to stay in post, though in hindsight we suspect that he might have been wiser to jump ship. The old studio system was starting to crumble and television was already threatening to decimate cinema audience numbers. Hail, Caesar! looks back on a troubled era with unsentimental affection, and it's the Coens' warmest and funniest film in years.
Mannix might have been wiser to jump ship
rating
Share this article