Alfresco Festival 2016, Royal Tunbridge Wells |

reviews, news & interviews
Alfresco Festival 2016, Royal Tunbridge Wells
Alfresco Festival 2016, Royal Tunbridge Wells
The Emperor Machine, Vox Low and hula hoops helped this new May Bank Holiday festival blossom
A bit of blue for the grown-ups: Vox Low take Tunbridge Wells by storm
I looked around at the grime-flecked warehouse and surveyed the brick parquet floor. Even the dappled sunlight and birdsong couldn't soften the realisation – or the ground, for that matter. "We're going to struggle to get a tent peg in this," I said to our travelling companions. Then, taking command of the situation, I boldly stated what we were all thinking: "I don't think this is a campsite.
I think this is a Jewsons."
We were on our way to Colebrook Lakes, the site of the Alfresco Festival, a brand-new, family-friendly affair in Tunbridge Wells, Kent. Apparently home to the disgusted and conservative middle classes, what was the town to make of a music festival which aimed to prove that underground club music and young children were a recipe for success, rather than some alcopop aberration?
I would have roughly the same chance of seeing everything I wanted to as defying gravity
With the runaway success of child-friendly parties like Big Fish, Little Fish, family clubbing is big news, but Alfresco is no 'home in time for tea' affair – we were in it for the three-day-long haul. In order for this to work, to really fulfil the expectations of both young and old, the organisers needed to be very canny indeed.
Entrance located, and tents erected, we walked the short distance from the campsite to the main arena, and the scale hit. Alfresco is small. By festival standards, very small, with, at most, 1,500 people on site on any given day. First we came to the family area, which housed the Armchair Session stage, an intimate tent that was to be home to DJs throughout the weekend. The three other stages sat by the lake itself: the We Are the Sunset stage hidden away in a picturesque woodland glade; the main stage, a large tent hosting both DJs and bands; and, at the furthest edge of the site, the Nein igloo, an inflatable club tent in the shape of, well… an igloo. Obviously.
Our group comprised four children ranging from nine to 18 months. Kids are an unforgiving lot and are not prone to sparing blushes. If things aren't right, they'll soon let you know, and often at a volume loud enough to rival some of the on-site sound systems. The entertainment laid on for them included superb storyteller Mark Fraser, who kept the little ravers entertained around the clock (well, until evening at least) with the winning one-two of engaging manner and terrific tales.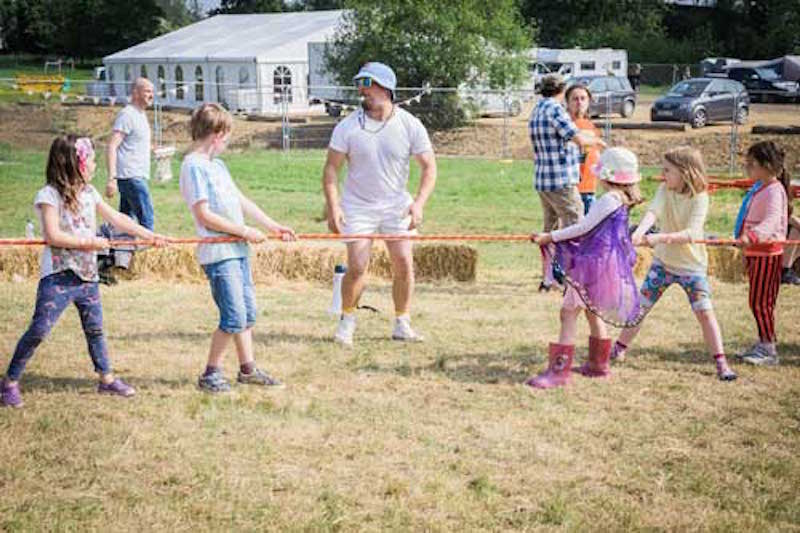 There was also an apparently never-ending weekend sports day on the site (picured above). Imagine if Sky Sports had a dedicated channel for sack races and tug of war, but with a much better soundtrack to the video montage. Our host was, like the storyteller, a tireless wellspring of good feeling. Craft activities, face painting and a full-scale roller disco were augmented by hula hoops and a straw maze. These last two were among the biggest hits across the weekend, proving, if nothing else, that allowing kids to be kids and imaginations to run free is the best way to keep them happy and entertained.
On entry, we had bought lanyards detailing the running order and times. I took one, forgetting that, with children in tow, I would have roughly the same chance of seeing everything I wanted to as defying gravity. Kids, while possessed of a frankly unfathomable degree of boundless energy, are as likely to channel it into forward momentum as a spinning top. And, while I was quite willing to cool my boots and let them run a race or finish a story, I was less willing to miss the Balearic beats of legendary DJ Nancy Noise in a wooded glade on a sunny Saturday afternoon (pictured below) just because my kids wanted to lob straw at some new chums.
We missed Nancy Noise. Of course.
We were more fortunate with Balearic Mike, who followed later and whose eclectic, feelgood set was the perfect soundtrack to early evening. While most of the festival was given over to DJs, Saturday was the day that the live acts came out to play. In keeping with the spirit of the festival, these were largely electronic in nature and included Heretic (known to his mum as Timothy Clerkin) whose recorded output on small but perfectly formed labels such as Tusk Wax, Relish and Days of Being Wild had given him much to live up to. He managed with room to spare, and delivered a set that blended brooding New Beat and thrilling futurism.
It warmed things up nicely for the post-punk dance of Chloé Raunet's C.A.R., whose songs fizzed with energy and purpose, not least "Idle Eyes" from 2014's album, My Friend. My five-year-old daughter watched on with interest, and I'd like to think I saw a future plan forming. Later, Emperor Machine, the latest incarnation of former Bizarre Inc and Chicken Lips man Andrew Meecham, continued the spirit with aplomb, playing a set of rugged and neck-snapping grooves from a collection that spans more than a decade. Closer "Lift Up Chong and See" from 2006's Vertical Tones & Horizontal Noise left the crowd reeling and cheering.
As the stars came out and tiny eyes grew heavy-lidded, brows lowered slightly and the tone transformed almost imperceptibly. Many of the adults headed off to put kids to bed and have a quick Saturday-night breather while negotiating babysitting favours with friends before heading out into the belly of a very different beast…
With the sun now set, the festival took on the vesture of a proper club. While the family area continued about its business, the main tent was given over to the grown-ups, and soundtracking this shift was French psych outfit Vox Low. Playing their first British gig, this had the feeling of a special event as they motored through a set that channelled strains of Krautrock, psychedelic exploration and space rock through a particularly singular vision. Recent EP track "Baby Brown" and 2015's debut single "Something Is Wrong" proved unexpected, but welcome, singalong highlights.
After the thrills and spills of Saturday, Sunday's corners were a little burred and its edges fuzzy. Forget the stomach-lurching dread of school the next day, however – this was a chance to lounge around and soak up all the happy that only good company, a relaxed atmosphere and the promise of a Bank Holiday Monday can provide. It was an objective helped immeasurably by another top-drawer line up of DJs, among which was Don Letts (pictured above) playing a crowd-pleasing set heavily peppered with reggae cover versions to very appreciative revellers in the family area. Kids played, adults laughed and everybody danced. It certainly made a welcome change to the endless Mod nights and UKIP rallies that normally pepper Kent's social calendar.
For a small festival to work, there are several elements you need to nail. Having managed to entice an incredible array of musical talent, a dizzying level of entertainment and seemingly secured the Sun for a three-day booking, the only component out of the organisers' control was the crowd. Here they scored big, too. The grinning faces and cheery disposition of the audience provided almost as much warmth as the fizzing ball of nuclear fusion in the sky, and helped to assure Alfresco's place as a very welcome addition to the festival circuit – and one that looks set to blossom every May.
Alfresco is no 'home in time for tea' affair - we were in it for the three-day-long haul
rating
Explore topics
Share this article