Arabian Nights |

reviews, news & interviews
Arabian Nights
Arabian Nights
Miguel Gomes's voluminous three-part opus laments Portugal's plight via Scheherazade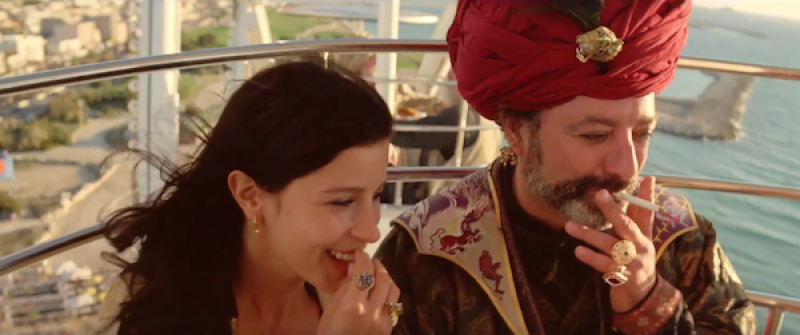 Telling tales: Scheherazade (Christa Alfaiate) and the Grand Vizier (Américo Silva)
Early in the first part of his sprawling metafictional docu-whatsit Arabian Nights, the director Miguel Gomes is reflected in a café window as he flees his crew for conceiving the absurdly overambitious project he's set up. It was "the dumbest idea", he says in voiceover, to think "I could make a fine film of wonderful, seductive stories while following Portugal's miserable situation for a year." To reconcile militancy and escapism, he goes on: "That is betrayal. Disengagement. Dandyism."
For this crime against cinema, Gomes (pictured center, below), his sound man (boom in hand), and a woman assistant are buried up to their heads in sand, as if about to be executed. Yet, like Scheherazade, weaver of the stories of The One Thousand and One Nights, their death sentence is revoked because Costa agreed to tell an "awe-inspiring story…about voluptuous Scheherazade of ancient Bagdad". In the six-hour pantechnicon that follows, he unfolds a series of dramatised or semi-dramatised anecdotes culled from the 2013-14 period of Portugal's four-year economic crisis, which he attributes to "economic austerity executed by a socially unjust government".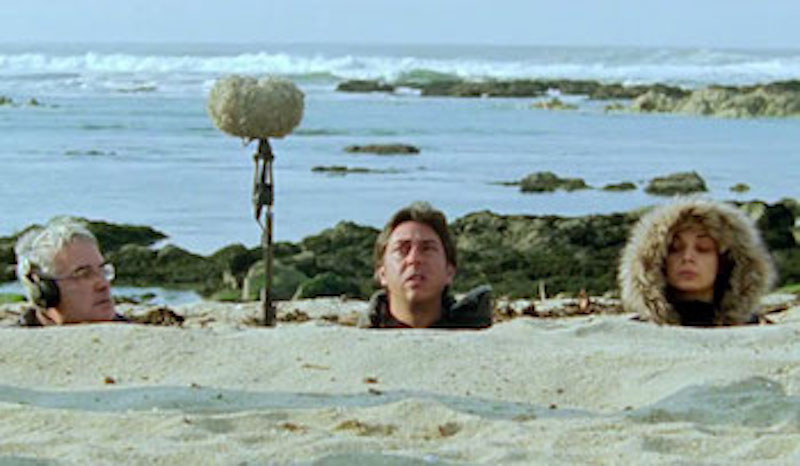 Gomes's follow-up to Tabu, his regretful 2012 anti-colonial drama about Portuguese white mischief in Africa, amounts to not one "fine film" but three baggy films comprising a concatenation of filmlets, many of them true hard-luck stories performed by non-professionals. After playing the festival circuit, they have been released in the UK on the last three Fridays: Volume 1, The Restless One (125 minutes, 22 April); Volume 2, The Desolate One (131 minutes, 29 April); Volume 3, The Enchanted One (125 minutes, 6 May).
A title announces at the beginning of each film that it borrows only the structure of the Arabian Nights. Scheherazade does narrate and appear in the film, however, most effectively in the lyrical first part of The Enchanted One. She flees her husband, the murderous king Shahryar, to go adventuring, but rejects a tactless blond stud (Carloto Cotta with Alfaiate pictured below), who has fathered 200 children on an island, sleeps next to but denies sex to a gentle thief, and spurns a cavorting genie whose owner's lamp she casts into the sea – an acknowledgment that she and Portugal must face new realities. When she consults with her father the Vizier on top of a Ferris wheel, he reminds her of the validity of her stories and the role they play in uniting people. He also reassures her that a time may come when a tyranny will not prevail, and that she is a survivor who must be "as cunning and agile as a fox" when she takes her rightful place with her husband again.
As she does so – gorgeously tracked by the camera in silhouette against an orange dusk – she introduces the final episode, a poetic, moving documentary piece (especially dear to Gomes) about poor working-class Lisbon men who follow a local tradition of trapping and training chaffinches to compete against each other to see which can trill the most songs. In both its sweetness and its illegality, the chaffinch-fanciers' serious sport symbolically defies the draconian measures that financially hammered the majority of Portugal's people.
I've mentioned the third film first because it's the most beautiful and the one that most successfully melds the mythological with the real. It also brings home how effectively Gomes's thoughtful casting of actors in multiple roles emphasizes the humanitarian over the ideological is his approach to his country's people and their problems.
For example, Crista Alfaiate, the film's lovely Scheherazade, also plays (among other roles, including an injured cow) the Mohican-sporting punk Maria (pictured below left) who, in an episode of The Restless One, constantly tries to cheer up the trade union leader Luis (Adriano Luz, pictured below right). This local hero is a melancholy divorcee with a grave cardiac condition who resourcefully organizes Aveiro's annual New Year's Day Swim of the Magnificents – the 2014 edition being threatened by a fictitious beached whale (an obvious symbol for Portugal in the global economy) that explodes when he and Maria ask a coast guard if "she" is still alive. In the haunting sub-sections of this segment, Luis interviews for the swim two men and a devoted couple who were cruelly downsized during the recession and have not yet recovered.
Américo Silva plays not only the Grand Vizier but the representative of the International Monetary Fund in "The Men With Hard-ons", Gomes's scabrous satire in The Restless One of a meeting between Portuguese capitalist blowhards and the European Troika; Luz is the union leader in this tale. Chico Chapas, a grizzled, white-haired former labourer, fisherman, soldier, footballer, and current birdcatcher and seller, is the birdlime handler in "The Inebriating Chorus of the Chaffinches", and, memorably, the murderer on the run called Simão Without Bowels (pictured below) in a manhunt episode in The Desolate One. Toting a rifle, Simão swims, sunbathes, wanders the land, buys juice and cigarettes from a vendor, dreams of trysting with hookers, but eventually heads back to his town – where he tenderly (not licentiously) watches little kids dance in a field under the supervision of their lady teacher – and is arrested. The vendor, the teacher, a sheep farmer, and the other locals didn't turn him into the police, despite his having killed his wife, his daughter and two other women, because his dogged resistance of the authorities has made him a folk hero.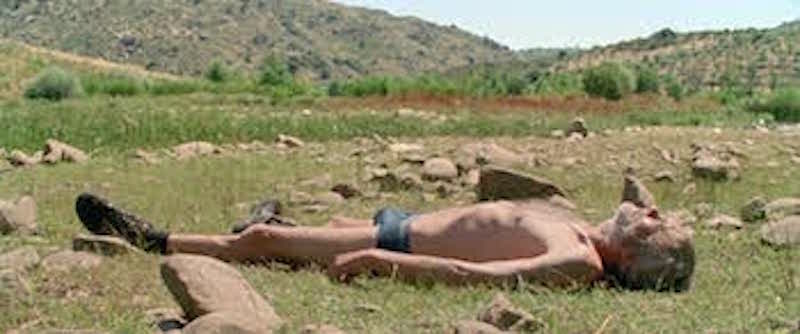 It is the faces of these actors and the trials of the people that stamp themselves on the viewer's memory rather than the semi-serious Arabian sequences – though there are important non-human performers, too. In The Desolate One, the stray dog Dixie is picked up by a woman resident of a block of flats, passed on by her to her depressed neighbor and her partner, who leave it with a drug addict couple they've befriended – Dixie ironically survives two of the participants in this desperate relay, which was filmed in the suburban Lisbon tower where the couple who inspired the story killed themselves. In The Restless One, a talking cockerel standing in Resende's mayoral election is put on trial for crowing too much – a hint of corruption, presumably. Before we learn of its fate, a tragic adult love triangle that leads to series of rural fires is enacted by two young girls and a boy who text each other messages between the man, his jilted girlfriend-turned-arsonist, and the women firefighter he now loves. The use of child actors (and their cellphones) magnifies the emotional pain in the same way as did Dennis Potter's Blue Remembered Hills.
Gomes has a habit of holding shots, particularly at the end of scenes. Consequently, a few of the episodes drag interminably – which will test viewers unfamiliar with the rhythms of "slow cinema", the meditativeness of which Arabian Night partakes intermittently. The use of easy-listening classics, Portuguese rock and contemporary folk-pop on the soundtrack lends much-needed zest to this behemoth when it starts to list. It is strongly advised to watch it over three days, not in a single sitting, especially since that's the best way to absorb its deeply felt compassion.
Overleaf: watch the trailer for Arabian Nights
Subscribe to theartsdesk.com
Thank you for continuing to read our work on theartsdesk.com. For unlimited access to every article in its entirety, including our archive of more than 10,000 pieces, we're asking for £3.95 per month or £30 per year. We feel it's a very good deal, and hope you do too.
To take an annual subscription now simply click here.
And if you're looking for that extra gift for a friend or family member, why not treat them to a theartsdesk.com gift subscription?