Line of Duty, Series 3, BBC Two |

reviews, news & interviews
Line of Duty, Series 3, BBC Two
Line of Duty, Series 3, BBC Two
Sizzling return for Jed Mercurio's bent-coppers thriller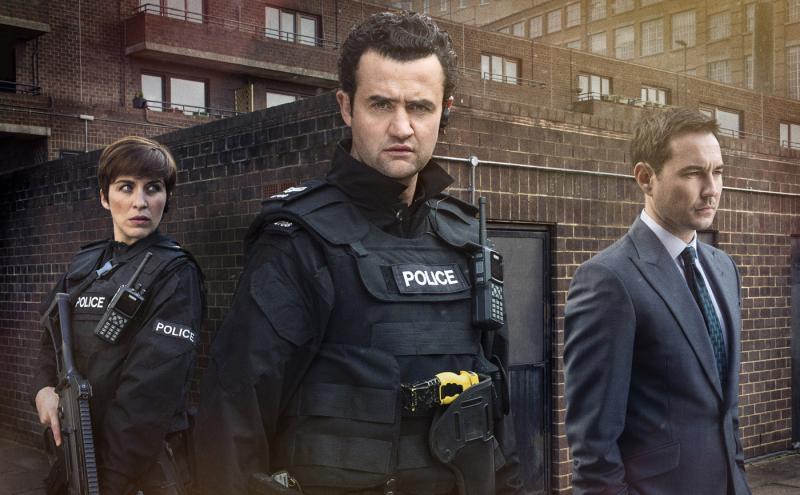 Daniel Mays as Sgt Danny Waldron (centre), with Vicky McClure and Martin Compston
Two years after its brilliant second series, which put Keeley Hawes's DI Lindsay Denton through the wringer with harrowing intensity, Jed Mercurio's bent-coppers drama is back. This time it's Daniel Mays, as Sgt Danny Waldron, sitting in the crosshairs of Ted Hastings and his AC12 anti-corruption team.
This was only episode one, but already it had you gasping for breath while you waited for your head to stop spinning. One thing we already know – this isn't going to be a whodunnit, because we saw Waldron's transgressions in full-scale, unambiguous close-up. The opening sequence followed Waldron and his squad of armed officers as they set out to apprehend Ronan Murphy, an armed and dangerous killer believed to be preparing to carry out a gangland hit. They squeezed his car off the road, then Waldron pursued him through a housing estate, got him to drop his gun and put his hands up, and shot him three times through the head. Then he forced his team to fire their own weapons to make them his co-conspirators.
Sgt Waldron is a deeply disturbed individual working through a private hit list
For once, you could feel a twinge of sympathy for Hastings (the wheedling and sneery Adrian Dunbar, pictured below with Vicky McClure and Martin Compston) and his colleagues as they hauled Waldron in and tried to pick open his version of events. It's part of the ambivalent allure of Line of Duty that the AC12 bunch are even nastier than the cops they're trying to nail to the floor, which makes the general contempt in which they're held by the force entirely understandable. On the other hand, you're not going to catch a corrupt officer by making them tea and chatting pleasantly about the weather – as Martin Compston's Arnott remarked to Waldron, nobody's better placed to get away with murder than a police officer – so it's a hammer-and-tongs battle to get to the truth. Dirty tricks and deception are all part of the game, though McClure's DC Fleming is surely the most blatantly unsubtle undercover officer in the annals of recorded crime.
Meanwhile, Mays is superb. As we gathered by the end of the episode, there's a lot of tangled back-story behind his killing of Murphy, and Sgt Waldron is a deeply disturbed individual working through a private hit list. Mays conveyed Waldron's state of mind by careful accretion of detail, like his menacingly wired-up manner as he commanded his squad to do as he told them, or his robotic reeling off of police and legal regulations to justify his shooting of Murphy when pressed by the investigators. An encounter with a woman called Rachel in a pub suggested that he is markedly less adept at personal relationships. Apparently he also has a photographic visual memory, as he proved by describing in detail the layout and contents of the building into which he'd just stepped for the first time.
Having kept AC12 at bay, at least temporarily, Waldron continued to ride his luck, stealing an illegal revolver from a crime scene to use on his next victim. But as the end credits were about to roll, Mercurio pulled a violent handbrake turn and threw a stun grenade into the middle of the action. Suddenly we knew a lot less than we thought we did.
Waldron pursued him through a housing estate, got him to drop his gun and shot him three times through the head
rating
Explore topics
Share this article