The Barber of Seville, Welsh National Opera
The Barber of Seville, Welsh National Opera
Slapstick start to WNO's Figaro cycle rescued by fine singing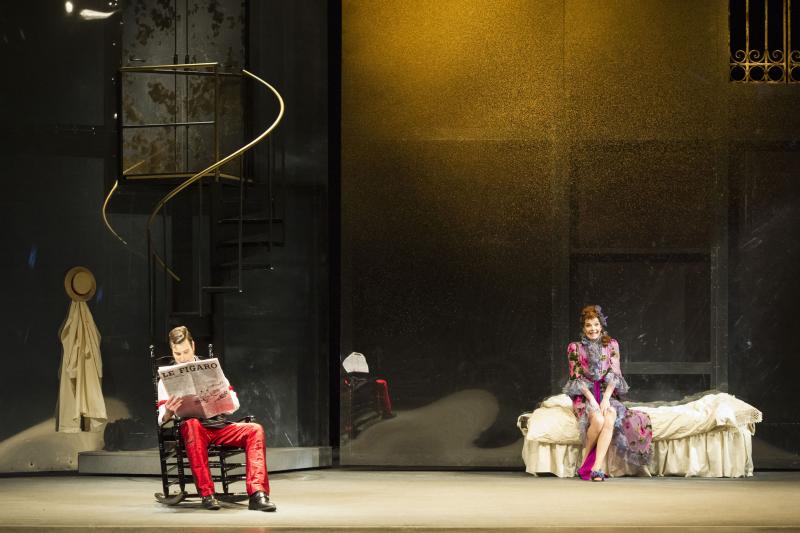 Nicholas Lester (Figaro) and Claire Booth (Rosina), colourful and spacious
The latest themed season from WNO, to add to their fallen women, Donizetti queens and what not, goes by the slightly worrying title (for anyone with a short attention span) of "Figaro Forever", and consists of an operatic sequence derived from Beaumarchais' three Figaro plays and ending with a new opera by Elena Langer partly based on the last of them, La mère coupable.
That comes up next weekend. Meanwhile we're getting Rossini and Mozart, both in new productions and sung in English. The three operas hardly amount to a trilogy (I've seen a run-through of the Langer piece); in fact anyone seeing all three is likely to be struck more by the incoherence of the series, which already exists to some extent in Beaumarchais. Rossini's Barber is the last, and best, of the standard guardian-and-ward Italian farces (including Donizetti's Don Pasquale), whereas Mozart's Figaro is a more or less openly subversive political comedy. Langer's very interesting work, also strongly if obliquely political, is actually a hybrid of La mère coupable and a 1930s gloss on that play by Ödön von Horváth called Figaro Gets a Divorce (Figaro lässt sich scheiden). I'm very much looking forward to this premiere, next Sunday.
One might have expected Sam Brown's production of The Barber of Seville to be concocted with one eye on the sequence of which it's a part. The opera, though farcical, is tightly organised and stylistically consistent. Rossini and Mozart observe the unities, Langer does not. But this Barber is more in the tradition of laugh-a-minute, anything-can-happen slapstick pantomime, from the moment that Fiorello wheels his serenaders on in a wardrobe, to the moment when Almaviva and Rosina start stripping for a quick how's-your-father while Figaro frets about their getaway.
Figaro's entrance through the auditorium is a genuine coupThere's plenty more in this vein, sometimes sacrificing plot for effect. When Almaviva comes on disguised as Basilio's replacement music teacher, but here disguised actually as Basilio, complete with guide dog and dark glasses (this Basilio is blind), one wonders whether Brown has understood the fake pieties and the delicious musical joke that goes with them. When Figaro, hiding in the piano, keeps lifting the lid during Rosina's "Contro un' cor," it's as if the director has forgotten whose side Figaro is on in the deception of Bartolo.
Of course there are gems in the dross. Figaro's entrance through the auditorium is a genuine coup, spectacularly managed by Nicholas Lester, who has the voice and personality to fill this big space from any angle. Blind Basilio – Richard Wiegold – is a fine thought, even if it makes nonsense of Bartolo (Andrew Shore) sending him off to find a lawyer at short notice; and his electronic dog should be patented – guaranteed no messes and only bites when told to.
Ralph Koltai, now in his nineties, has designed a clever, functional, semi-abstract rotating set for Bartolo's house, inside and out, vaguely suggesting a prison with Sevillian attachments (though Figaro reads his eponymous Paris newspaper), balconied and barred, not intimate but colourful and spacious. We may expect variants of this concoction for the other two operas. Sue Blane's costumes are best described as eclectic, with Rosina as a Lola Montez femme fatale, Almaviva (in the first scene) a sort of boatered Fred Astaire, then billeting himself as Chief Scout: all brilliantly watchable if dramatically confusing and in the end, like the production, rather exhausting on the antennae.
The cast, though, is mostly strong. Lester is a vocally as well as physically athletic Figaro, and a towering figure in his shiny scarlet trousers alongside Nico Darmanin's diminutive, somewhat thin-voiced Almaviva. But the star turn is Claire Booth (pictured right), very much a soprano Rosina, supremely happy and precise in Rossini's high-lying alternatim coloratura, challenged occasionally by the chest notes of what is, after all, a mezzo role, but always personable, easy on the eye, and above all clever at suggesting a certain vulnerability behind her quick-witted, minxish exterior. Shore and Wiegold are a loveable pair of schemers, Wiegold's "Calumnia" underplayed by the usual standards of crazed rumour-mongering but musically none the worse for that. The Berta, Rosie Hay, gets her aria and makes it well worth hearing.
James Southall conducts briskly, perhaps too consistently mezzo-forte to forte, and not always kindly where Kelley Rourke's hyper-modern translation raises mild obstacles to the vocal flow. The chorus also do well, as ever, but are blandly directed, doing nothing as serenaders bar taking their money, while Almaviva cavorts with a non-operative one-man band kit strapped to his back. Whatever this tells us about modern unionism and the decline of the aristocracy, it's not much help to Rossini.