The Puppini Sisters, Ronnie Scott's |

reviews, news & interviews
The Puppini Sisters, Ronnie Scott's
The Puppini Sisters, Ronnie Scott's
Close-harmony swing trio's Christmas fare skilfully avoids the cheese course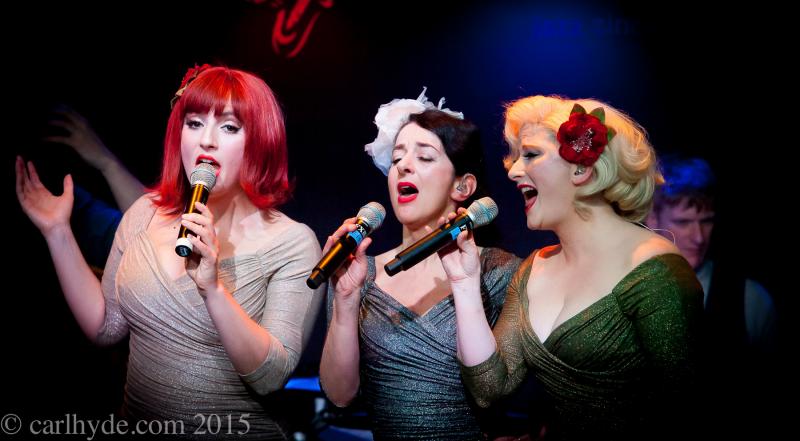 Emma Smith, Marcella Puppini and Kate Mullins: putting the zest into the Christmas pudding
It's more than ten years since Marcella Puppini invited current "sister" Kate Mullins and a third singer, who has since been replaced twice with unsisterly ruthlessness, to form her eponymous close-harmony sorority. The trio's slick, switchback harmonies, generally retro repertoire, and glossy vocal finish, have carved them a distinctive niche in the scene, even as that era has been dragged back into the mainstream by a glut of burlesque tribute acts.
The show was billed as a Ronnie Scott's Christmas Special, an area in which the Sisters have previous: their collaboration with Michael Bublé ("Boobs" to the sisters) on his 2011 Christmas album has been their best-selling record. The repertoire was more congested with clichéd icons of the season than the window at Harrod's; yet, so completely do their swinging rhythms and close harmony take over a piece, that they can breathe life into the most jaded, shopping-mall carols and create something vivid and catchy.
Marcella Puppini originally claimed, when founding the group, that the trio was creating a sound of its own, not just a pastiche of retro swing singing. Last night they transformed "Jingle Bells", "Mr Sandman", "T'Ain't What You Do", "Here Comes Santa Claus" and numerous other songs that would, in most hands, sink into a kitschy mire. In each case, some degree of freshness was restored. With better pieces, such as "I've Got Rhythm", where the lyrics have some substance, they can really lift off.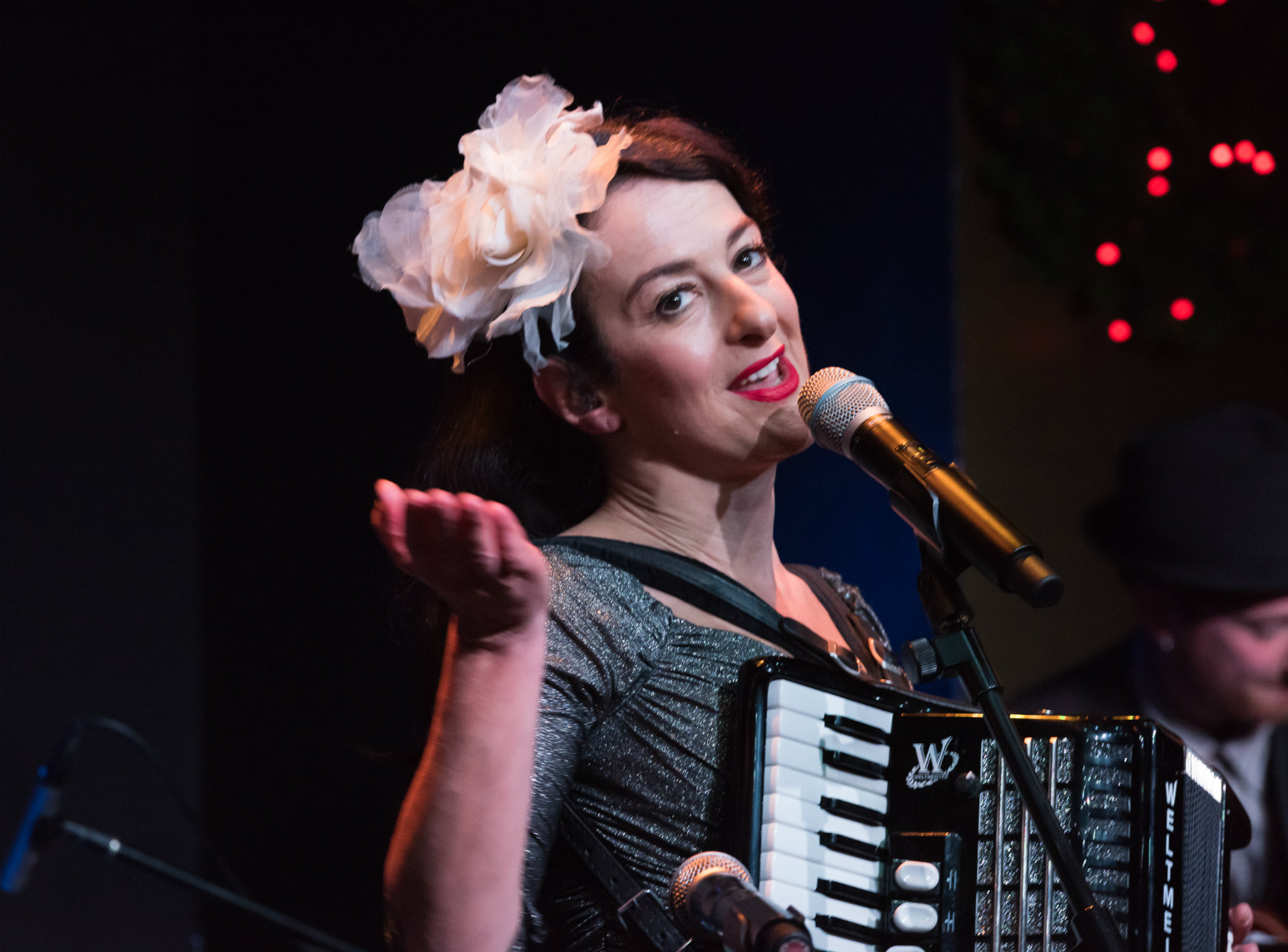 The trio knows how to keep things interesting visually, as well, beyond the twirling of festive skirts that accompanied the second set (they changed in the interval). There was some amusing pantomime work with supporting instruments: Kate Mullins' melodica-playing will never add much to their music, but there's fun to be had watching her try, while Marcella Puppini's squeeze-boxing (pictured above right, by Ben Amure), was similarly decorative. They can act, too, with engaging routines worked out for some of the better songs. And there are plenty of jokes. The sisterly humour has a mannered, period quality, as if Kenneth Williams became a governor of St Trinian's, but it works in this context, and keeps an audience after a Christmas jolly on their toes.
Sensibly, the trio numbers were broken up with some solo performances: it's too rich a sound to take in uninterrupted. There was a solo for each sister, and a guest appearance from new singer Rory O'Connor, who has a fine voice, but not (yet) the ebullience of phrasing to cut it with the sisters. Of the solos, the best was from the newest sister Emma Smith, her rendition of Sinatra's "I've Got You Under My Skin" having a sultry, muscular tension that brought its sense of obsession to vivid, itchy life.
To say Prince Charles is a fan probably won't aid their cause in the playground turf wars of musical taste-making
By the time we reached the first encore, Mariah Carey's "All I Want For Christmas Is You", even the hardest-dying fans of light seasonal fare will surely have been close to satiety. Yet it was, in some ways, the most compelling example of how their swinging close-harmony can make something sound new, as well as old. Gone was the pounding rhythmical obviousness of the original, and its hollering vocals, and in place, irresistibly catchy, pointed syncopation that instantly neutralised the schmaltz.
It's not just the Andrews Sisters, we were informed sternly by the Ronnie's compere, who inspire the trio: there's a sub-genre of sororal close-harmony troupes. Indeed, the Boswell Sisters, jazz singers from New Orleans who became stars of the 1930s New York scene, are a close musical ancestor; the Clark Sisters, a gospel group originating in late-1960s Detroit, a lesser influence.
To say Prince Charles is a fan probably won't aid their cause in the playground turf wars of musical taste-making. Yet as a trio (less so for the solo numbers), their singing is highly skilful and slick – not to everyone's taste, clearly, but very accomplished all the same. Two sets of seasonal repertoire came quite close to being too much of a good thing, but rather like a good Christmas pudding, the richness is always balanced by zest. They can bring tired repertoire back to life like almost no one else.