Sonica 2015, Glasgow |

reviews, news & interviews
Sonica 2015, Glasgow
Sonica 2015, Glasgow
Installations, music-sensitive light shows and a percussion/movie mash-up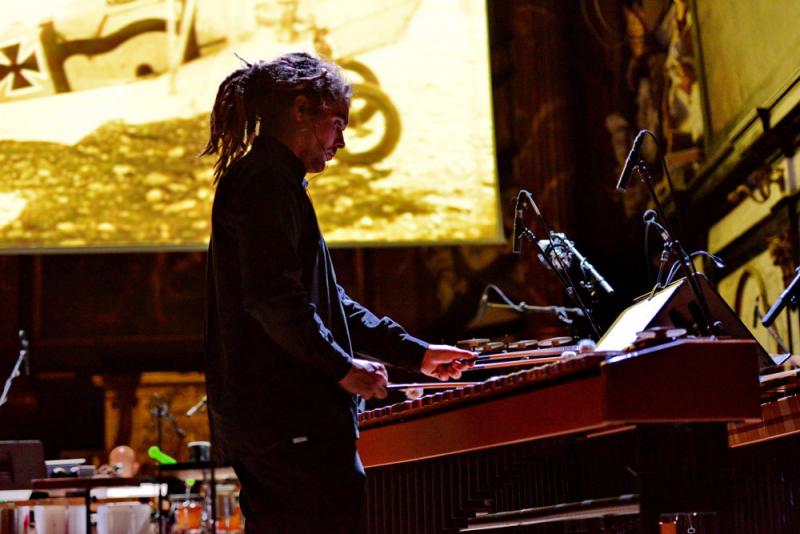 An arresting percussion score to 1927 silent movie 'Wings' from Belgian percussion quartet Bl!ndman
Sometimes it's visual art with a sonic slant; sometimes it's music with a visual slant. Glasgow's Sonica – created by producers Cryptic, now in its third year and bigger than ever – feels like a thoroughly modern festival, defying genre boundaries and instead focusing squarely on the intersection of the sonic and the visual. That might make some of its offerings hard to categorise, but there's nothing wrong with that.
A couple of the opening weekend's events, however, felt far more straightforward in their melding of sound and vision. In the appropriate surroundings of Glasgow's ultra-modern Science Centre artists Wintour's Leap had installed Helmholtz, previously seen at London's Roundhouse in 2014 (pictured below). It's a disarmingly simple concept: an array of sound-sensitive hanging LED lights, open throughout the festival for visitors to explore and have fun with, but also the setting for two classical concerts.
Today, the Edinburgh-based Dunedin Consort performs Palestrina motets for five voices, but yesterday it was a concert from Glasgow's Maxwell Quartet. Their programme of Glass, Pärt and Muhly fell dangerously on the samey side, and felt quite long – especially in a headache-inducing space of profound darkness illuminated only by incessantly flickering lights – but it was a fascinating, sometimes magical experience nonetheless. Fascinating in watching the various pieces' textures brought to visual life as the hanging bulbs flickered across the room, and even more intriguing to wonder how particular chords or sounds might be triggering bulbs in unusual patterns, or in lines cutting across the space. The Maxwell foursome were persuasive players, too, in an especially characterful Glass Second Quartet (Company) and a beautifully paced Pärt Da pacem Domine, whose slowly resolving harmonies provided one of the event's most beautiful, graceful light shows. It was the closing piece, Anna Meredith's all-pizzicato A Short Tribute to Teenage Fanclub, however, that provided the greatest contrast – both sonically and visually – with what had gone before, and the Maxwell players (pictured below), for whom Meredith wrote the piece in 2013, gave an eager, assured account.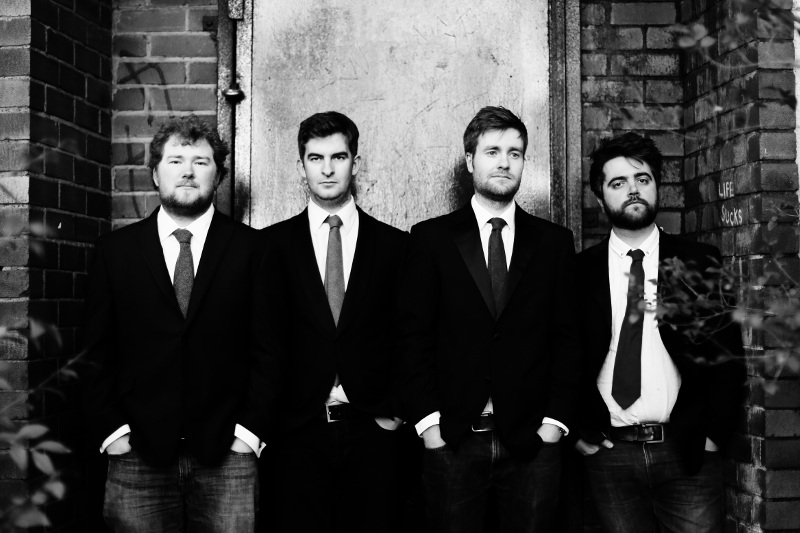 Over at the recently redeveloped Govanhill Baths – a disused public pool now transformed into a community space – Sonica had installed two contrasting artworks. The New Alps by Glasgow-based artist Robbie Thomson (pictured below) filled the vast, empty, tiled expanse of the main pool with mechanical, noise-producing contraptions, each intent on its own enigmatic task, and offering a playful but ultimately fairly bleak commentary on man's misuse of the natural world. A gyrating arm squirted water ineffectually into a shallow pool; a hammer attacked a metal bowl with unexpected violence; and a rasping loudspeaker buzzed and hummed to the accompaniment of twinkling LED lights attached to it. The New Alps felt disconcerting, alienating, as though humans were intruding on a world where machines were in control, but it also had a touch of the fairground – surrounded by Thomson's gizmos, you always wondered which one was going to spurt into life next.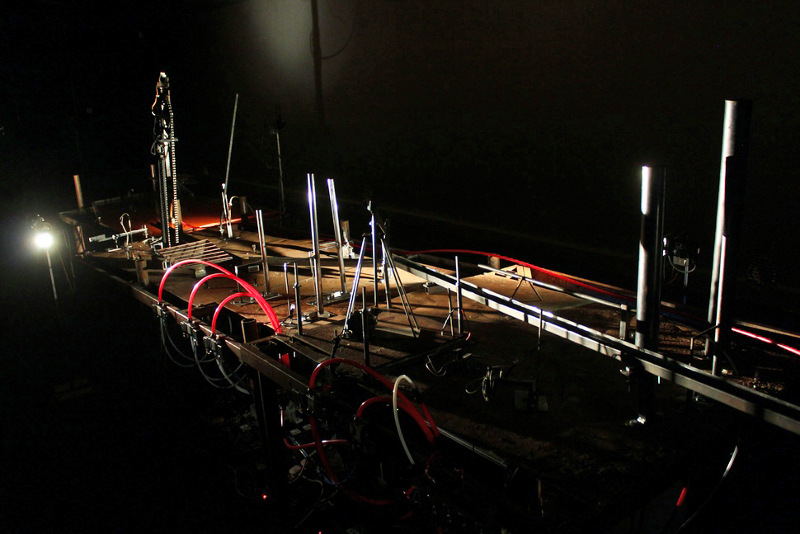 Next door, in the smaller ladies' pool, Indonesian artist Jompet Kuswidananto had installed a far simpler piece. Order and After consisted of three giant red flags hoisted aloft and wafted in the breeze of three industrial-sized fans, while voices sang of oppression and freedom, in a commentary on the fall and rise of regimes in his country's recent past. It felt far less complex than Thomson's The New Alps, but far more immediately seductive, with darker suggestions of coercion and violence behind the work's surface beauty.
Later on Saturday evening, in Glasgow's Tramway – where the Turner Prize nominees are themselves blurring boundaries between sound and vision – Belgian composer Eric Sleichim and percussion quartet Bl!ndman produced a spellbinding accompaniment to the 1927 silent movie Wings, a sentimental if visually spectacular tale of flying aces in the First World War. Bookending their score with samples of Hollywood movie soundtracks, the five players mixed percussion music by Cage, Xenakis, Reich, Stockhausen and many more in a provocative new soundtrack – at times it was carefully matched to the images, at others it went wilfully against them, and often it seemed to ignore them entirely, an effect emphasised by the stage lighting that at times turned the event into a percussion concert that happened to have a movie playing in the background.
They were exceptional players, though, tight, focused, playing more often than not from memory, and with a huge sonic sensitivity. Matching the opening of Drumming to the movie's climactic dogfight sequence might not have been exactly what Steve Reich had in mind, but the music's incessant, ever-shifting rhythms provided a relentless, powerful commentary on the on-screen fighting. Wings might have felt like two worlds coming uneasily together, rather than an exploration of the intersection between them, but it was astonishingly effective, and provocative in the questions it raised about both.
Matching 'Drumming' to the climactic dogfight sequence in 'Wings' might not have been what Steve Reich had in mind
rating
Explore topics
Share this article