Just Jim |

reviews, news & interviews
Just Jim
Just Jim
Submarine star Craig Roberts' coming-of-age debut feature is flawed but bracingly inventive
Saturday, 26 September 2015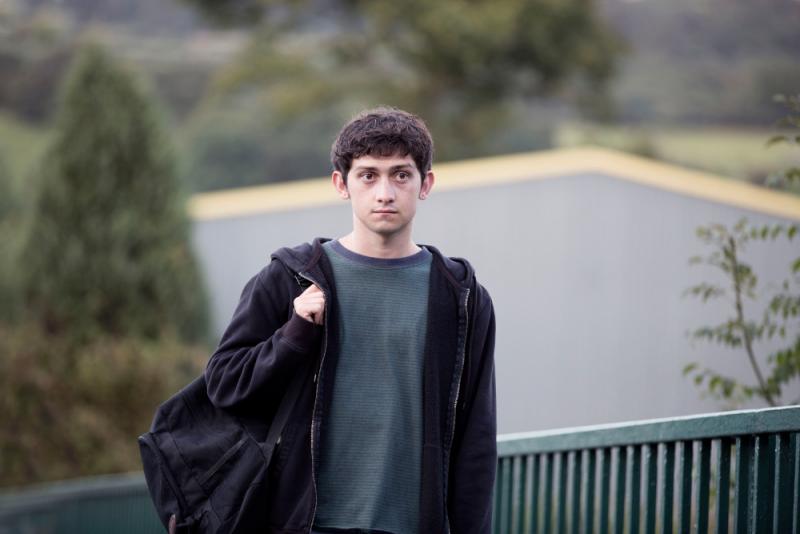 Making cinematic exuberance out of apathy in small-town Wales: Craig Roberts in Just Jim
Craig Roberts first made his mark in Richard Ayoade's 2010 debut feature Submarine, playing a socially inept Welsh teenager. For his own debut feature, as writer, director and lead, Roberts plays – well, a socially inept Welsh teenager. Comparisons between the two films are inevitable – and possibly even intentional, too.
But they're also a bit unfair, partly because Ayoade's film is by far the more assured of the two, but also because in
Just Jim
, Roberts seems to be attempting something a bit darker, and far more dream-like. He might not always succeed, but he certainly has a lot a fun trying.
Roberts plays the eponymous Jim, a 17-year-old despised or simply ignored by his friends and family in small-town Wales, seemingly for no good reason. His parents get his age wrong on the banner to a birthday party (which nobody turns up to anyway), and even his dog runs off and abandons him.
That's until the inexplicable arrival of the older Dean (Emile Hirsch, pictured below) a 1950s-style American rebel figure, complete with permanent cigarette and virtuosic cursing, very much in the mould of his namesake James. He pushes Jim mercilessly to man up, fight his enemies, chase the girls, but when the boy's former nature starts to win out, things suddenly get quite a bit darker.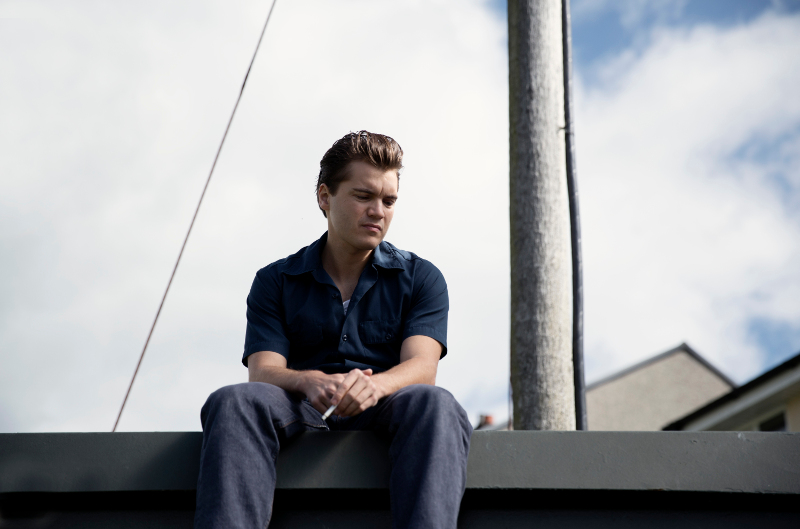 And it's that sudden change of tone that Roberts' material can't quite make convincing – indeed, his structuring is a bit wrong-footed overall. He provides acres of scene-setting exposition when a few beautifully drawn details – tearing the crusts off his sandwiches; playing an absorbed game of Scalextric – tell us all we need to know about Jim in a matter of seconds. But then his transformation into an ear-ringed, bequiffed, chain-smoking, cursing rebel seems to happen virtually overnight.
It feels a bit as though Roberts wants to throw everything he's got at the film – most obviously in an astonishing, beautifully choreographed single-shot party scene. Some of it sticks; some of it doesn't. But there's a huge amount to admire in Roberts' sheer cinematic exuberance, with a determinedly non-naturalistic perspective that seems to place the action in the Fifties, Seventies and the present day, swift jump-cuts all over the place, and gloriously poetic cinematography by Richard Stoddard.
Roberts takes the tropes of countless coming-of-ages dramas – the teen party, the first date, the bullying on the school bus, even underwater fantasy sequences – and reworks them to his own, knowingly subversive, sometimes quite macabre ends. Indeed, it's not just the sudden appearance of Hirsch's Dean that's inexplicable in Roberts' playful, fantastical world. There's also the local fleapit, always showing the same grimy B movie to an audience of just one – Jim himself; or his derelict bedroom interior; or his parents' backyard sunbathing as if on the Florida Keys. It's sometimes hard to tell whether we're in suburban America or small-town Wales – and with the film's non sequiturs and unaccountable imagery, it's clear that Roberts knows his Lynch. But he seems to be suggesting that behind the white picket fences of UK suburbia lie, not Blue Velvet's pitch-black threat and violence, but sheer boredom and apathy. If that's the case, it's apathy of a very entertaining, colourful kind.
There's probably only so far Roberts can go with his laconic, terse, deadpan, wide-eyed persona, but it works a treat here, and Hirsch nicely combines a sense of liberty and threat in his larger-than-life performance. Full marks, too, to Michael Price's superbly fitting faux-naive musical score. Just Jim has its problems, and is without doubt pretty much all over the place, but its sheer inventiveness mark Roberts out as a name to keep a close eye on.
Overleaf: watch the trailer for Just Jim