Hostages, BBC Four |

reviews, news & interviews
Hostages, BBC Four
Hostages, BBC Four
Tension runs high in Israeli original of television drama we know already
No normal night in: the Danon family has much to cope with
Hostages certainly whips along. We're straight into conflict from the very start of the first episode, except it soon transpires that the real action will be taking place elsewhere. And it'll be tighter, more excruciating than the bash-down-the-door atmosphere of the opening scene, which serves to introduce us to Adam Rubin (Jonah Lotan), a top operator in Israeli counter-terrorism who's on his last day of service and concluding his final mission successfully.
We'll be seeing more of Rubin later, or at least realising it's him when he takes off his balaclava, having changed role from siege-breaker to hostage-taker.
Until then we're introduced to the seemingly stable world of Jerusalem surgeon Yael Danon (Ayelet Zurer): at the top of her profession, impressively composed, she's due to operate on the country's prime minister, an assignment that, even if it's a standard procedure, comes with greatly increased security attention. At least she has the evening before to wind down at home, in the company of her supportive husband and kids. Until something very unexpected comes up.
The most threatening feeling here is that the parties concerned are in very high places indeed
Sounding familiar? Hostages, or Bnei Aruba to give it its original title, is the second piece of Israeli television drama to have reached us through remake, with the US version broadcast on Channel 4 just over a year ago. The other import, of course, was Homeland. There's less of Homeland's wider worldview in evidence in Hostages, which is tackling distinctly claustrophobic territory, backed up by a score from Alon Cohen and Roy Nassee that goes the full whack on threatening electro-metallic throb sounds which rarely let up.
This is a strictly internal political conflict: someone wants the PM not to wake up after his operation, and is holding Danon's family captive until she completes that mission by using an (obviously) undetectable substance in the best traditions of secret-service procurement. The most threatening feeling here is that the parties concerned are in very high places indeed. "We're everywhere," is one laconic remark made in passing to Danon which reveals the extent of wider collusion which allows the hostage-takers access to every single bit of hospital CCTV and to track her down (almost) every corridor.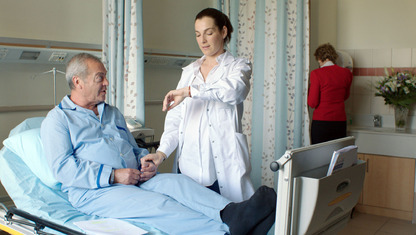 Family tensions are brewing into the bargain. Father Eyal (Micha Celektar) is a teacher, the school head who's concerned that exam questions are being leaked in advance, though he doesn't know that his son Assaf (Yoav Rothman) is caught up in it. Daughter Noa (Dar Zuzovsky) also has something to tell her parents that she'd rather not have to. Add in the fact that the family seems to be facing financial problems (for a reason that's yet to be explained), and the odds look stacked against them, to a degree that's might seem rather on the forced, generic side.
But such details of surrounding atmosphere look like they're going to remain in the background – the razor-edge tension is enough. How directors Omri Givon and Rotem Shamir are going to sustain it over 10 episodes (40 minutes apiece) will be the main issue. How long can you keep up a hostage drama before someone cracks – which means the hostage-takers, as well as those taken? Ayelet Zurer as Yael (pictured above, with her politico patient) manages to look a cool character indeed when she turns up to work on the fateful morning, after a very disturbed night. "I'm calmer than usual," she's told by the head of the PM's security detail. He must be the only one: the rest of us are going to be on the edge of our seats for the next month, until Hostages plays out.