The Ruling Class, Trafalgar Studios |

reviews, news & interviews
The Ruling Class, Trafalgar Studios
The Ruling Class, Trafalgar Studios
James McAvoy gives a stellar performance as the mad earl, in a revival that falls short
Thursday, 29 January 2015
"There's only one person grander than the ruling class: God". James McAvoy and Kathryn Drysdale
Now that the national self-delusion of the classless society has been laid to rest by the double whammy of economic crisis and the Cameron-Osborne-Johnson era of Bullingdon Club governance, it would seem an ideal moment to dust off Peter Barnes's 1968 satire of upper-class madmen and monsters.
Unfortunately, The Ruling Class needs more than a dusting-off; 45 years since its last West End appearance, it needs renovation. And it doesn't get it from Jamie Lloyd's latest production at the Trafalgar Studios. Despite a hugely charismatic, bravura performance by James McAvoy, and a great deal of laughter, one feels that an opportunity for a profound statement on today's Britain has been lost.
McAvoy is Jack, the newly-anointed 14th Earl of Gurney, his father having accidentally hung himself during erotic asphyxiation, wearing a cocked hat and a ballet skirt. The family is concerned, for while the doddery bigot passed for sane in society, young Jack is a paranoid schizophrenic, who believes he's God and is happy to be referred to as JC. Whatever will happen to the family name? And the estate?
Having spent the last seven years in voluntary psychiatric care, Jack checks himself out and returns to preach love and charity to his horrified relatives. How do you know you're God, he's asked. "Simple. When I pray to him, I find I'm talking to myself." Jack's uncle, Sir Charles (Ron Cook), hatches the cunning plan to marry the boy off to his own mistress (Kathryn Drysdale), have her produce an heir, and then commit Jack permanently to the asylum.
Barnes certainly didn't lack ambition. This has moments of farce, music hall and country house murder mystery, with nods to Shakespeare and Jack the Ripper; and savage swipes at churchmen, politicians and psychiatrists, all alongside a portrait of the Establishment as cruel, insular, self-serving and calcified.
But though its sweep is very entertaining, the play would benefit from some finesse when it matters. The political message, whether articulated through the family's communist servant Tucker (Anthony O'Donnell, pictured above) or symbolised through Jack's darkening mental state can be rather heavy-handed.
Unencumbered by Peter O'Toole's memorable Jack from the 1972 film version, McAvoy highlights the play's pluses, its brilliantly madcap humour and a novel depiction of mental illness. The star's physicality is immense, whether he's preening beautifully in his bohemian lordship's white suit, bouncing topless upon a giant cross (merely for posing purposes), riding a unicycle, leading the cast in a song and dance rendition of Dem Bones, or bounding around the stage on his haunches, having declared, "You've turned me into a wounded dwarf." His hand movements alone are worth the price of admission.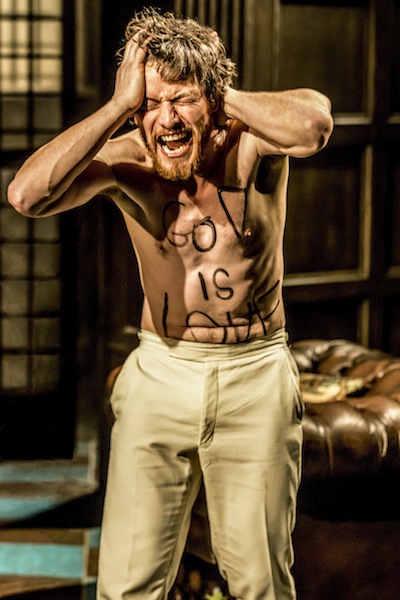 McAvoy is hilarious as Jack in Jesus mode, then chillingly recalls his Macbeth, here at the Trafalgar, when the earl starts to conform to what England expects from its aristocracy.
Around him, however, the production seems unduly stuck in the past, from the bland Sixties décor, to the mannered performances of many of the supporting players and Lloyd's decision not to breath some contemporary air into the class critique.
It's funny how the same director can bring Richard III forward several centuries to the 1970s, turning Shakespeare's characters into spin doctors and trade unionists, yet not feel the need to inject The Ruling Class with an awareness of how the class divide has metamorphosed in the 21st century – to even, simply, set it in the present. As a result, we can say that Barnes's play arrives riotous and relevant, but with no particular resonance.
* The Ruling Class at Trafalgar Studios until 11 April
McAvoy highlights the play's pluses, its brilliantly madcap humour and a novel depiction of mental illness
rating
Share this article