Latvian Radio Choir, Kļava, St John's Smith Square |

reviews, news & interviews
Latvian Radio Choir, Kļava, St John's Smith Square
Latvian Radio Choir, Kļava, St John's Smith Square
Not enough choir, too much choreographed perfection for a true John Cage happening
Wednesday, 21 January 2015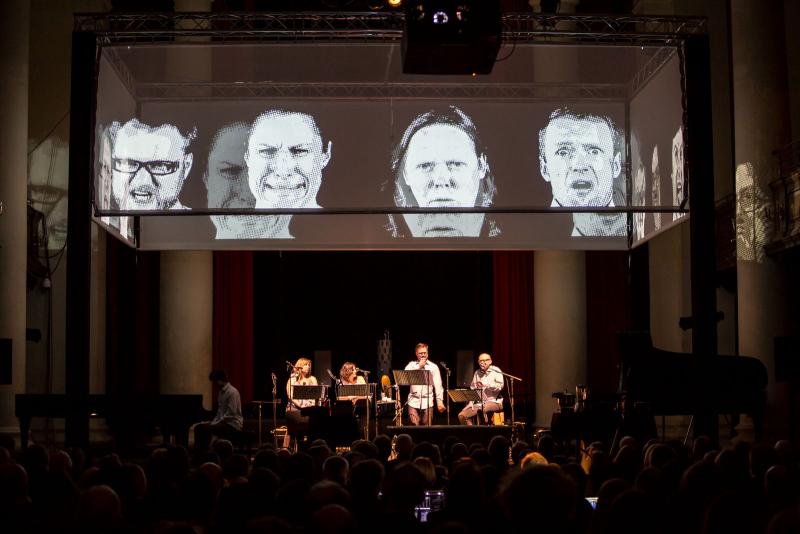 Good video work, but the choir was out of sight and mostly out of mind
Latvia likes to be different. At least that's the message they sent out with the cultural programme marking the start of the country's presidency of the Council of the European Union. Pomp and circumstance were out, and instead we got a Cage-inspired happening, an audio/visual presentation that was many things: part video installation, part performance art. The only thing you couldn't describe it as was a choral concert.
Production values were high, reflecting perhaps the diplomatic motivations. Above the stage was positioned a frame incorporating four huge screens in a rectangular formation, onto which animations and designs were projected. The stage itself was taken up by two grand pianos (one prepared), a vast array of household objects for some of the more Dada episodes, and stools for the four singers/performance artists who took centre stage. The Latvian Radio Choir was arranged around the balcony, which they shared with an impressive surround speaker array for the numerous electronic accompaniments and additions. Every dimension of the venue was put to the service of the performance, very impressive for a touring show.
A curious concert, this, for the famous Latvian Radio Choir, who seemed desperately underusedThe concert was entitled "Cage and Time", but you wouldn't have needed to know that to appreciate the Cage connection. All the works overlapped and were occasionally heard simultaneously. Even the more autonomous choral numbers were often accompanied by unrelated but ambient electronic sounds. The repertoire was Cagian too, though most of it with an added Baltic flavour. Composers were listed but not works – such was the spirit of the event. Cage and Jonathan Harvey were among them, as were Anders Hillborg and Latvians Juris Ābols, Kristaps Pētersons, Juris Boiko and Hardijs Lediņš. Harvey was represented by Mortuos Plango, which sounded spectacular from this speaker array, even if it was only heard in an excerpt that was soon reduced to accompaniment for a prepared piano solo.
Some of the (unprepared) piano works were clearly early Cage (Rihards Plešanovs, pictured right), and perhaps some of the other music was too. In fact, almost everything on this programme could have been by him, and certainly showed his direct influence. The programme told us that much of this music grew out of an experimental ensemble in Latvia in the 1980s called "Restoration Workshop of Unprecedented Feelings". Cage had evidently just reached the Baltics, and they were lapping it up.
A curious concert, this, for the famous Latvian Radio Choir, who seemed desperately underused. Their sheer professionalism was much in evidence, especially in their first number, an atmospheric and sonoristic piece with a text made up entirely of repeated or prolonged phonemes (was this the Hillborg?). They also brought the event to a luminous and transcendent close with another big choral number, this one more consonant and euphonious. A curiously spiritual culmination to an otherwise very grounded programme. What would Cage have thought?
In fact, what would he have thought of the whole event? Clearly, the theme here was more the Baltic responses to Cage's work than it was Cage himself, but his voice somehow seemed lost. His aesthetic permeated the programme, but the choreographed perfection seemed wholly at odds with his art. There was no randomness here, no anarchy. Without that, we might have heard Cage's influence, but we didn't feel his spirit.
Every dimension of the venue was put to the service of the performance, very impressive for a touring show
rating
Explore topics
Share this article