Catastrophe, Channel 4 |

reviews, news & interviews
Catastrophe, Channel 4
Catastrophe, Channel 4
Sharon Horgan and Rob Delaney have created a sitcom for grown-ups to fall in love with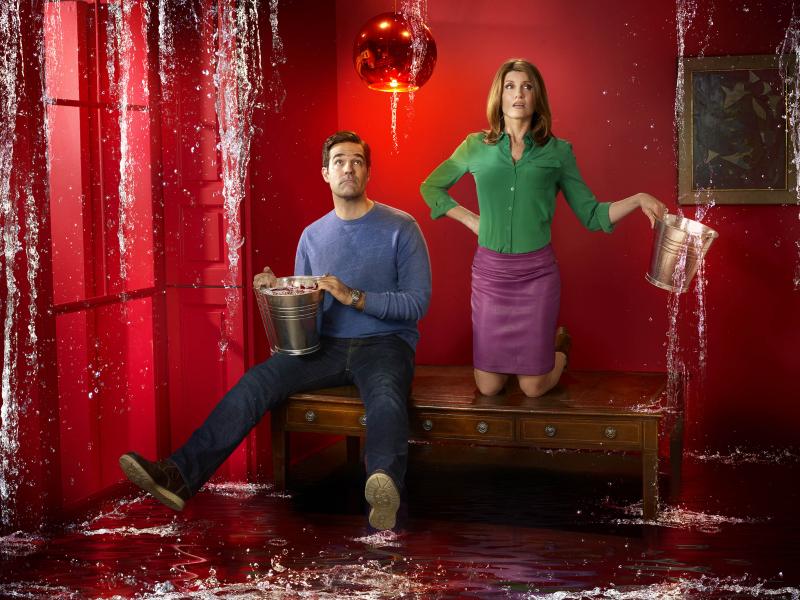 Horgan and Delaney's 'Catastrophe' is a comedy success
There's a tricky balancing act involved when writing a sitcom. Too much "sit" and you're in danger of losing the laughs, too much "com" and it becomes increasingly difficult to find the space to land a serious dramatic punch. Get one of these things wrong and, like a fat man facing a baby on a see-saw, it looks all wrong and is no fun for anyone.
Catastrophe
, Channel 4's new sitcom, written by and starring Sharon Horgan (
Pulling
,
Dead Boss
) and US stand-up Rob Delaney (
Burning Love
), approaches this dilemma with a classic love story: girl meets boy, girl gets pregnant, both try to work out what each other's surname is while contemplating parenthood and marriage.
Horgan plays a woman who meets a dashing American in a bar. The pair embark on a whirlwind, six-night stand with an end date conveniently defined by his ticket home. It all finishes amicably enough with each having clear affection for the other – the perfect end to a strings-free liaison. Well, not quite. In fact, that's just the beginning. The resulting pregnancy sees two people trying to negotiate their way out of shit creek with pampers for paddles and a scant knowledge of each other, save for sexual proclivity.
Maybe the oxytocin flooding my system is blinding me to the show's faults, but I'm struggling to find any
By upsetting the usual order of things in this way, Horgan and Delaney have a nifty device for introducing the characters – we get to know them as they're getting to know themselves – and they are a delight. Hugely likeable and well-defined, they have a chemistry that's a joy to watch. Horgan's clever, foul-mouthed teacher is equal parts neuroses and sweary certainty, while Delaney's American ad-man is chivalrous and charming, but also solid and dependable – interestingly, this is played with a confidence not often linked to these attributes. It's a good call and makes for a refreshing change.
The fact that the characters are so well-drawn from the outset is important as the motivation is key. It may not be your average relationship (whatever that is), but it really doesn't feel like too much of a stretch for these disparate, desperate characters to want to make a go of having a baby despite barely knowing each other. More than that, we want it to work.
That's the "sit", but what of the "com"? The back-to-front set-up is also fertile ground for gags (of which there are many). Often filthy, very funny, and occasionally dark, it includes some of the most frank descriptions of childbirth ever heard on TV and a triumph of a scene which relies on seemingly endless repetition of the word "cancer" for laughs. Context is everything, after all – something that must have informed the beautiful use of the other C-bomb that was left to hang in the air before the ad break broke the mood.
A dinner party hosted by the object of this insult (Horgan's uptight, homeopathy-loving "friend", played by Ashley Jensen) was another carefully crafted set-piece stuffed full of laughs and showcased just how good the assembled supporting cast really is. All this and there's still Carrie Fisher to come in episode two.
Now, maybe I'm in the initial stages of attraction and the oxytocin flooding my system is blinding me to the show's faults, but I'm struggling to find any. It's early days and I don't want to rush things – we've only just met after all – but you know what? I'd really like to see it again.