Avishai Cohen's Triveni, The Vortex, Dalston |

reviews, news & interviews
Avishai Cohen's Triveni, The Vortex, Dalston
Avishai Cohen's Triveni, The Vortex, Dalston
The rising star trumpeter's piano-less trio is pared down, poised and nigh on perfect
Thursday, 11 December 2014
Avishai Cohen: 'flexible, calculated anarchy'
Chords. They're overrated. Or at least they ought to know their place. It's hard to imagine "A Love Supreme" without McCoy Tyner pounding away at the keyboard but that doesn't mean that chords should be a given. You don't always want some lumbering ivory contraption or a stick-in-the-mud guitarist weighing you down. Sometimes you want something sleek, agile and just a little bit dangerous. A white-knuckle ride in a stripped-down rally car not a Sunday morning cruise in a Rolls.
Sonny Rollins knew that way back in the Fifties when he started "strolling" with just a bassist and a drummer and it seems that trumpeter Avishai Cohen knows that too, because Triveni are that rally car. They're the musical equivalent of something powerful but perfectly balanced, something with a roll cage, no carpet and those flimsy racing seats that look as though they're probably quite uncomfortable.
They're relaxed, responsive and frighteningly on it. They slip in and out of melodies, slide between abstract time and broken swing and then, just when you think they're in the depths of free improvisation, that they've left the tune far behind, they'll come together on a groove or a hit and prove you wrong.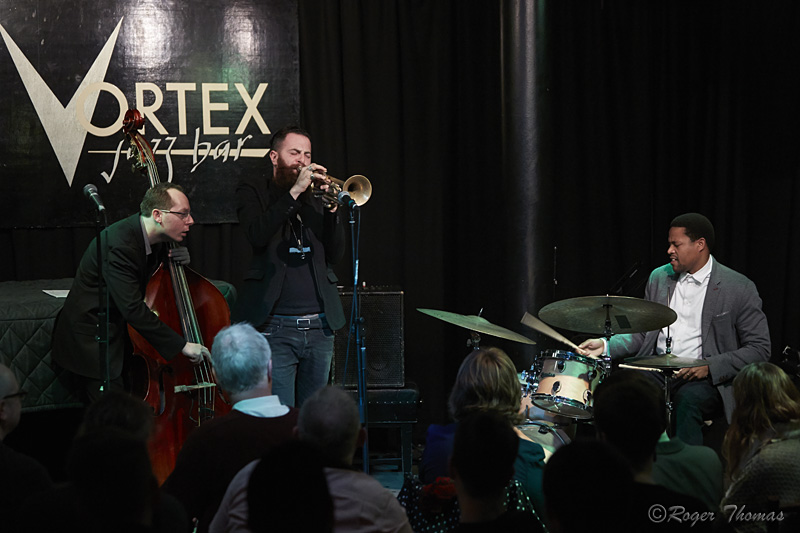 Last night, as they made their London debut at The Vortex (pictured, left, by Roger Thomas), it happened time and time again, amidst the moody noir of "Dark Nights, Darker Days", the title track from their latest release, and the klezmer-tinged rough and tumble of "Safety Land". The best of Cohen's originals, it had Yoni Zelnik wrenching at the strings of his bass and saw Nasheet Waits drop out, relish the silence and then barge his way back in with stuttering, parched snare drum work and the odd brutal swipe at his crash cymbal. For the record, he has a handshake like a vice. Best to stay on his good side.
It's clear that Triveni know a thing or two about flexible, calculated anarchy, but don't think that they're all about being modern and edgy. They opened with Don Cherry's "Art Deco", closed with Frank Foster's "Shiny Stockings" and returned for Dizzy's "Woody'n You" when the crowd demanded an encore. Cohen dedicated a tune to Ornette Coleman ("One Man's Idea") and he paid tribute to both Mingus and Strayhorn with a rendition of "Lush Life" and an unpredictable account of "Goodbye Pork Pie Hat" delivered in a smoky bar-room whisper.
There wasn't a great deal that Cohen and Triveni didn't have under their belts
To say that he's well-versed in jazz tradition would be an understatement, and amongst the careering lines, bends, shakes and rasping, flutter-tongued holds that made up his solos, there were plenty of quotes to watch out for. Snippets from classics including "The Lady Is a Tramp" and "Manteca" all reared their heads and there were unmistakable references to great trumpet players, too. On "Art Deco", Cohen's tight, breathy tone evoked Chet Baker and lent the tune a vintage, "old record" feel. His playing on the smouldering "October 25th" had a touch of Wynton Marsalis swagger, while his cutting staccato and elastic phrasing recalled the virtuosity of Clifford Brown.
All in all, there wasn't a great deal that Cohen and Triveni didn't have under their belts and it certainly didn't feel as if there was anything missing. In fact, they might just put you off chords for good.
Amongst the careering lines, bends, shakes and rasping, flutter-tongued holds that made up his solos, there were plenty of quotes to watch out for
rating
Share this article