Charles Lloyd / Joe Lovano and Dave Douglas, Barbican |

reviews, news & interviews
Charles Lloyd / Joe Lovano and Dave Douglas, Barbican
Charles Lloyd / Joe Lovano and Dave Douglas, Barbican
A jazz festival finale of rare brilliance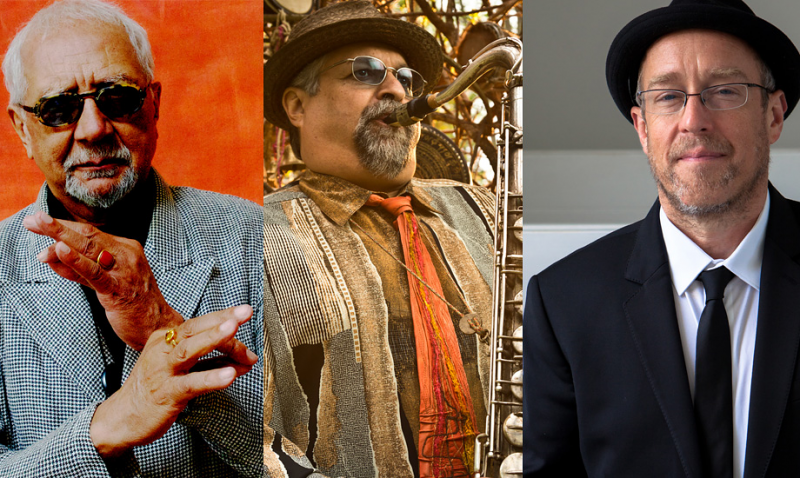 Charles Lloyd, Joe Lovano, Dave Douglas - tuned into higher spirits?
It's not easy to write about a gig when you're still shaking with adrenaline, still less so when that gig is the grand finale of the 2014 EFG London Jazz Festival, the climax to a giddy ten days of world-class contemporary music. But it's a cross I'll have to bear, because last night's performance from legendary saxophonist Charles Lloyd and jazz giants tenorist Joe Lovano and trumpeter Dave Douglas demands it.
Appearing as part of their Sound Prints quintet, completed by young pianist Lawrence Fields, bassist Linda Oh and the ebullient Joey Baron on drums, it was Douglas and Lovano who took the stage first. Described by the trumpeter as "a chance to think about the musical legacy, the life and the spirit of Wayne Shorter", the group have been touring intermittently for the past 3 years and are due to release their debut album early in 2015 on the Blue Note label. If this appearance was anything to go by it'll be a formidable contender for jazz album of the year because Sound Prints are breathtaking to behold.
Eschewing conventional structures and forms, they play flighty, malleable music, a tapestry of fragmented melodies, explosive swing, groove and textural free improvisation that feels as if it can go anywhere. Displaying the sort of interactive telepathy that only comes through intimate knowledge of your collaborators and their playing, the rhythm section pushed and pulled at the time, responding to the subtlest of cues from their leaders and flitting between musical metres just when you thought you'd caught up. Solos seemed to begin and end on a whim, with the horn players in particular in the habit of sharing ideas and finishing one another's sentences.
Dressed in black ankle boots and a grey fedora, Lloyd wandered about the stage, investigating the music around him
Opening with Lovano's "Sound Prints", the band segued into a wayward, exploratory composition by Douglas called "Sprints" which incorporated the sublist of references to the Wayne Shorter classic "Footprints". (A rhythmically altered quote from the bassline and just a whisper of the melody at the very end). Then came two compositions written for the group by Shorter himself, "Destination Unknown" and "To Sail Beyond the Sunset". The latter began with warm colours and an elegant melody that appeared in different guises throughout the piece, closing with a cadenza in which Douglas leaned over and played into Lovano's saxophone mic, producing an airy, flute-like sound.
A scattered standing ovation prompted a rendition of Douglas' "Ups and Downs", a tune that spoke of wide, open spaces and provided the perfect introduction for Charles Lloyd's etherial Wild Man Suite. A fusion of jazz with influences from Greek and Hungarian music premiered at the 2013 Jazztopad festival in Wrocław, it featured Socratis Sinopoulos on lyra (a traditional Cretan instrument played with a bow) and Miklos Lukacs on cimbalom (a set of strings housed in what looked like an antique writing desk and played with feathered brushes) along with Gerald Clayton on piano, Joe Sanders on bass and Eric Harland on drums.
Showcasing similar powers of interaction, the septet played straight through, with Lloyd contributing wispy melodies and murmuring sax lines and signalling to the soloists when their time had come. Dressed in black ankle boots and a grey fedora, he frequently wandered about the stage, as if investigating the music going on around him. He stood in front of the cimbalom as Lukacs stirred up a cloud of shimmering quarter tones and once even muscled in to play a snippet on the piano. Most engaging of all was his appreciation of the haunting melodies coming from the lyra. As Sinopoulos played, Lloyd came to sit beside him, listening in as if to an ancient tale of loneliness and loss recounted by a wilderness campfire.
There was undoubtedly a spiritual quality to the performance
There was a calming patience to the music and the dreadlocked bass and piano team waited a long time before shifting the intensity and the volume up a gear, with Harland laying into his kit and Lloyd offering imploring tenor lines that had echoes of Coltrane's "A Love Supreme". Culminating in a firecracker drum solo, the finale had the audience on their feet and the septet returned for an encore, with Lloyd selecting Hungarian tárogató (a wooden instrument like a soprano saxophone) and then alto flute for a nameless piece of freely improvised soundscapes, bluesy melodies and hip-hop grooves.
Towards the end as he shuffled over to the mic and delivered a passage of Hindu scripture from the Bhagavad Gita over a sparse, textural backdrop it didn't feel at all out of place. At the risk of sounding like some crystal-worshipping rainbow child, there was undoubtedly a spiritual quality to the performance. Perhaps it's just the adrenaline talking, but both ensembles seemed to play like musicians possessed, whether by the spirit of Wayne Shorter, of John Coltrane or of some higher musical power.