White Christmas, Dominion Theatre |

reviews, news & interviews
White Christmas, Dominion Theatre
White Christmas, Dominion Theatre
Latest film-turned-stage-musical should ask Santa for some charm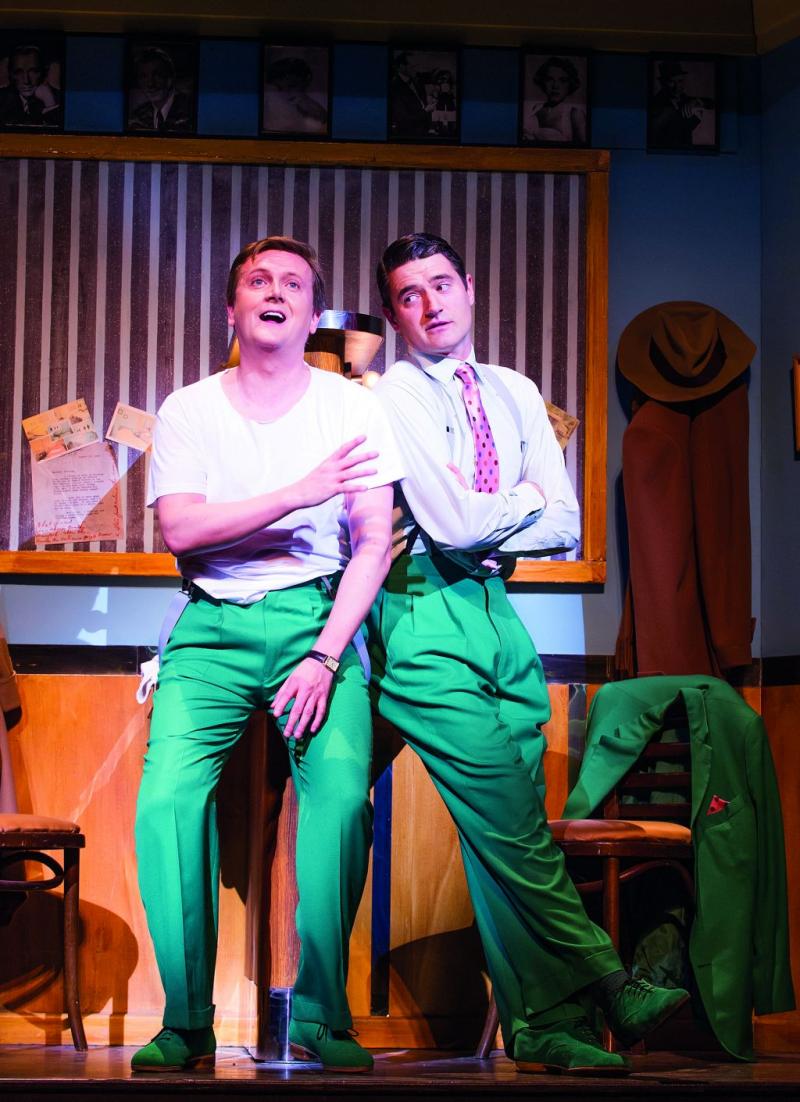 Two's company: Aled Jones and Tom Chambers in `White Christmas'
What ought to be a featherweight holiday confection emerges as a charmless slog in the belated West End bow of White Christmas, a title that at this point in November may induce panic in those playgoers who haven't begun to think about holiday shopping.
But even the more industrious gift-givers out there will have a hard time stomaching a hefty slab of seasonal treacle, which is nicely designed (and brilliantly played by musical director Andrew Corchoran's ace orchestra) but suffers from a hole at its very centre. Make that two holes, in fact, where a pair of galvanic, charismatic leading men ought to be.
The 1954 Michael Curtiz film benefitted, of course, from Bing Crosby and Danny Kaye in roles here taken by Aled Jones and Tom Chambers, but the problem has less to do with the current duo displacing memories of their celluloid forbears (or not, as the case may be) and more to do with a star quality that simply isn't there - an absence amplified in a playhouse as large as the Dominion that needs some kind of wattage simply to charge up the space.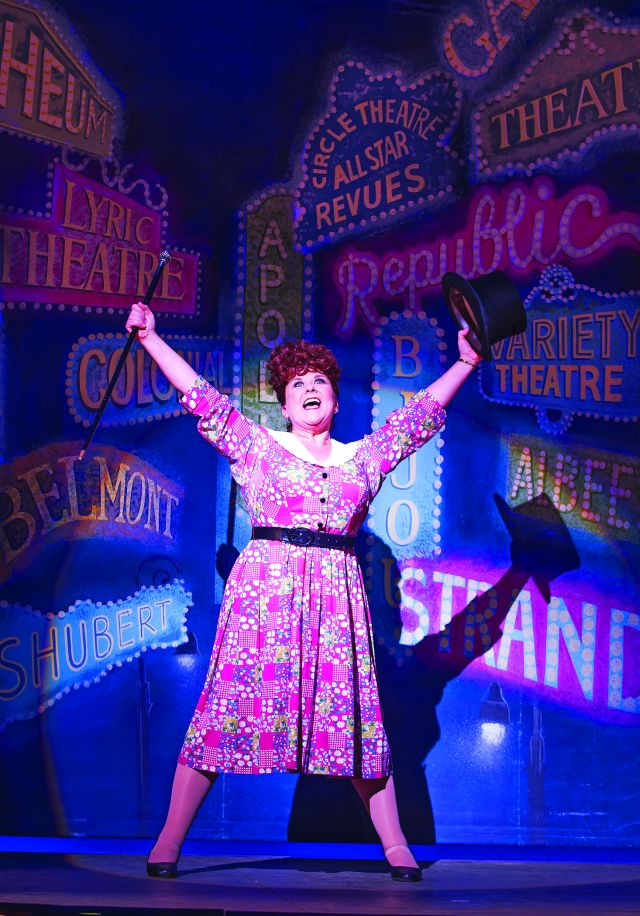 Things could be worse, I suppose: Morgan Young's blandly efficient production isn't blighted with the likes of Marti Pellow, whose Che in this playhouse's previous tenant, Evita, remains a misfire of an order that will not soon be forgotten. But all the spit and polish of Randy Skinner's dance routines - matched in visual terms by Broadway veteran Anna Louizos's understatedly lovely sets - can't revivify a stolid affair that springs briefly to life at the start of the second act only to settle back into grin-and-bear-it mode.
You'll doubtless know the story: two army pals, Bob Wallace (Jones) and Phil Davis (Chambers), segue from troop-side entertaining in wartime to a career that ten years later finds the pair guesting on the Ed Sullivan show and wooing two sisters all the way to a Vermont ski lodge. That snowy idyll - or maybe not, given the downturn in business - just so happens to be run by a wrung-out version of the same general for whom the men made a (literal) song and dance during the war, the hostelry presided over by an apparent Ethel Merman wannabe called Martha "the megaphone" Watson (the show's phrase, not mine). In that role, Wendi Peters (pictured above), hair piled high in the style of the Merm, certainly has the lung power to invite comparison if not the easeful wit or sass.
Romantic complications ensue when a big deal is made out of what Bob intended as a "little kiss", and it looks for a while as if the competing career demands of our central quartet might compromise everyone's trip to the putative altar. Betty (Rachel Stanley, in the part played on film by Rosemary Clooney, aunt of George) hits the New York cabaret big-time just as Bob shows up to make amends, while her golden-tressed sister, Judy (Louise Bowden, pictured below), joins Phil for that rousing second-act opener, "I Love A Piano", a sequence of sustained joy capped by the backdrop image of piano keys receding into infinity. Cabaret buffs will note that two of the songs on offer - "I Love A Piano" and "Let Me Sing and I'm Happy" - are among the signature tunes of the legendary Barbara Cook, though Cook's way with the latter lyric couldn't be more different from Peters's ball-busting approach here.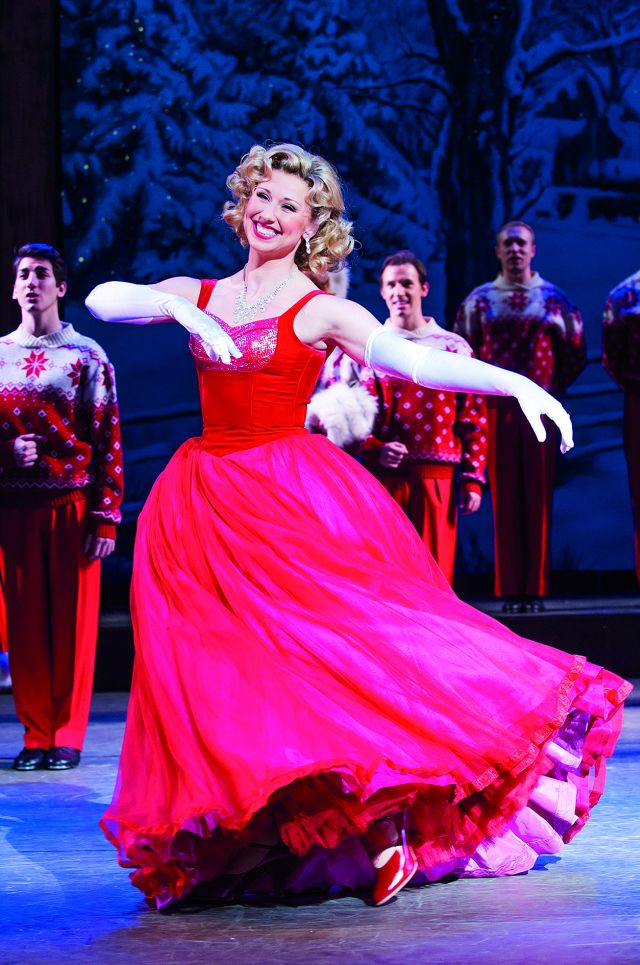 I would be interested to see the imminent West Yorkshire Playhouse version of this same piece to find out whether Darren Day and Oliver Tompsett up in Leeds might be able to make more of the central dynamic than do Jones and Chambers, the latter confirming between this and his previous West End star turn in Top Hat that dancing, not singing, is his strong point, whereas Jones is a formidable vocalist but strangely colourless otherwise. The bromance undertow to the script (tweaked for the occasion by David Ives and Paul Blake) in this duo's hands seems part of a prevailing sexlessness, though perhaps it's asking too much of a show that trades on pre-pubescent precocity - embodied by a rather scary Sophia Pettit as Susan, the general's prayerful, hyper-determined granddaughter - to ask for real, rampaging hormones when the occasion's reason for being is an abundance of fake snow.
The bromance undertow in this duo's hands seems part of a prevailing sexlessness
rating
Share this article