BBC Scottish Symphony Orchestra, Volkov, Usher Hall, Edinburgh |

reviews, news & interviews
BBC Scottish Symphony Orchestra, Volkov, Usher Hall, Edinburgh
BBC Scottish Symphony Orchestra, Volkov, Usher Hall, Edinburgh
Supercharged Janáček marks the end of festival director's eight year reign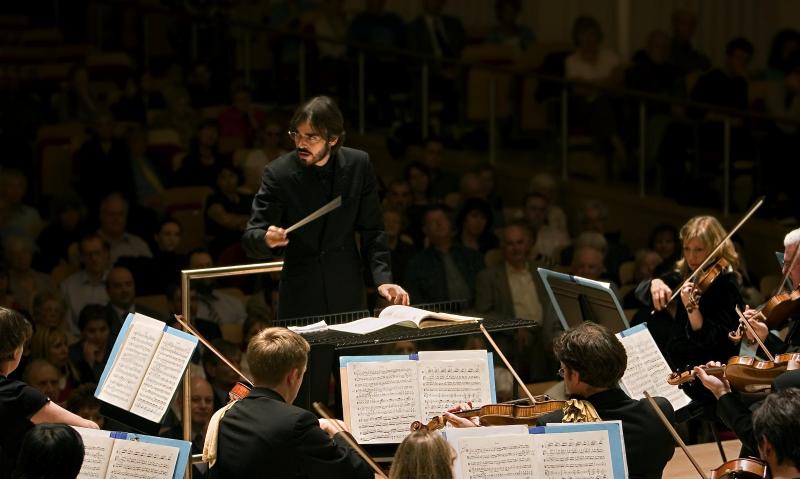 Ilan Volkov and the BBC Scottish Symphony Orchestra in Glasgow City Halls
It is the fate of Edinburgh Festival directors to programme their music in the considerable shadow cast by the Proms in London. The undeniable economics of large scale touring means that few orchestras will visit Edinburgh alone, so to attract all-important critical attention the Festival must somehow manipulate a limited touring repertoire to create a unique Scottish event.
But on the other hand, the festival must also recognise that for most of their discerning local audience the Proms are little more than a massive irrelevance that serve only to clutter up the BBC schedules for months on end. So if a programme works well in London, there is no logical reason not to repeat it, note for note, in Edinburgh.
How that balance works in practice is a mixture of blunt salesmanship and indefinable alchemy. Those who love classical music in all its forms can recognise a good Edinburgh Festival programme the moment they open the brochure. A good programme not only offers a limitless sweep of possibilities, but sustains that interest to the point that when punters start to think about buying tickets, every piece in every concert stands on its own merits.
What then, is the verdict on the music programmes devised by Jonathan Mills (pictured right by Seamus McGarvey), for whom this concert marked the end of his eight year tenure as director of the Edinburgh International Festival? That he has been a steady hand on the tiller is beyond question. His contract has been extended twice and he has picked up a knighthood along the way. But among Edinburgh's chattering classes, who scan the Festival programme in the spring and decide whether to stay in the crowded city during August or rent out their flats to Mexican fire-eaters, the Mills music and particularly opera programmes have never quite equalled the sure touch displayed by his predecessor, Brian McMaster. McMaster famously dismissed the Proms ("It's not a festival, just a series of concerts") and had the benefit not only of a bulging contact book from his days at Welsh National Opera but also the considerable expertise of James Waters, now running the Lammermuir Festival.
Such a judgment is inevitably subjective. You cannot have over one thousand performances and 60 visiting orchestras in eight years without picking up some brilliance along the way, and there will always be those who, whether by luck or judgement, pick the gems and have a "good festival". 2014 is no exception: the shadow cast by the lacklustre opening concert was easily dispelled by luminous performances of Haydn's Nelson Mass and Schumann's Cello Concerto, to pick just two outstanding examples during the last three weeks.
And so to this closing concert, in which for the first time Jonathan Mills revealed to his adopted city that he is not just a festival director but also a composer. To programme a piece of your own in the last concert of your last festival is an indulgence that even the sternest critic would allow. What is more in question is whether the Sandakan Threnody, which commemorates one of the nastiest episodes in the Secord World War, was quite the sort of joyful farewell to match the mood of a festival audience.
In 1945 over 2000 mainly Australian troops perished from disease, malnourishment and torture as they were forced to march hundreds of miles along remote jungle tracks to build an aerodrome at Sandakan for the Japanese. To capture this atrocity in orchestral music played in the serene and comfortable surroundings of the Usher Hall is a challenge, but Mills shows that he has a deft touch. Shades of MacMillan in the opening percussive barrages and, in the lyrical last movement, a homage to Britten in a beautifully poised tenor line, exquisitely sung by Andrew Staples. More questionable are the filmic jungle noises in the middle. The choral setting of Anna Akhmatova's "Epilogue" from Requiem is a trifle bombastic, but nicely framed by an extensive solo by Ivor Klayman – a much loved figure in Edinburgh operatic and choral circles.
T
he mood lifted after the interval with Janáček's Glagolitic Mass. This was a brilliant, supercharged performance under the lithe and spare direction of Ilan Volkov. From start to finish the energy levels were consistently high. The dynamic range was from loud to very loud, the exchanges between organ (brilliantly manipulated by Thomas Trotter) and the BBC Scottish Symphony Orchestra like punches in a prize fight. I have never heard the Festival Chorus (pictured by Stuart Armitt) sing with such focus, precision and sheer volume. I don't know what chorusmaster Christopher Bell did to fire them up but it worked magnificently. Soprano Hibla Gerzmava and tenor Simon O'Neill led an impressive cast of soloists.
You can say all you like about the need for subtlety, contrast, and moments of repose in any performance, but there is no denying that for a certain type of piece (and this is one) there is no substitute for consistent, overwhelming power. As Sir Thomas Beecham observed, the British don't really like music, but "they love the noise it makes". As a grand finale this could not have been bettered. We could even forgive Jonathan Mills for ending it all with a speech. We have come to dread his tedious speeches at opening concerts, but his valedictory note was short, eloquent, and to the point.
Exchanges between orchestra and organ were like punches in a prize fight
rating
Explore topics
Share this article