Nightmare in Aix: Sarah Connolly on a shocking first night |

reviews, news & interviews
Nightmare in Aix: Sarah Connolly on a shocking first night
Nightmare in Aix: Sarah Connolly on a shocking first night
The great mezzo reports on how her Ariodante at the French festival was sabotaged
Putting on a brave face: Patricia Petibon (in white) and Sarah Connolly (to the right) in the Aix 'Ariodante'
I felt so shocked by the events that took place during the premiere of Handel's Ariodante on 3 July in the Festival d'Aix-en-Provence last week, and so disappointed that our painstaking work with director Richard Jones over the last six weeks had been so comprehensively ruined, that I felt I should document what happened.
I am avoiding making any political comments. For a full explanation of the situation concerning the confederated unions of arts workers in France known as Les intermittents, read this article from 2012.
Black sheets daubed in white painted slogans (banner pictured below) are draped over the posters advertising the Festival d'Aix-en-Provence 2014. They are slung across the tops of narrow streets neighbouring the Théàtre de l'Archêveché. Everyone here at the festival ominously anticipated some kind of a demonstration on a hot Thursday night especially since representatives from the government were apparently visiting.
Every performance this year begins with speeches made by a variety of different people on behalf of Les intermittents. The festival's technical staff, wearing black t-shirts marked with (or without) a large white cross, filed onto the stage. They had voted overwhelmingly not to strike during this year's festival and this display was a show of solidarity.
There were two speakers at the beginning of the opening night of Ariodante, and I was given to understand that the second speech went on rather too long. The audience became impatient and restless, some demanding that the music begin, muttering loudly their disapproval of the delay. Some heated banter ensued. I watched the audience in the auditorium from a high window after hearing some shouting over the tannoy relayed backstage, and then returned to the dressing room area.
Le Jardin Campra contains a group of portakabins as dressing rooms and is situated in a raised gravelled garden outside, adjoining the main building. It also serves as a green room and restaurant area, and very pleasant it is too with a bar that stays open until the small hours.
Ariodante's first entrance is roughly 20 minutes in to the show which was scheduled to start at 9pm. As I wandered around the large gravelled area I noticed some men scurrying in all directions looking in and around the potted plants. I thought this was odd, of course, yet didn't make any connection to security issues because those were extremely tight, with police inside the building and lining the streets outside.
A few minutes later, a group of performers, myself included, left our portakabins to make for the stage within the main building, but shockingly the entire area had suddenly been occupied by about 40 protesters who were blowing klaxons, chanting and yelling, banging metal pans with metal spoons and jostling with police and the theatre's large security men. The adjoining doors down to the theatre were now locked from the inside. I watched how our group of actors and singers and players processed the next sequence of events as it became clear we were probably not going to get through that door in time for our entrances. My first appearance was a little in advance of theirs and I felt a real mixture of panic, disappointment and resignation.
The double door opened suddenly and from within a large man regarded our anxious faces, mine at the forefront. The protesters were being slightly held back. I moved towards him and he shoved me back, unfortunately prodding me near my throat, shouting "non!" in my face. I believe he thought I was a protester. The door was locked again and now we knew I would miss my first entrance.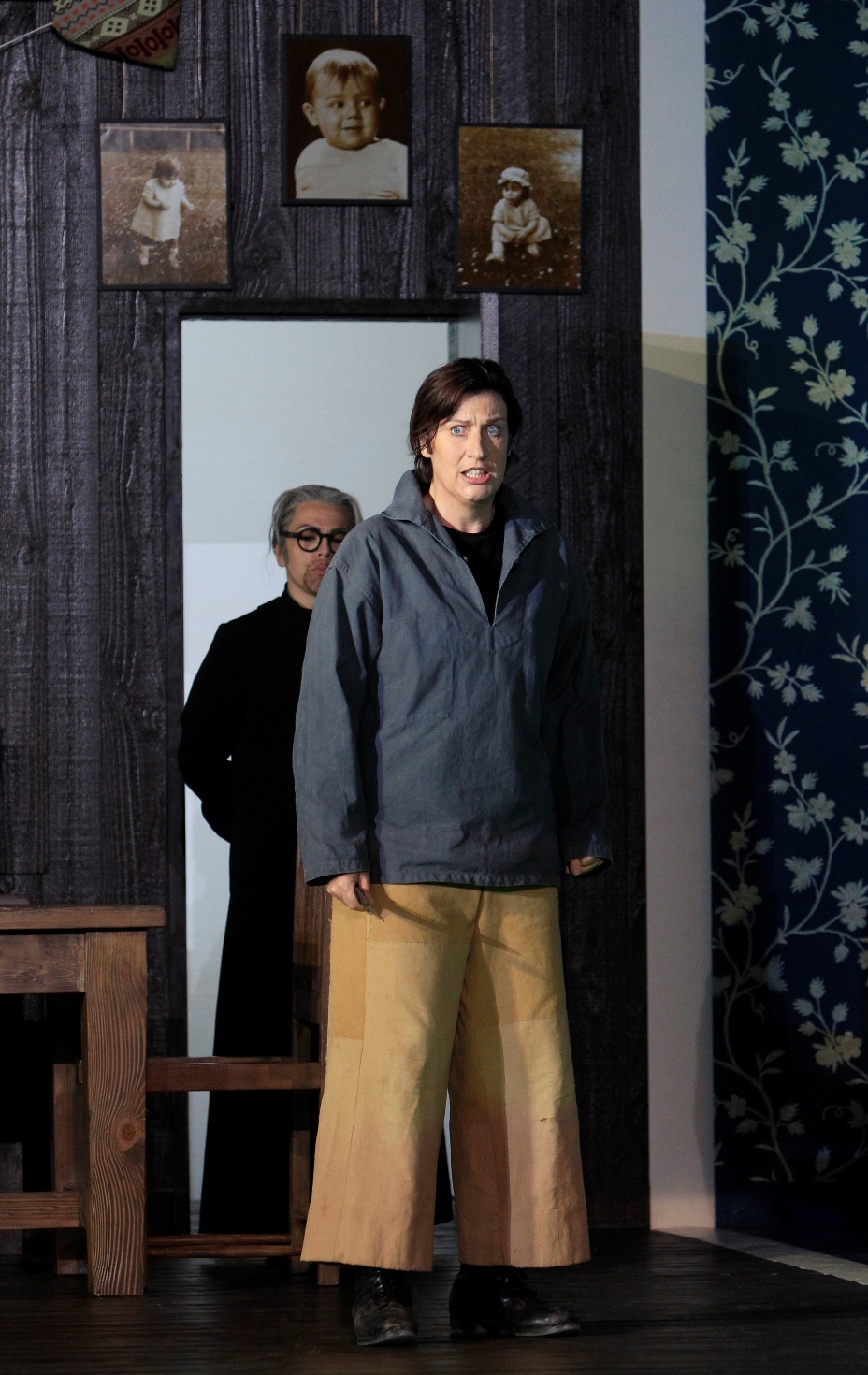 Within five minutes or so, the doors opened again and we squeezed through very quickly. Bernard Foccroulle, the festival director, greeted us and he looked like we felt: ashen. I walked down to the side of the stage and sure enough, the performance had been halted. A minute later I walked on to sing an aria about how nature inspires feelings of love. A few bars in and some of my anxieties were made irrelevant by the beautiful music and the job in hand. But standing on the stage I could hear what the audience had endured from the start, a loud continuous roaring of picketers and blowing of klaxons from the courtyard outside the open air auditorium. I found myself instinctively pushing through the recitatives, obliterating planned hesitancies and silences. It was hard to concentrate and I could see the strain reflected in the eyes of my colleagues. The audience, however, were showing their appreciation of our efforts and applauding with many bravas, which was incredibly heartening. I've never been more grateful, for all my colleagues' sake, not just for my own.
At the start of the first interval we were told that our dressing rooms in the Jardin Campra were still occupied by picketers. Meanwhile the audience was told that should anyone consider leaving the building, no return was possible.
Security staff searched the auditorium and found a couple of alarms hidden under the tree and a seat
I felt increasing anxiety as the second act began. I was convinced something else would happen, and it did. During David Portillo's aria, "Tu vivi", both of us heard what sounded like a loud car alarm coming from the auditorium. He carried on valiantly, singing fabulous coloratura to tremendous applause. Now, in the silence before my aria, "Scherza infida", a great lament, continuing was impossible and Andrea Marcon, our conductor, gestured to me to sit down while they brought down the curtain for a second time. At least the noise from outside was almost gone. Security staff searched the auditorium and found a couple of alarms hidden under the tree and a seat. Richard Jones, too horrified to watch the performance from the front, came on stage and asked if I was OK. I was alone on stage but I felt in control... just.
The curtain rose again to some applause, and I carried on. I had been told that the picketers had been moved out of the artists' green room area and off the premises, and the police had shepherded them away from the streets surrounding the theatre, peaceably. On our return however, we discovered that some of our belongings had been stolen, including a wallet.
By the second interval all was returned to normal. It was now around half past midnight. A significant wind had got up, causing huge gusts on stage which somehow aptly reflected the turbulence we felt inside. During my duet with Patricia Petibon, "Bramo aver mille vite", illuminated by the lights on the gantry below the top tier of seats, great pellets of rain soaked the audience who were trying to cover themselves, hopefully the last trial of the evening as it drew to a close. Most had stayed.
When the curtain came down, the cast and stage management felt utterly drained. At the party afterwards in the Jardin Campra, the wind, now almost gale-force, tried to blow away all our recent anxieties and with the help of champagne, we remembered the good things too.
I found myself instinctively pushing through the recitatives, obliterating planned hesitancies and silences
Share this article
Subscribe to theartsdesk.com
Thank you for continuing to read our work on theartsdesk.com. For unlimited access to every article in its entirety, including our archive of more than 10,000 pieces, we're asking for £3.95 per month or £30 per year. We feel it's a very good deal, and hope you do too.
To take an annual subscription now simply click here.
And if you're looking for that extra gift for a friend or family member, why not treat them to a theartsdesk.com gift subscription?